PC Mouse
Cougar 600M Black Edition Gaming Mouse Review
« Disassembly
|
How did it Perform? »
The Cougar 600M Black Edition Gaming Mouse features a nice flat black, soft touch body with high gloss black accents and buttons. Featuring 8 completely programmable buttons including a "sniper button" for better stability during those critical FPS moments. Cougar also carries the element of detail leading to their gold plated USB plug with a nicely braided paracord sleeved cable.
Stepping away from the physical feature we venture into what the 600M has to offer the end user with Cougars UIX system and ability to store up to three gaming profiles.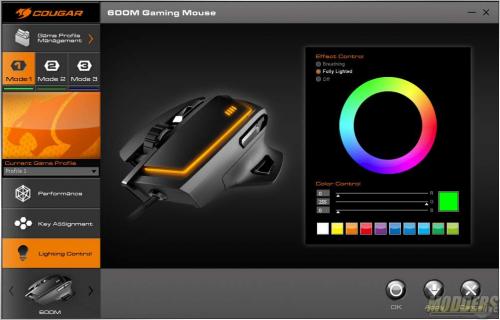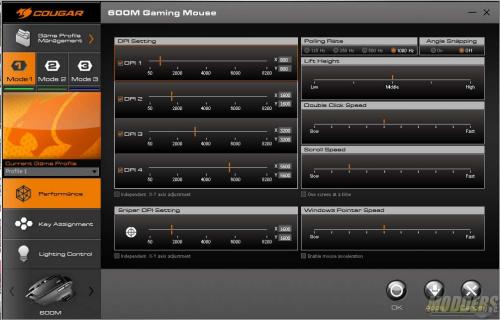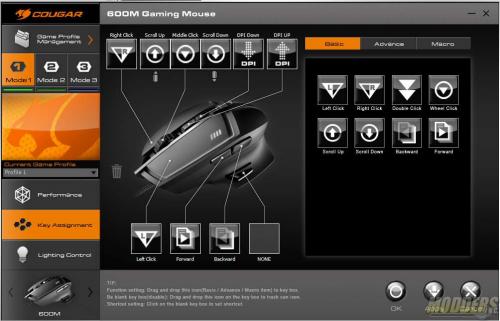 Adding to this, is the option to light up the mouse with an impressive 16.8 million colors for even the pickiest of color connoisseurs. One thing I would have liked to see with the 600M is for the DPI color level to also change colors with the accents, as it stays the standard Cougar orange color. This by no means is a major issue with the mouse, but it would have been nice to have the uniformity. To adjust the DPI settings on the mouse click the button closest to the scroll wheel for a higher setting and the one behind it for a lower setting. Compared to similar mice the forward/backwards navigation buttons are much smaller, which is nice as I often accidentally hit these on other mice and end up losing inputted data on a document I have been working on for ten minutes…. I digress, this small modification is noticed and welcomed! By default the sniper button does not do anything, and due to its some what awkward positioning they maybe a good thing as I really could not find a reason to assign a command to it.