« Introduction
|
A Closer Look at the Sound Blaster G5 »
Packaging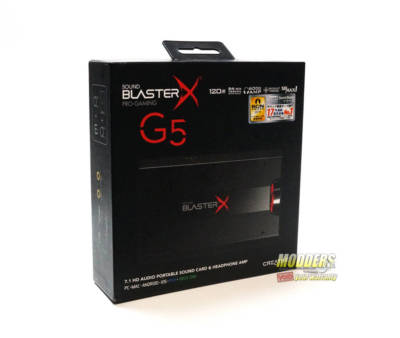 The front of the Sound Blaster G5 packaging has the Sound BlasterX Pro Gaming logo and Sound Blaster G5 product branding printed on the top, left-hand corner. On the top right-hand corner, there is a list of several features of the G5. This includes Scout Mode and a 600Ω Amp.  There is also a badge for the 2016 BCN Award that the Sound Blaster G5 won. In the center, there is an image of the G5 which is actual size. Across the bottom is a list of compatible devices and hardware, as well as the Creative logo.
The rear of the box has the Sound BlasterX Pro Gaming logo and the Sound Blaster G5 branding at the top. Just below that is a list of features with a brief description of each under them. Some of these features are True 7.1 HD Surround Sound and 24 bit/192 Hz, 120 dB High-Resolution Audio. Near the bottom of the box are the minimum system requirements for the G5. There is also the UPC code, model and serial numbers on the back of the box.
The left, right, and bottom of the box has images of the corresponding side of the G5 printed on them. The left shows the back side of the Sound Blaster G5 with the line in and out, micro USB for power and data and a USB pass through. The right side shows the volume control knob, headphone and mic jacks. The bottom show of the side of the G5 with the Scout Mode button, SBX switch and gain control.
The G5 comes seated in a felt covered, plastic tray. I prefer when hardware comes packed in soft foam, but that's just me nitpicking. Along with the Sound Blaster G5, you'll find a USB to Micro USB cable. This provides power to the G5. It also comes with an optical to 3.5mm converter. This is for if you want to run it through the optical port on your PC. The G5 also comes with warranty information card and a user manual.