Creative X3 packaging and unboxing »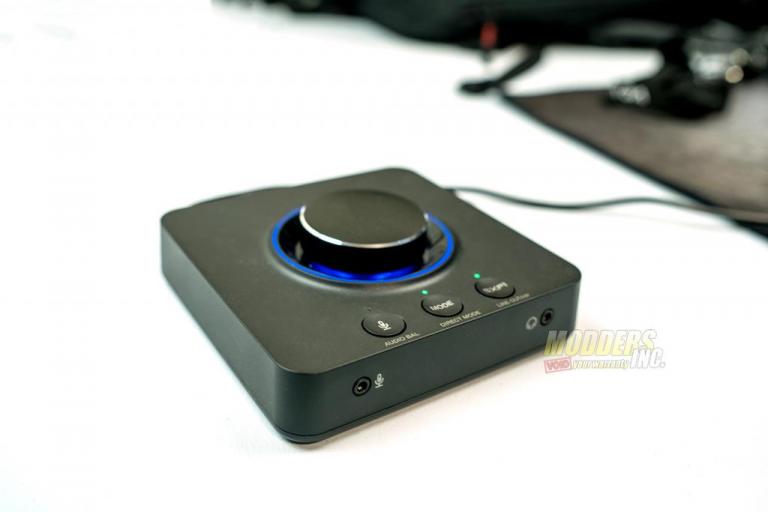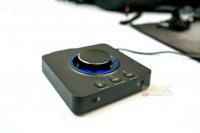 The Sound Blaster X3 is a Hi-Res external USB DAC and AMP sound card with Super X-FI Technology built-in and designed for use with both PC and Mac. However, we're going to see what other uses the X3 may have in this review. We're also going to see how well the Super X-FI technology was integrated into an external sound card. So, let's get into it.
Three years running now, my favorite stop at CES was the Creative suite. Aside from the great people that work for Creative, they have had my pick for best in show each of these three years. Each year, they have had some iteration of their Super X-FI technology on display. Super X-FI technology uses computational audio to recreate the experience of a high-end surround sound set-up and delivers it to any headset and it sounds incredible.
Our first experience with Super X-FI was in 2017. We had met with Creative for the first time when they allowed us to experience the demo what would eventually be the first Super X-FI dongle. At this point, it was very much a prototype in the form of a small, clear plastic box with several wires and switches.  A year later, it had been shrunken down to a small USB dongle, smaller than a Bic lighter designed to plug into your cell phone.
This past CES, Creative had taken their Super X-FI technology to the next level. No longer was it just a simple USB dongle designed to simulate surround sound. Now, Creative has integrated its Super X-FI Technology into other products such as soundbars and external sound cards. Which brings us to the focus of this review, The Sound Blaster X3 external DAC and amplifier with Super X-FI Technology.
Specifications
Weight

330g
Dimensions

129 mm x 129 mm x 40.6 mm
Dynamic Range (DNR)

115 dB
Max. Playback Quality

Sampling Rate (Playback) :
Direct Mode:
Playback Resolution (Stereo): PCM 16/24/32-bit / 48.0, 96.0, 192.0 kHz
Playback Resolution (Optical Out): PCM 16/24-bit / 48.0, 96.0, 192.0 kHz
Surround 7.1: PCM 16/24/32-bit / 48.0, 96.0, 192.0 kHz
Dolby Digital Live: 16-bit, 48.0 kHz
Max. Recording Quality

Line-in:
16/24-bit, 48.0, 96.0, 192.0 kHz
Mic-in:
16/24-bit / 48.0, 96.0, 192,0 kHz
What-U-Hear
16/24-bit, 48.0, 96.0, 192.0 kHz
Connectivity Options (Main)

1 x TOSLINK Optical Out, 1 x ⅛″ Rear Out, 1 x ⅛″ Center / Sub Out, 1 x 1/8″ Headphone / Headset Jack, 1 x 1/8″ Ext. Mic-in Jack, 1 x ⅛″ Front-out, 1 x ⅛″ Side-Out Jack, 1 x USB Type-C port for PC / Mac, 1 x ⅛″ Line-in Jack
Headphone Amp

Supported Headphone Impedance: 32–600Ω, Low Gain: 32–149Ω (1.2V RMS @ 32Ω, 1.5V RMS @ 150Ω), High Gain: 150–600Ω (2.3V RMS @ 150Ω, 2.9V RMS @ 600Ω)
Audio Technologies

CrystalVoice
Scout Mode
Supported Operating Systems

Windows® 7, Windows® 8.1, Windows® 10
DAC

Dynamic Range (Stereo): 115 dB, THD+N (Stereo): 0.0004%
ADC

Dynamic Range: 104 dB, THD+N: 0.0017%
Power

USB Bus-Powered, USB-C
Recommended Usage

Home Entertainment
SYSTEM REQUIREMENTS
Windows® OS
Intel® Core™i3 or AMD® equivalent processor
Intel, AMD, or 100% compatible motherboard
Microsoft® Windows 10 32 / 64-bit, Windows 8.1 / 8.0 32 / 64-bit, Windows 7 32 / 64-bit
1 GB RAM
> 600 MB of free hard disk space
USB 2.0 / USB 3.0 port
Mac® OS
Mac OS X® 10.12 or higher
1 GB RAM
USB 2.0 / USB 3.0 port
PS4
Firmware Ver 5.0 or later
Available USB port
Nintendo Switch
Switch OS 5.0 or later
Available USB port (in docking mode)
External USB Power (not included)
Voice communications are title dependent
Android ^
Android OS Ver 7.0 or later
Device must have built-in Bluetooth Low Energy (BLE) support
iOS ^
iOS Ver 11.0 or later
Device must have built-in Bluetooth Low Energy (BLE) support
^ Use as a remote controller for Sound Blaster X3 on PS4 / Nintendo Switch only, does not support Bluetooth audio streaming
PACKAGE CONTENTS
Sound Blaster X3
USB Type-A to Type-C Cable
Quick Start Guide and Leaflets
Warranty Leaflets
WARRANTY
1-year Limited Hardware Warranty
CALIFORNIA RESIDENTS
DOWNLOADS
Compatibility