Packaging »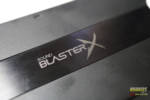 When the people at Creative asked us to take a look at their Sound Blaster G5 portable sound card and headphone amp, I couldn't wait to get my hands on it.  As enthusiasts, we always strive for the best of the best with our systems. Whether it's graphics cards, processors, peripherals or even audio equipment, it's always a constant stream of upgrades to keep up with the rest of the community. But what about those of us who travel a lot, and don't want to leave our enthusiast lifestyle at home. Sure, you can get a high-end gaming or workstation laptop to bring with you. Something like a high-end ROG gaming laptop will be more than capable of handling your gaming and even editing needs. However, if you're an audiophile, the onboard audio may not be up to your standards.  In the past, we reviewed the Sound BlasterX AE-5 internal sound card. However, I was personally very impressed with the quality of the AE-5. But that won't help with a laptop.
This is where the Sound Blaster G5 some in. Not only does Sound Blaster G5 have support for the Sound BlasterX Acoustic Engine Pro, but its also plug and play. This means you can use the software, but you don't have to. This allows the Sound Blaster G5 to be far more versatile than the AE-5 or any other PCIe add-in sound card. But is the sound quality as good as the AE-5? If you read that review, you'd know that before using the AE-5, I was convinced that onboard audio was as good as using an add-in sound card. I couldn't have been more wrong.  So, what are the benefits of using the G5 over any other sounds card or even onboard audio? We tested the Sound Blaster G5 in an array of mostly subjective tests. Now keep in mind that audio products are very subjective. So what sounds good to me, may not sound good to you. With that, let's see how it did.
Review Sample Provided By: Creative
Product Name and Website: Sound Blaster G5 portable sound card
Product was given in exchange for work to produce review.
SPECIFICATIONS
Audio Technology
SB-Axx1™
Signal-to-Noise Ratio (SNR)
120dB (DAC)
Connectivity Options (Main)
Micro USB Line / Optical Out:
1 x 3.5mm jack
Line / Optical In:
1 x 3.5mm jack
4-pole Headphone-out with Mic:
1 x 3.5mm jack
Dedicated Mic In :
1 x 3.5mm jack
Max Channel Output
Stereo
Audio Technologies
Scout Mode
Supported Operating Systems
Windows® 7, Windows® 8, Windows Vista®, Windows® 8.1, Windows® 10, Mac OS X v10.8 and above
Audio Fidelity
Up to 24-bit / 192kHz
Included Accessories
Micro USB cable, Mini TOSLINK Cable
Dimensions
110 x 74 x 22 mm (4.3″ x 2.9″ x 0.9″)
ASIO
Playback & Recording
Platform
USB 2.0, USB 3.0
Recommended Usage
Gaming
SYSTEM REQUIREMENTS
Windows
Intel® Core™2 Duo or AMD® equivalent processor (2.8 GHz or faster recommended)
Intel, AMD or 100% compatible motherboard
Microsoft® Windows 10 32/64 bit, Windows 8.1/8.0 32/64 bit, Windows 7 32/64 bit, Windows Vista™ 32/64 bit SP1 or higher
1GB RAM
>600MB of free hard disk space
Available USB 2.0/3.0 port (High Speed recommended with driver)
Macintosh
Macintosh running Mac OS X 10. 8 or higher
1GB RAM
>600MB of free hard disk space
Available USB 2.0/3.0 port
BlasterX Acoustic Engine Pro Software for Windows
Intel® Core™2 Duo or AMD® equivalent processor (2.8 GHz or faster recommended)
Intel, AMD or 100% compatible motherboard
Microsoft® Windows 10 32/64 bit, Windows 8.1/8.0 32/64 bit, Windows 7 32/64 bit, Windows Vista™ 32/64 bit SP1 or higher
1GB RAM
>600MB of free hard disk space
PACKAGE CONTENTS
Sound BlasterX G5
Quick Start Leaflet
Warranty Leaflet
Micro USB Cable
Mini TOSLINK cable
View Windows® 10
Software Availability Chart
WARRANTY
1-year Limited Hardware Warranty