« Assembly and Installation
Conclusion and Final Thoughts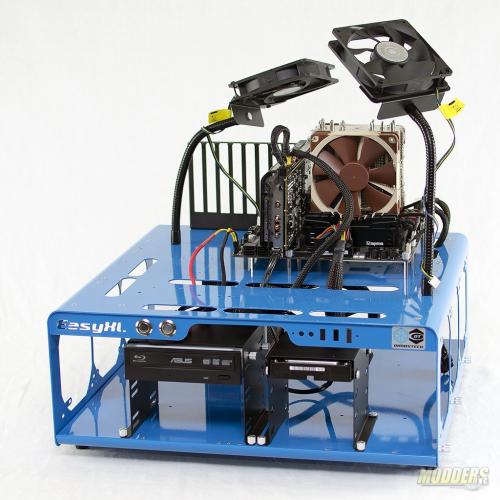 The EasyXL Test Bench comes with two adjustable fan brackets and each one has their own installation kit. Attach the bracket to the adjustable arm, then attach the fan to the bracket and screw the assembly into one of the many locations on the top plate. The arms for the fans can be adjusted to direct airflow where you need it most.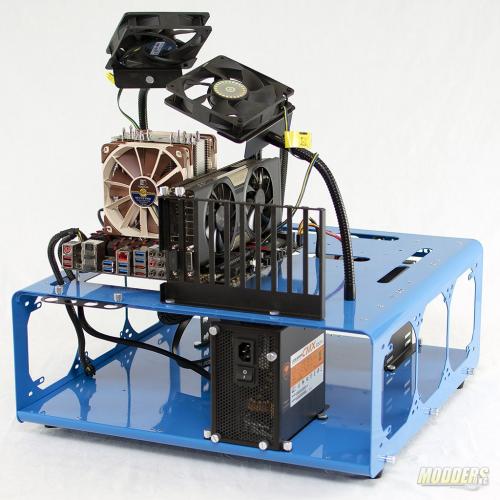 The EasyXL Test Bench is a high quality product and it shows. The entire bench is CNC machined. CNC machining has more of a finished feel to it than stamped steel. The powder coating on the EasyXL Test Bench was smooth with no flaws that I could find. The only issue that I had was with the power and reset buttons. The powder coating made it a little tight, but not impossible to get them installed. Assembly of the EasyXL Test Bench was a snap and so was the installation. Cable management is non-existent with this bench but with a little bit of time it can be done as there are plenty of places to attach cable management accessories. The EasyXL Test Bench is truly extra large and it may not fit on some tables. But as a reviewer and a hardware guy having the extra room is a good thing. Being able to swap a cooler, or motherboard with just a few minutes of time is easily done with the EasyXL as it is open and there is plenty of room to "get your hands dirty". The only "complaint" that I have about the EasyXL Test Bench is the lack of any front panel accessories. DimasTech does sell them as an extra and they are pretty inexpensive at around $20.00. DimasTech has a lot of accessories for their test benches from dust covers, quick fasteners, fan grills, to Neoprene insulation for under the motherboard, DimasTech pretty much has it covered.
I've been anxious to get my hands on one of their test benches and it does not disappoint but they are a bit expensive. The folks over at Performance PCS currently have it listed at $239.99 and it is available in the U.S. The price may sound a little steep, but you truly are paying for a quality product. The EasyXL Test Bench is not the only product DimasTech manufactures, this bench is the largest bench however, smaller benches are available.
The craftsmanship and ease of use of the EasyXL Test Bench earns it an Editor's Choice Award.
[sc:editors_choice_award ]