« Page 7
|
Page 9 »
Benchmarks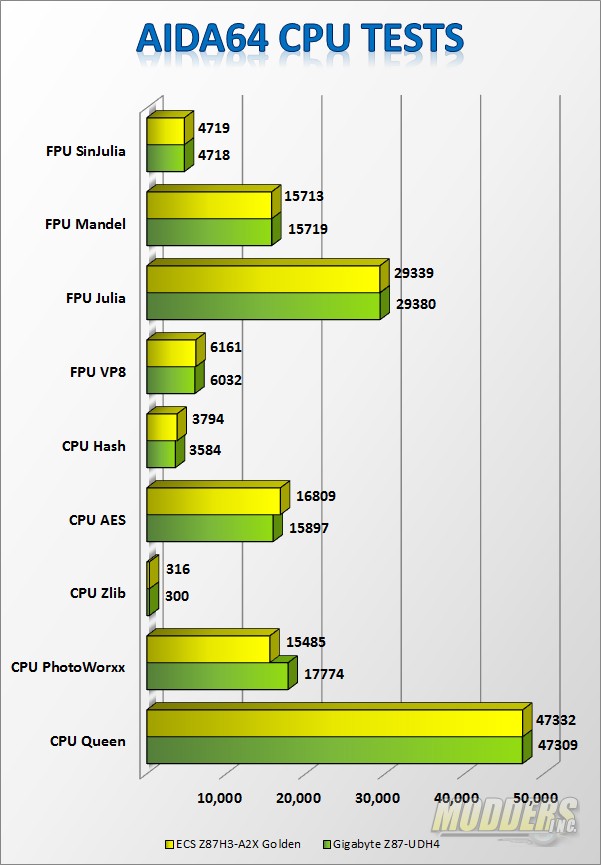 Testing in Aida 64 Engineer shows that the  ECS Z87H3-A2X Golden Motherboard can keep up with the Gigabyte Z87-UDH4. The boards are extremely close in performance. No real surprises here.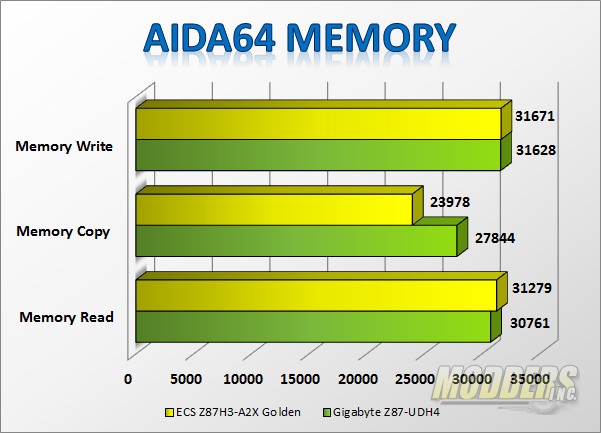 Memory copy on the ECS Z87H3-A2X Golden Motherboard is the only issue that I see here. This result was the average, and all three results were very close to this number. I am not sure if it is a memory issue here, or if it is a motherboard issue. Each board's results for memory write and memory read fall within just a few points of each other.
The ECS Z87H3-A2X Golden Motherboard performed very well when hooked up with the Samsung EVO 840 SSD.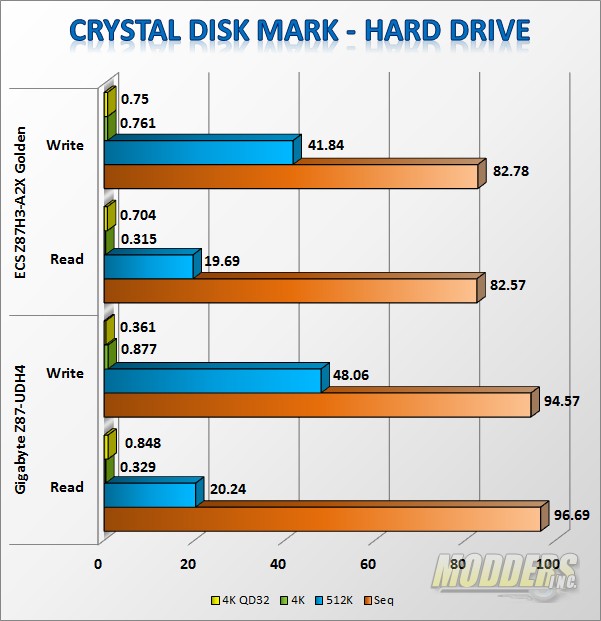 With the current prices on SSDs, I see this test falling off of our charts. The Gigabyte Z87-UDH4 was able to best the ECS Z87H3-A2X Golden Motherboard.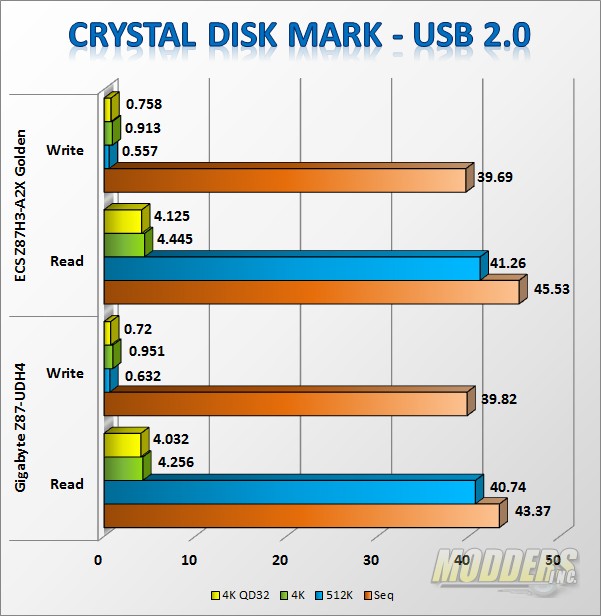 USB 2.0 performance on teh ECS Z87H3-A2X Golden Motherboard was very good and matched the Gigabyte board step for step. There will be minor variances between tests but what we're looking for is major differences.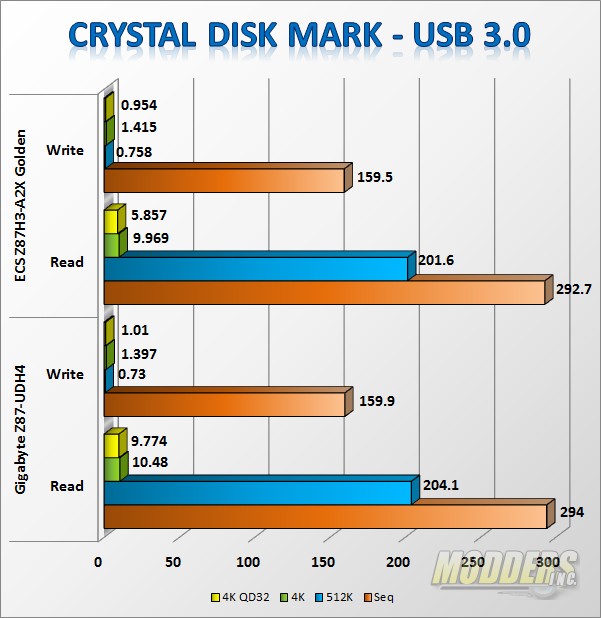 USB 3.0 is the de facto standard for flash drives in my lab and the ECS Z87H3-A2X Golden Motherboard didn't falter. Transfer rates are right inline with the competition and where they should be.
| | | |
| --- | --- | --- |
| Frequency response (from 40 Hz to 15 kHz), dB | +0.36, +0.25 | Excellent |
| Noise level, dB (A) | -94.2 | Very good |
| Dynamic range, dB (A) | 94.3 | Very good |
| THD, % | 0.0098 | Very good |
| THD + Noise, dB (A) | -77.3 | Average |
| IMD + Noise, % | 0.012 | Very good |
| Stereo crosstalk, dB | -92.5 | Excellent |
| IMD at 10 kHz, % | 0.040 | Good |
| General performance | | Very good |
RightMark Audio Analyzer measures sound quality. To set this test up, I used a 12″ 3.5mm loop back plugged into the audio jack labeled as front and the other end plugged into the Line In jack. Volume was turned up to 100% and the Line In level was adjusted until -1dB was read on the scale, the test was run at that point. Overall, according to RMAA the board posted a very good result.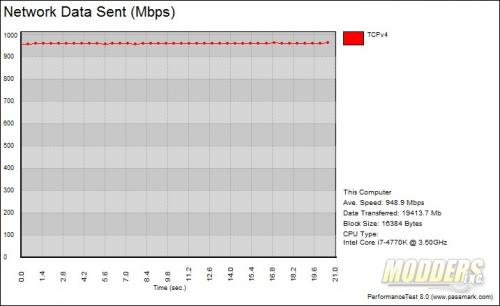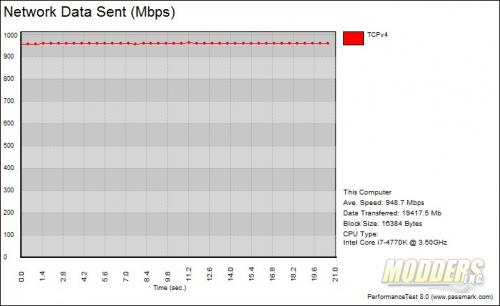 To set up the network test, a single Cisco catalyst 2960G with a blank configuration is used. Each PC
 is plugged into the switch with a static IP. The ECS Z87H3-A2X Golden Motherboard  is used as a client. The test shows that initial traffic starts out at just over 900 Mbps and is able to maintain a stable transfer rate of over 900 Mbps with a final average of 948 Mbps on both network cards. Overall transfer rate was acceptable and comes in with in range. With TPC/IP networking a bandwidth loss of 10 to 15% is expected.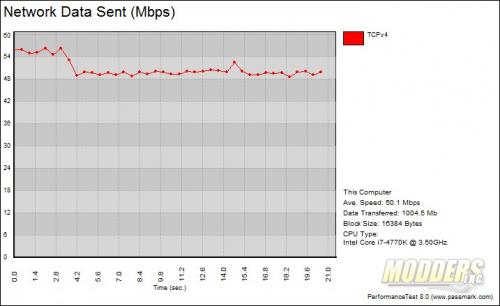 The wireless test added a bit more complexity to the scenario. Using the same Cisco Catalyst 2960G switch, I added an Ubiquiti WAP wireless access point. I configured the access point with a SSID and added it to the network. Both wired network cards on the ECS Z87H3-A2X Golden Motherboard were disabled. The Ubiquiti access point supports A/B/G/N wireless protocols. The wireless access point was located about 30 feet away from the motherboard at the time of testing. The wireless adapter on the ECS Z87H3-A2X Golden Motherboard was able to maintain just above 48 Mbps during the test with an average rate of 50.1 Mbps. I don't yet know if this is a limitation of the wireless access point or the USB network card.