PC Water Cooling
EKWB EK-XLC Predator 240 All-In-One CPU Liquid Cooling Unit Review
« A Closer Look at the EKWB Predator 240
|
Installation »
Predator 240 Closer Look Continued
Before we get to the test results, I wanted to show the internals of the kit. Since this kit can be upgraded, taking it apart was very easy. You'll need a couple of metric Allen wrenches as well as a couple of Torx wrenches. Disassembly was done after our testing was completed.
First up, I popped one of the tubes off and drained the loop. The glass I used was freshly washed and rinsed with denatured alcohol. There was quite a bit of flux from the radiator in the coolant in my kit as well as some other "floaties". The coolant used inside the loop of the Predator is EK's own Ekoolant EVO. The coolant is non-toxic and bio-degradable and includes scale, corrosion and biological growth inhibitors.
The after removing the fans, I was able to remove the fan mounts. This exposed the radiator. Fan noise through the mount is isolated by two rubber encased screws that attach the mount to the radiator.
The radiator EK uses in the Predator 240 is their 240mm Coolstream PE with a different shroud for mounting. The radiator has 19 fins per inch.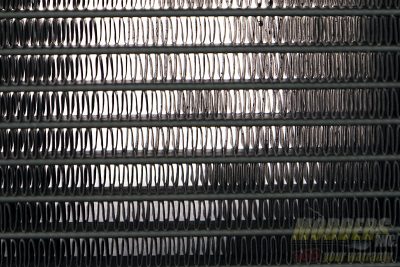 EK-ZMT tubing is used in the kit. On one end of the tubing is an EK rotary fitting that allows the tubing to rotate to avoid strange bends during the installation. This also aids in removing the tubing from the waterblocks. I haven't quite figured out how to remove the rotary fittings from the tubing. All the ports on the Predator a G1/4 and should be able to fit any standard G1/4 fitting.
The pump is a custom version of the Laing DDC3.1. This version is designed to pull 6 watts of power where as the other DDC3.1 pumps I've looked at are designed for 10 watts. The copper impeller sits atop a ceramic bearing that should ensure many many hours of use.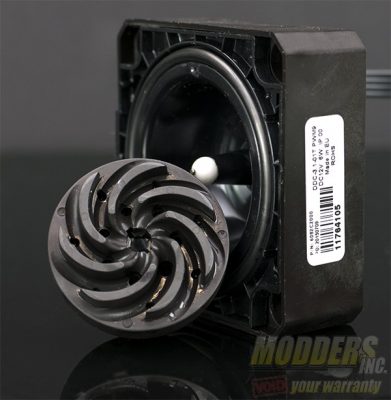 I even pulled part the water block to see what makes it tick. The block's design is interesting. The water coming in to the waterblock is forced through a jet at the center of the block then through the fins in the center and finally out the other side.
The base of the block is machined from one piece of copper. The fins increase the surface area for the water to wick away heat. I ran this cooler for around 80 hours total with the initial stress test and the review and there are some small deposits in the fins.
A pair of EK Vardar F4-120ER fans are included. These fans have a maximum RPM of 2200 and can push 3.16mm H2O. They have double ball bearings on the shaft of the fan and a MBTF of 50,000 hours.