PC Water Cooling
EKWB EK-XLC Predator 240 All-In-One CPU Liquid Cooling Unit Review
« Introduction
|
A Closer Look Continued »
A Closer Look at the EKWB Predator 240
While the Predator is billed as a 240mm radiator, you'll have to take into consideration the size of the entire kit when it comes to mounting since there is added length due to the pump/reservoir combo at the end. The kit measures in at 295mm x 133mm x 68mm (including fans). The Predator mounts where two 120mm fans would normally mount and requires 15mm in between fan mounting holes. As long as your case meets the requirements with just a little extra space, you should be good to go.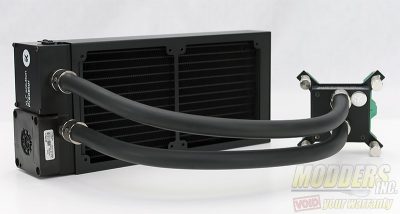 The pump and the reservior are located at one end of the Predator 240. The pump is a custom DDC3.1 and only draws 6 watts. EK says the pump is powerful enough to add additional restrictions in the loop more specifically, they say this pump will support another 240mm radiator and a GPU water block.
When it comes to water cooling, my personal feeling is no one component is more important than the other. All the parts must work in harmony in order for the system to function properly. The water block EK uses in the Predator 240 is their Supremacy MX waterblock. The MX is the lower cost version of the EVO waterblock. The Predator waterblock can use the same upgrades that the stand alone component version can, such as clear tops. The tubing is connected to the waterblock via standard EK EK-ACF 10/16mm fittings plated in nickel.
Attached to the waterblock out of the packages it the backplate. The green piece is a paper "gasket" that is designed to electrically isolate the motherboard from the metal backplate. In order to install the Predator waterblock you will need to remove the stock Intel backplate.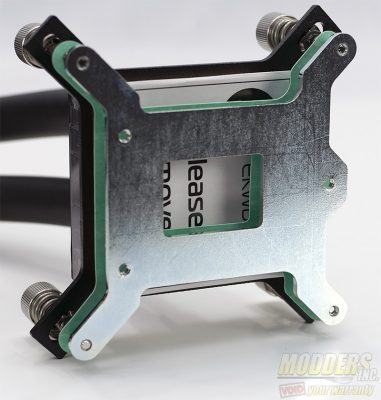 The bottom of the water block is one piece of copper. The base is very flat with very little visible distortion. The included mounting system is compatible with all Intel LGA-11XX and Intel LGA-2011 socket types.
At the end of the radiator opposite the pump is the Predator 240's PWM controller. There is a place to hook up power to the board as well the PWM signal from the motherboard. There are three PWM fan headers and a PWM pump header. EK has taken care to make sure the wires leading to the fans and the pump have all been tucked and zip tied together. The board is powered via a cable that connects to a SATA power connector on the power supply.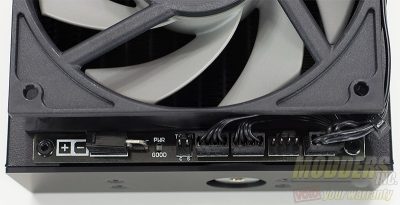 In the default configuration the two EK Vardar fans are set to a pull configuration. Meaning that with the fans mounted to the top of the case, the fans pull air from the inside of the case, then through the radiator, and finally, exhausts out of the top.