A closer Look at the Enermax SteelWing »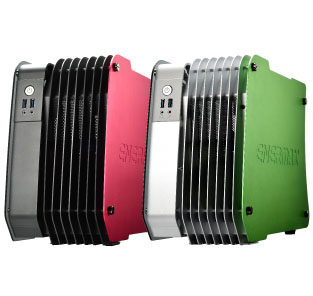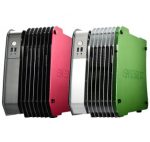 Enermax has introduced the SteelWing case to the world. The SteelWing is an all aluminum Micro-ATX case that sets itself apart from all other Enermax cases. Past cases from this manufacture had some nice features and different styles and looks that might appeal to select users, but the SteelWing has an appeal that all users will like. Tempered glass and anodized aluminum side panels take the styling up several steps. As we go through the Enermax SteelWing review you will begin to see what sets this case apart from the others and you will be wanting to add one to you collection.
The SteelWing is packaged in the nicely detailed heavy duty black cardboard box that highlights plenty of information about the new Micro-ATX case. As shown on the box you can see that the aluminum case is available in two colors, red and green. The red SteelWing is offset with a black finish on the rest of the case while the green keeps the aluminum close to its natural color.
Safely packaged in the box is the SteelWing. Capped off at the top and bottom with high-density foam and covered in a heavy clear bag. The SteelWing it looks like the case could survive a fall out of an airplane or the gentle care giving by your favorite delivery service.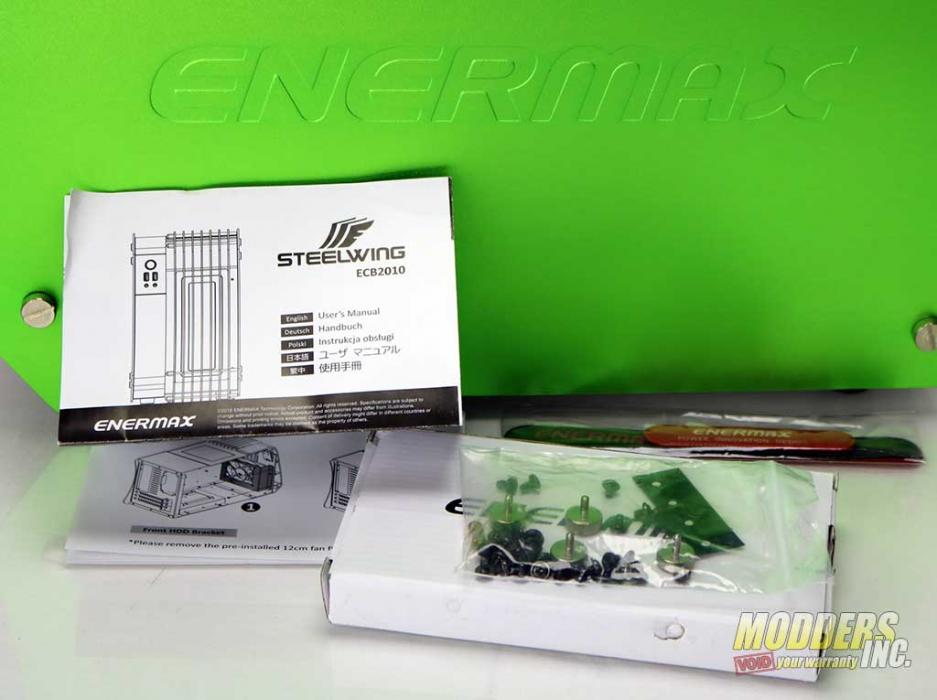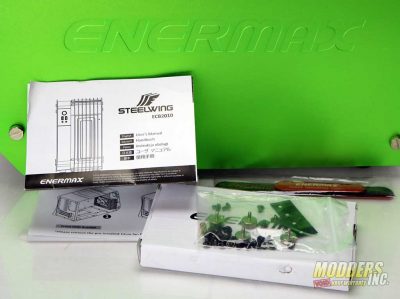 Placed inside of the case is the normal user manuals and mounting screw to install all your hardware needs.
Model Name

ECB2010R
ECB2010G
Color
Red
Green
Dimensions
D387 x W176 x H300mm
Material
Aluminum, Tempered glass
M/B Type
Micro ATX, Mini ITX
I/O
USB 3.0 x 2, HD Audio
Front HDD Bracket
1 x 3.5″ HDD or 120mm liquid cooler/fan
1 x 120mm Red LED fan (Pre-installed)
1 x 120mm Green LED fan (Pre-installed)
Rear HDD Bracket
1 x 3.5″ HDD, 1 x 2.5″ SSD/HDD
Expansion Slots
3
PSU
Standard SFX Type (Optional)
Maximum Compatibility
VGA Card Length: 290mm
CPU Cooler Height: 80mm