« A closer Look at the Enermax SteelWing | Final Thoughts »
Installation of the hardware can be a trying at time, but that is normal when working with small form factor cases. Just take you time and figure out what you really need for the system. As always we highly recommend that you use a modular power supply and only use what is needed. During out hardware install we installed all the hardware and basically let the wires fall as they may to show you what they system could like if you DO NOT do any wire management.
Video Card Clearance:
There is plenty of room around the installed GTX card. As you can see a full size card can fit into the Enermax SteelWing rather easy.
290 mm of space is given from the I/O ports to the front fan support.
If you are using an SSD it will fit rather close to the intake of the video card but there is adequate space for cool air.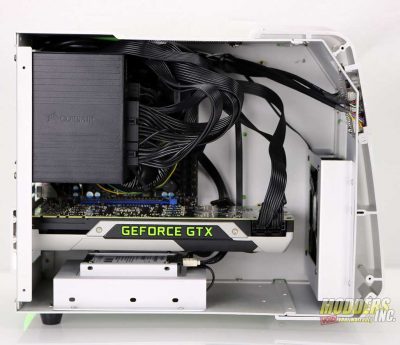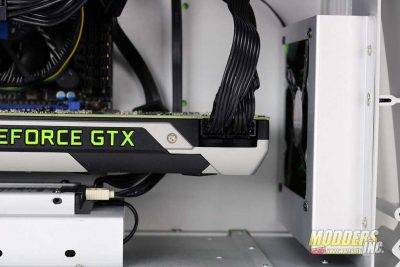 CPU Cooler:
Air coolers can be no larger than 80mm in height to fit inside the case.
Water cooling with this case is best when a AIO (All In One) cooling solution is used. You can do a custom hard line set up in the case but you better be really good. If doing a DIY water cooling setup we recommend that you use flex tubing.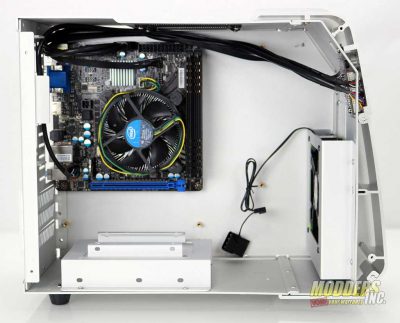 Rear Radiator Mounting:
Not available
Front Radiator Mounting:
A 120mm radiator can be mounted in or on the front fan assemble.
Top Radiator Mounting:
Not available
PSU Install:
 The power supply mounts in the vertical position to allow the case to be narrow
A Standard SFX Type power supply is needed to fit in the case
A modular power supply is highly recommended
Cable Management:
With the motherboard mounted directly to the back plate of the case it leaves no room for cable management to happen between it and the side panel. motherboard tray
Minimizing the about of cable you need will greatly increase the look inside of the StealWing
Bundling wire groups will help reduce the cluttered look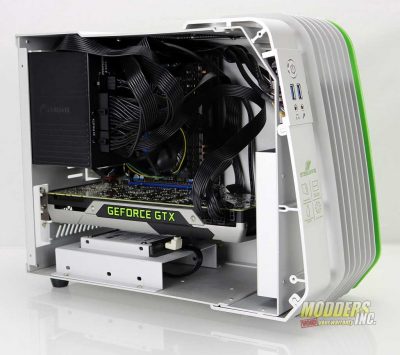 Storage Installation:
3.5″ HDD installation:
The HDD caddy is made of aluminum
One drive can be mounted inside the lower HDD caddy
One 3.5drive can be installed on the front fan assemble
Screws hold the drives in place
2.5″ HDD installation:
The same caddy tray is used to mount a single 2.5 drive on the lower caddy
Four screws into the bottom drive will hold it to the lower HDD caddy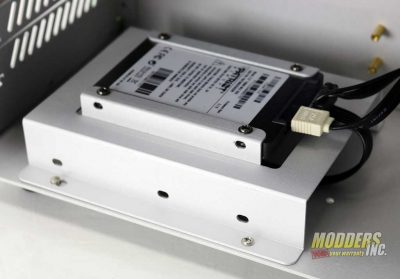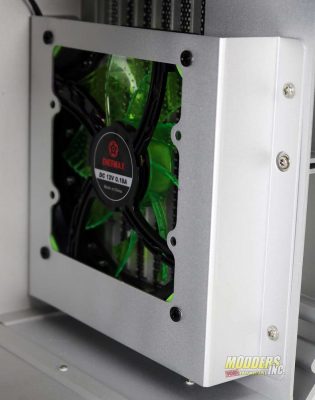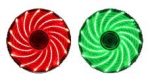 A ENERMAX circular-type LED fan comes pre-installed in the case and creates a stunning lighting effect with silent cooling performance. Depending on what case you purchase will dictate the matching color fan that comes with the SteelWing.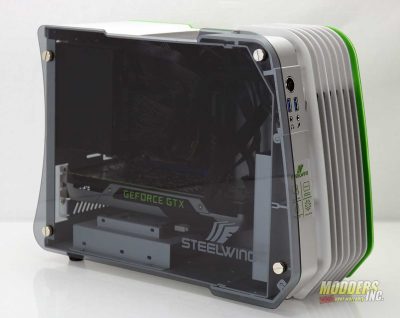 With the smoked tempered glass side panel installed we can see it gives the case a nice finished appearance.