« Introduction
|
EnGenius Cloud Management Software »
A Closer Look at the Engenius ECW230 AP
In business, you don't really want your networking gear visible. Most businesses do not want a hot pink access point hanging from their ceilings or their walls. The ECW is white in color with a bit of grey text and the EnGenius logo in the middle of the AP that tends to blend in at a distance and making it relatively unnoticeable once it has been mounted. The whole shell of the AP is made from aluminum and acts as a heatsink. The AP did get quite warm during testing.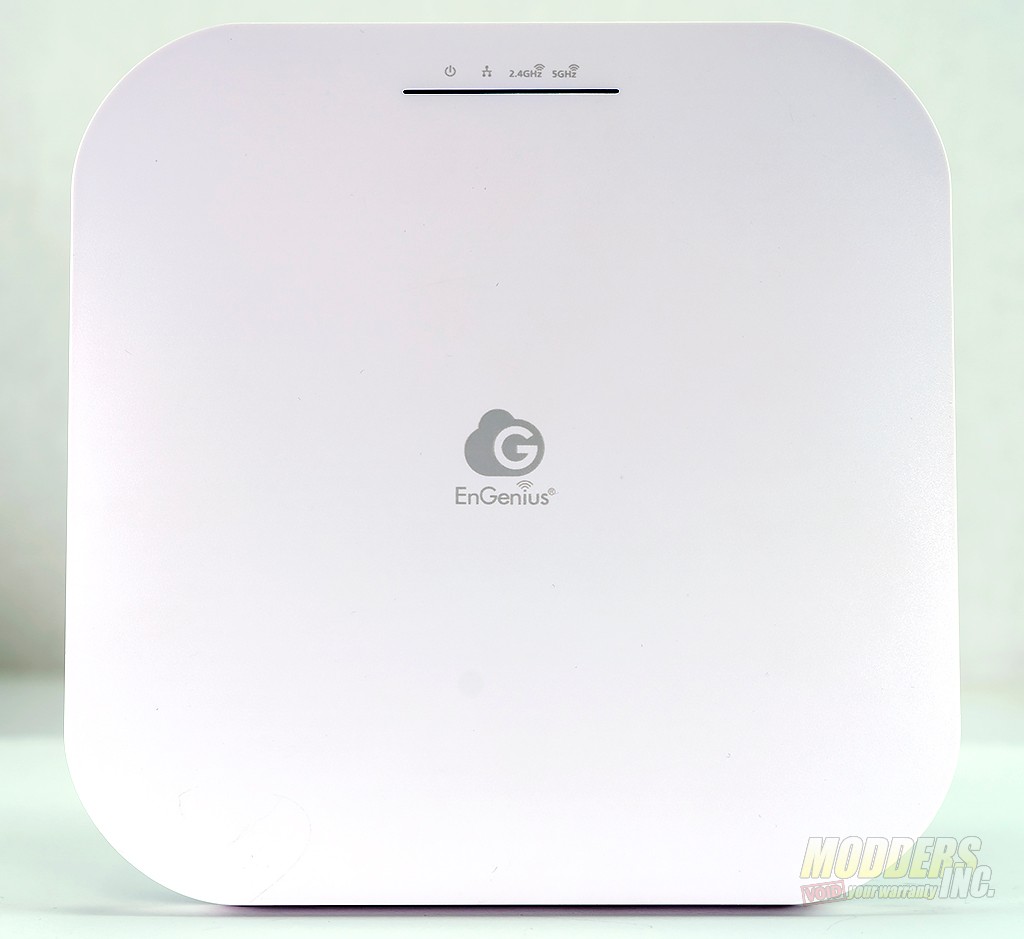 There are lights on the public-facing side of the ECW230 Access Point. There are two different colors of lights as well as flashing patterns to help troubleshoot if there are any issues. The amber light indicates correct power and the wired and wireless networks are indicated in three different blue LEDs. One is for the status of the wired network and the other two indicate the status of the wireless networks two are used for the  2.4 GHz frequency and the  5 GHz frequency. If all is normal, the amber light will be solid and the blue indicators will flash indicating network traffic is passing through the interfaces.

Flipping the ECW230 AP over, you can see the mounts for walls and solid ceilings, etc., and uses the built-in brackets to slide the back of the ECW230 onto the screw heads.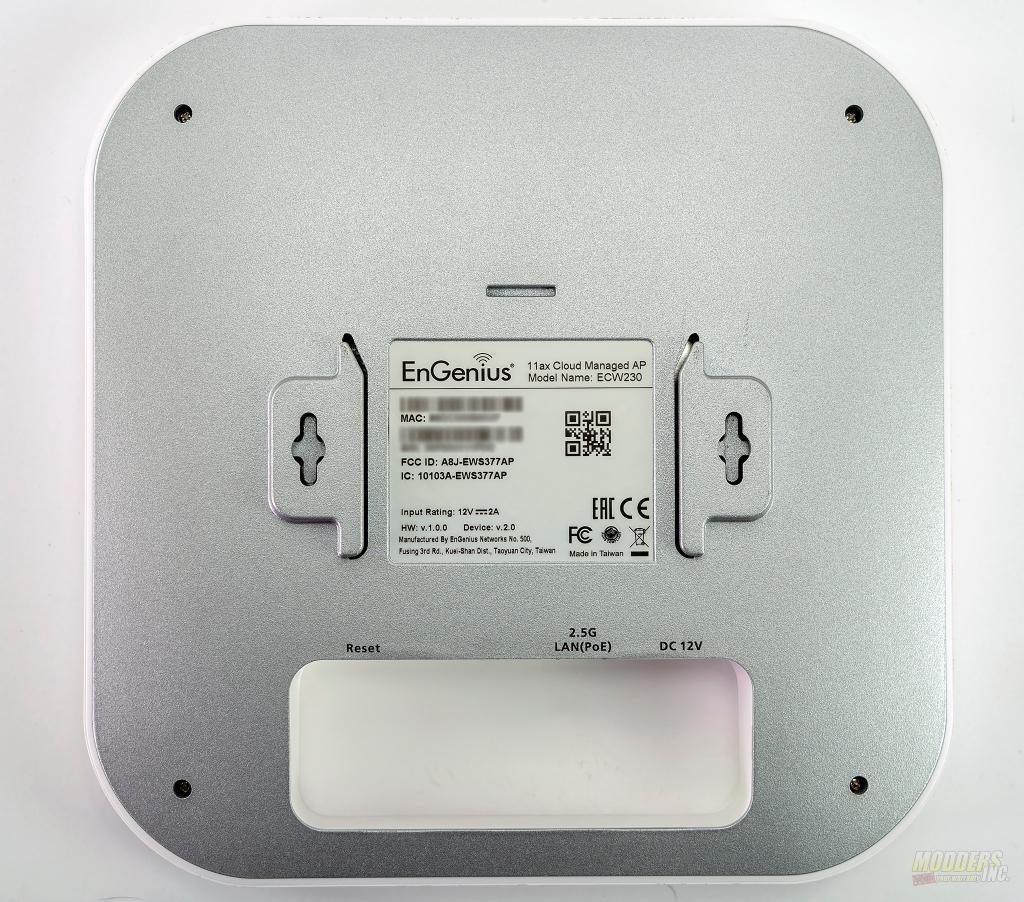 For drop ceilings, EnGenius has included brackets for those as well. These are designed to clip on to the thin metal braces that hold the panels in place on a drop ceiling.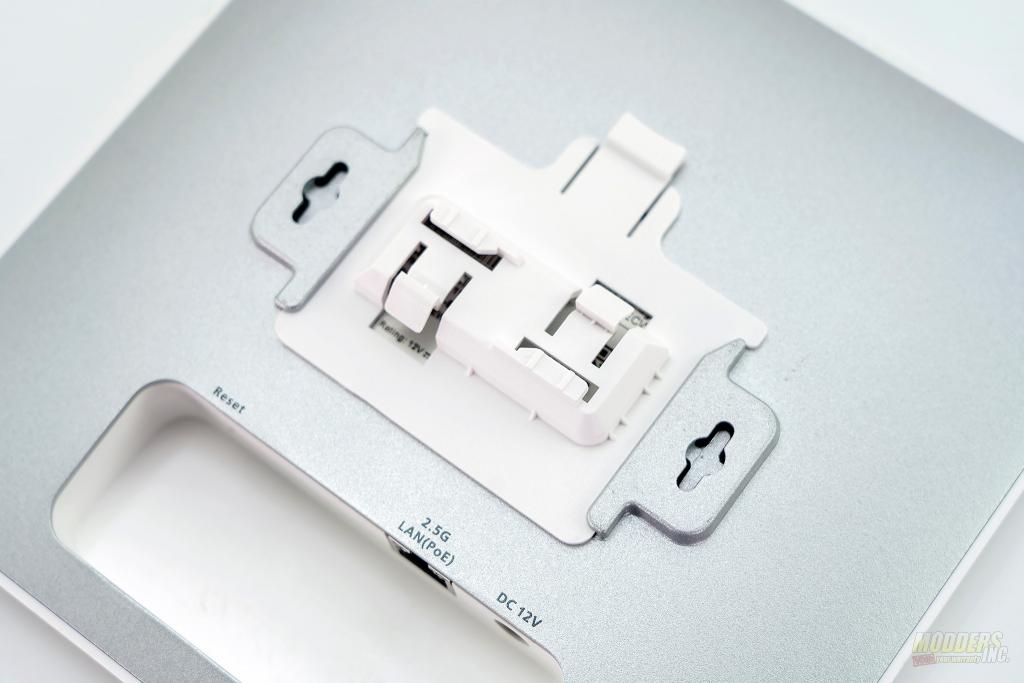 The ECW230 AP supports a single 2.5 Gigabit LAN interface. With wireless transmission speeds increasing the bottleneck in the network is going to become the gigabit switches. The port also supports POE or Power Over Ethernet. This supplies the AP with power over the CAT5 or CAT6 ethernet cable eliminating the need for a separate power adapter that needs to be located near the Access Point. However, the ECW230 does not come with its own POE injector so you'll have to either supply one or use a POE switch if you want to power the AP. If neither of those are available to you, a 12v terminal is provided for a traditional brick-style power adapter. The reset button on the far left is used to factory reset the AP incase of a configuration or hardware error.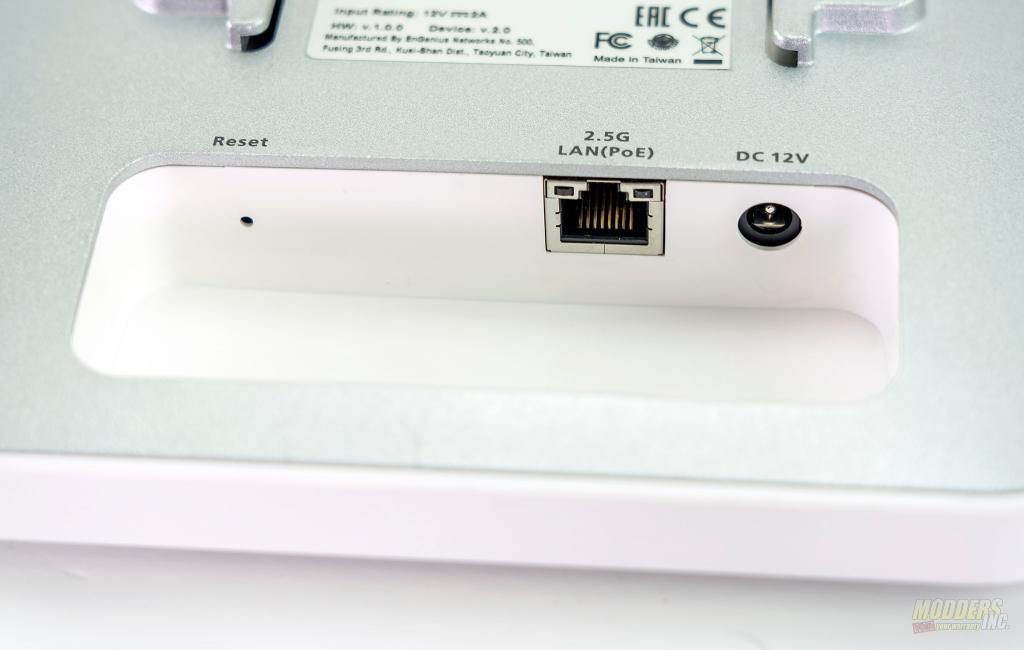 The ECW230 is designed to barely take up any space once it has been mounted. this is the case with a lot of business-class APs. The slot in the side is for a Kensington lock to prevent the AP from growing legs.