A Closer Look at the Engenius ECW230 AP »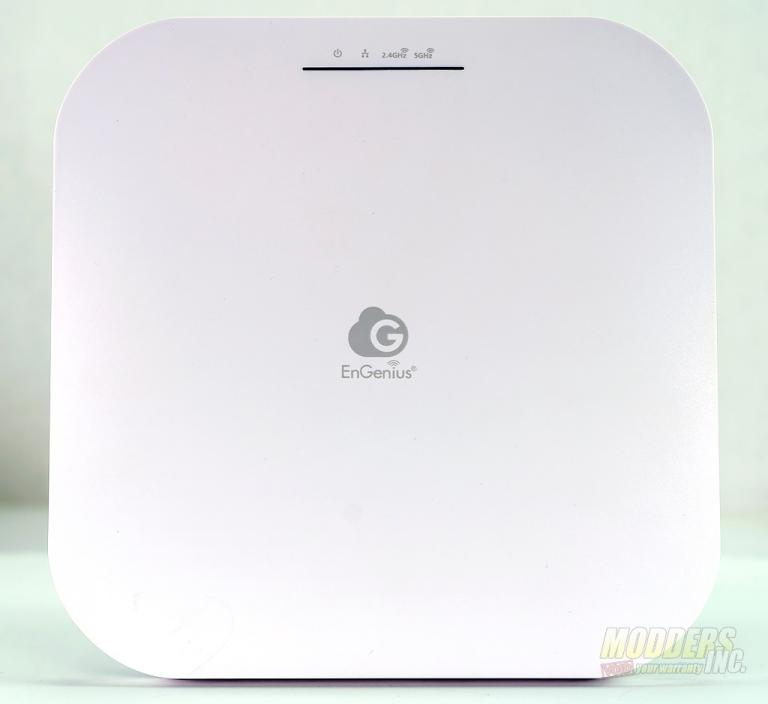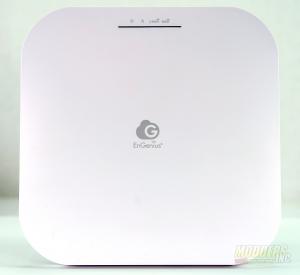 Let's face it, with the number of "smart devices" laptops, and gaming systems, Wi-Fi has become a part of everyday life. Can you imagine having to plug your smartphone into an ethernet cable to browse around the net while sitting on the couch watching TV and eating Bon-Bons? Or having a business meeting with a circa 2000 network switch sitting in the middle of a fancy conference room table? For networking, the business and enterprise environments tend to get the "good" stuff first, and then it starts to filter down to the consumer side. Wireless started very much the same way. Business got it first but soon after, it made its way down to the consumers. It started as 802.11a in 1997 with 54 Mbps bandwidth. Fast forward to the present and 802.11ax or Wifi6 is starting to hit the market and claims that a single stream can reach 3.5 Gbps bandwidth however, there are some caveats with attaining said speeds. The Engenius ECW230 is a business class access point that is compatible with the new 802.11ax standard. The ECW230 is a cloud-managed access point through Engenius' EnGenius Cloud which, also means no expensive wireless controllers are needed to manage the access points.  Wi-Fi has made our life more convenient and now what we need is more speed.
Packaging
With the ECW230 being a product designed for business, there's no fancy packaging. Just a plain cardboard box with a bit of text that includes the product name.
Internally, the ECW sits in a recycled cardboard shell. The access point's (AP) finish is protected from scratches as it is further enclosed in a protective plastic sleeve.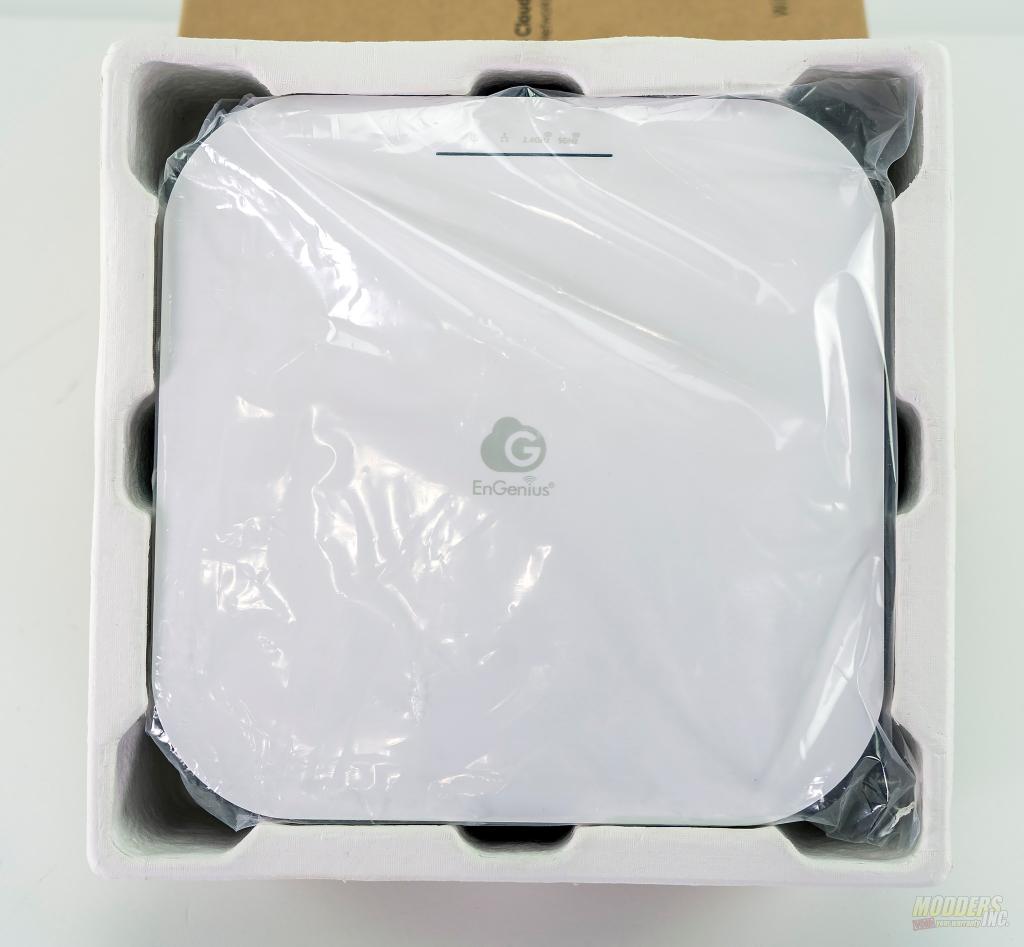 The kit comes with a minor bit of documentation as well as screws and mounts. The kit includes brackets to get the APs mounted to both solid (sheetrock, wood, etc) and drop ceilings.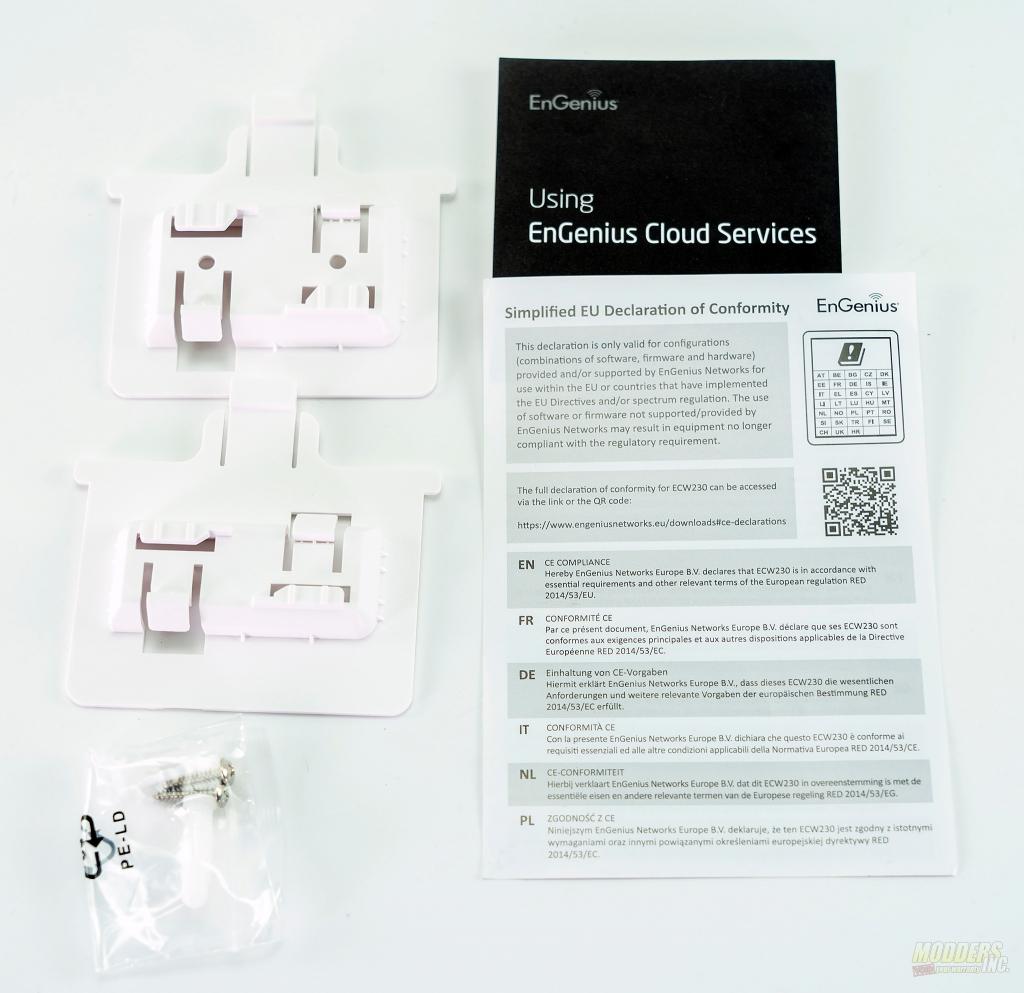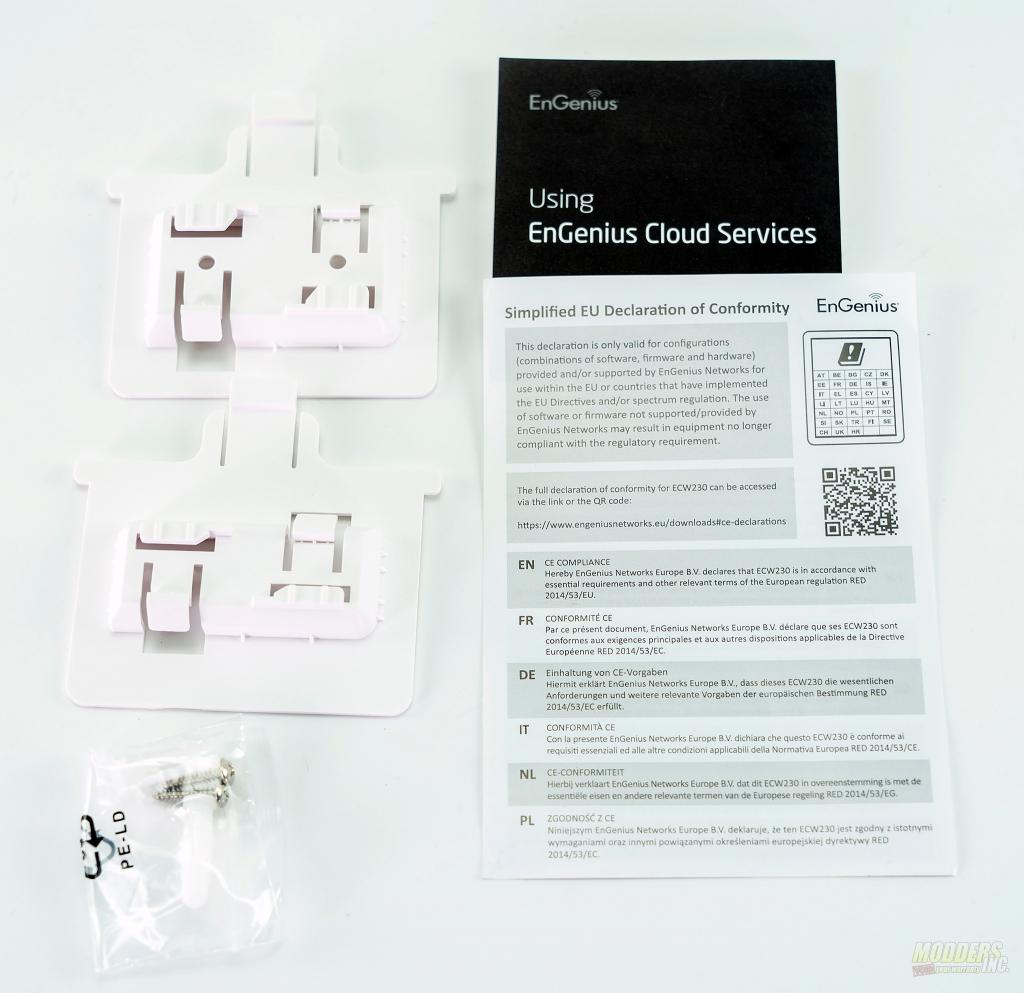 Specifications
Technical Specifications

Standards
IEEE 802.11ax on 2.4 GHz
IEEE 802.11ax on 5 GHz

Backward compatible with 802.11a/b/g/n/ac

Processor
Qualcomm® Quad-Core ARM Cortex A53s @ 2.0GHz CPU

Antenna
4 x 2.4 GHz: 3 dBi
4 x 5 GHz: 3 dBi
Integrated Omni-Directional Antenna

Physical Interface
1 x 10/100/1000/2500 N-BASE-T, RJ-45 Ethernet Port
1x DC Jack
1 x Reset Button

LED Indicators
1 x Power
1 x LAN
1 x 2.4 GHz
1 x 5 GHz

Power Source
Power-over-Ethernet: 802.3at Input
12VDC /2A

Maximum Power Consumption
19.5W

Management

Multiple BSSID
8 SSIDs for both 2.4GHz and 5GHz radios.

VLAN Tagging
Supports 802.1q SSID-to-VLAN Tagging
Cross-Band VLAN Pass-Through
Management VLAN

Spanning Tree
Supports 802.1d Spanning Tree Protocol

QoS (Quality of Service)
Compliant with IEEE 802.11e Standard
WMM

SNMP
v1, v2c, v3

MIB
I/II, Private MIB

Wireless Security
WPA3
WPA2 Enterprise (AES)
WPA2 AES-PSK
Hide SSID in Beacons
MAC Address Filtering, Up to 32 MACs per SSID
Wireless STA (Client) Connected List
SSH Tunnel
Client Isolation

Wireless & Radio Specifications

Operating Frequency
Dual-Radio Concurrent 2.4 GHz & 5 GHz

Operation Modes
AP, Mesh

Frequency Radio
2.4 GHz: 2400 MHz ~ 2482 MHz
5 GHz: 5150 MHz ~ 5250 MHz, 5250 MHz ~ 5350 MHz, 5470 MHz ~ 5725 MHz, 5725 MHz ~ 5850 MHz

Transmit Power
Up to 23 dBm on 2.4 GHz
Up to 23 dBm on 5 GHz
(Maximum power is limited by regulatory domain)

Tx Beamforming (TxBF)

Radio Chains/Spatial Stream
4×4:4

SU-MIMO
Four (4) spatial streams SU-MIMO for 2.4GHz and four spatial streams SU-MIMO for 5GHz up to 3,548 Mbps wireless data rate to a single wireless client device under both 2.4 GHz and 5GHz radio.

MU-MIMO
Four (4) spatial streams Multiple (MU)-MIMO for up to 2400 Mbps wireless data rate to transmit to two (2) two streams MU-MIMO 11ax capable wireless client devices under 5GHz simultaneously.

Four (4) Multiple (MU)-MIMO for up to 1,148 Mbps wireless data rate to transmit to two streams MU-MIMO 11ax capable wireless client devices under 2.4GHz simultaneously.

Supported Data Rates (Mbps):
802.11ax:
2.4 GHz: 9 to 1148 (MCS0 to MCS11, NSS = 1 to 4)
5 GHz: 18 to 2400 (MCS0 to MSC11, NSS = 1 to 4)
802.11b: 1, 2, 5.5, 11
802.11a/g: 6, 9, 12, 18, 36, 48, 54
802.11n: 6.5 to 600 Mbps (MCS0 to MCS31)
802.11ac: 6.5 to 1733 Mbps (MCS0 to MCS9, NSS = 1 to 4)

Supported Radio Technologies
802.11ax: Orthogonal Frequency Division Multiple Access (OFDMA)
802.11b: Direct-sequence spread-spectrum (DSSS)
802.11ac/a/g/n: Orthogonal Frequency Division Multiple (OFDM)

Channelization
802.11ax supports very high throughput (VHT) —VHT 20/40/80 MHz
802.11ac supports very high throughput (VHT) —VHT 20/40/80 MHz
802.11n supports high throughput (HT) —HT 20/40 MHz
802.11n supports very high throughput under the 2.4GHz radio –VHT40 MHz (256-QAM)
802.11n/ac/ax packet aggregation: A-MPDU, A-SPDU

Supported Modulation
802.11ax: BPSK, QPSK, 16-QAM, 64-QAM, 256-QAM, 1024-QAM
802.11ac: BPSK, QPSK, 16-QAM, 64-QAM, 256-QAM
802.11a/g/n: BPSK, QPSK, 16-QAM, 64-QAM
802.11b: BPSK, QPSK, CCK

Environmental & Physical

Temperature Range
Operating: 32ºF~104ºF (0ºC~40ºC)
Storage: -40ºF~176 ºF (-40ºC~80ºC)

Humidity (non-condensing)
Operating: 90% or less
Storage: 90% or less

Device Dimensions & Weights

ECW230 Device
Weight: 1.31 lbs. (597 g)
Length: 8.27″ (210 mm)
Width: 8.27″ (210 mm)
Height: 1.31″ (33.2 mm)

Packaging
Weight: 1.96 lbs. (891 g)
Length: 9.65″ (245 mm)
Width: 9.65″ (245 mm)
Height: 3.35″ (85 mm)

Package Contents
1 – ECW230 Cloud Managed Indoor Access Point
1 – Ceiling Mount Base (9/16" Trail)
1 – Ceiling Mount Base (15/16" Trail)
1 – Ceiling and Wall Mount Screw Kits
1 – Quick Installation Guide

Warranty
2 Year

Certifications
CE
FCC
IC