« ECW230 Network testing.
Final Thoughts and Conclusion
First, let us talk a little bit about the speeds observed. I said at the beginning of the article that Wi-Fi 6 can handle 3.5 Gbps bandwidth. Why didn't we see it here? Well, partially because of the clients that we currently have available. They are only 2×2 and this is a 4×4 AP. This means the clients can have two spacial streams whereas the AP can support 4. If you take a closer look at the specifications for the AP, it supports a single client with 4 spatial streams to get that bandwidth. Once Wi-Fi cards support 801.11ax with 4 streams we'll see a good jump in bandwidth. Another way to test would be to bridge two of the same access points wired to a single client on each side. The APs should communicate at max bandwidth.
While the ECW230 was made for business, I was a little disappointed to see that it doesn't support 160 MHz channel width, again, this would increase single client bandwidth. However, for stability, it would cause issues. As a network tech, it can be frustrating to troubleshoot Wi-Fi issues when you follow industry standards. Still, it would be nice to have the option. Smaller businesses with fewer APs and fewer clients could benefit from the increase in bandwidth.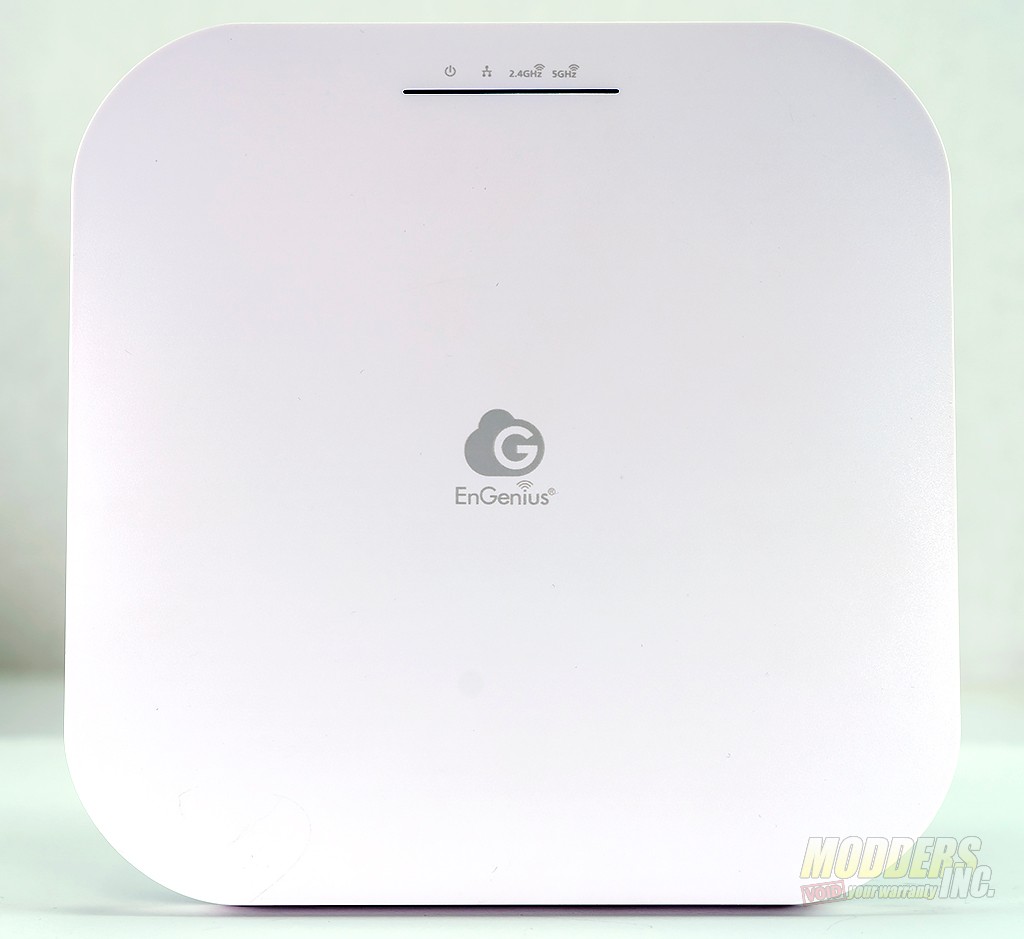 I really like EnGenius' cloud interface and it works well with the ECW230. The most recent experience that I have with another cloud vendor is Aerohive which is now Extreme networks. The EnGenius solution offers elegant simplicity. In my opinion, the items that I was looking for were easy to find. I didn't have to go digging menu after menu to find the configuration area I was looking for. The Extreme IQ solution offers quite a bit better troubleshooting and support tools at the expense of simplicity. There are quite a few occasions I get lost while looking to change a configuration.
With the ECW230 being my first Wi-Fi 6 AP, I was fairly impressed with the performance. Compared to the previous generation of access points there's a nice bump in speed. I do have a couple of Extreme Network AP130 AC APs in a separate environment at work and in the past, I've done similar network tests with the 5GHz frequency set at 80 MHz and I was able to hit the 600 Mbps mark. Keep in mind these tests were just my curiosity and not isolated like the testing that I performed on the EnGenius AP. Still, one would expect the latest generation to be faster. The fastest single client single stream tests netted over 800 Mbps.
I've had this AP in my house for a couple of months now and I've really been giving it a workout. Well, as much of a workout as I can. From my experience with it, there have been zero issues. My TV, laptop, and all my wireless devices connect to it just fine. Typically, I'll have the TV streaming Netflix or Amazon while browsing around on my phone or tablet. My current home is 1750 sq ft and the AP is located at the far end of the house and the living room at the other end. I've never experienced any with streaming or picture quality.
Speed and business use come at a cost. I've said it before and I'll say it again. This access point was designed for business and use in high-density environments. Currently, CDW has the ECW230 AP listed at $499. I highly doubt anyone would put one or a few of these in their homes unless you're a network geek. I'd do it. Home use aside, for the business, this is a pretty good deal and is right in line with pricing from Extreme Network on their new 305 series Wi-Fi 6 APs and Arubas 510 series of Wi-Fi 6 APs. If your business is on the prowl for some new wireless gear, you'll definitely want to take a look at the EnGenius solution as well.