PC Cases / Accessories
Fractal Design: Meshify C Mini – Tempered Glass Edition
I Shall Call Him Mini Me[shify]
« A Closer Look At The Meshify C Mini
|
Final Thoughts »
Hardware Installation and Clearance Compatibility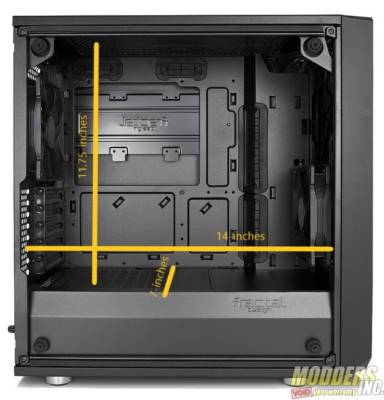 Interior Dimensions:
Internal length: 356mm
Internal height: 298mm
Internal depth: 178mm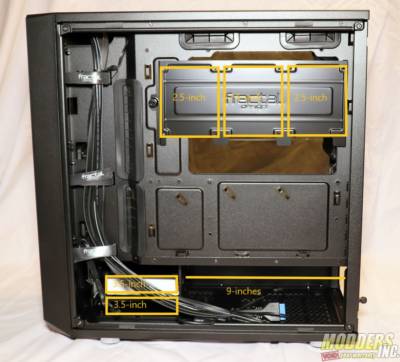 Power Supply:
PSU shroud isn't removable, HDD bay is removable
175mm recommended clearance for power supply installation
Video Card Clearance:
315mm of clearance between expansion brackets and front panel
CPU Tower Coolers:
172mm CPU heat-sink height clearance
Large CPU backplate cutout
Building in the Meshify C Mini was largely a breeze. Fractal's typical attention to detail is evident in numerous little touches, such as the hidden blue power LED under the mesh front panel, the removable plate in the PSU shroud that lets you mount an extra fan in the front panel, and the strategically located magnet strips on the top-panel dust filter that don't interfere with the protruding screws from the closed loop cooler we installed. This case is a good deal wider than most MicroATX cases, which gives it more room for wiring and space for particularly tall CPU coolers. If you have high-profile heatsinks on your memory modules, you may have trouble mounting a radiator in the top panel. All things considered, we thoroughly enjoyed building inside the Meshify C Mini.