« A Closer Look At The Meshify S2
|
Conclusion and Final Thoughts »
A Closer Look Continued
The backside of the motherboard tray features two 2.5″ mounting locations and three 3.5″ drive cages. Access to the power supply connectors is provided by a cutout that runs roughly 1/2 the length of the case.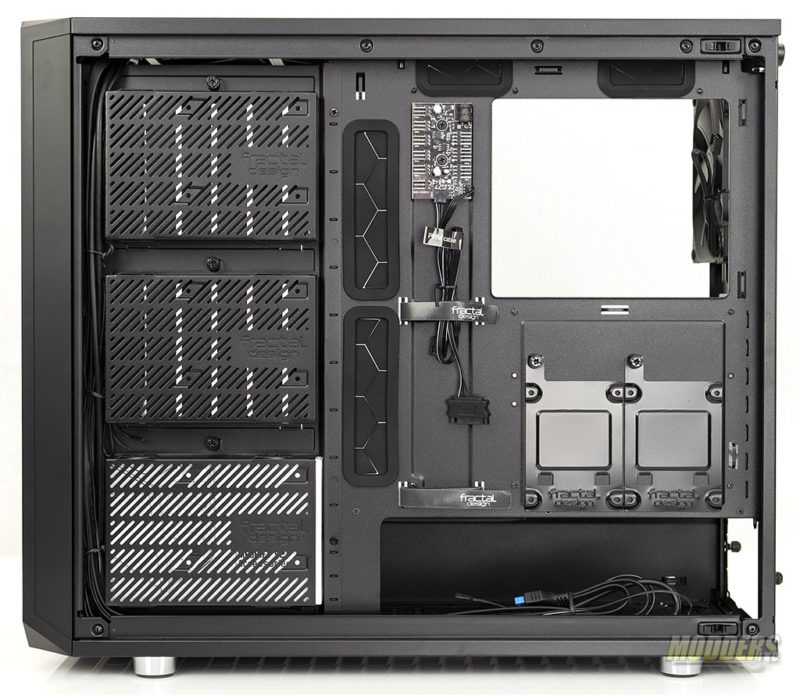 The two 2.5″ drive mounts can be removed from the back of the motherboard tray and mounted to the top of the power supply shroud.  The three 3.5″ drive trays are completely removable when not in use. The design allows them to mount behind the reservoir with little to no interference. The drive trays will also accept 2.5″ drives as well. In order to help tidy up cabling, Fractal as included a SATA power extension for 3.5″/2.5″ drives installed in these locations.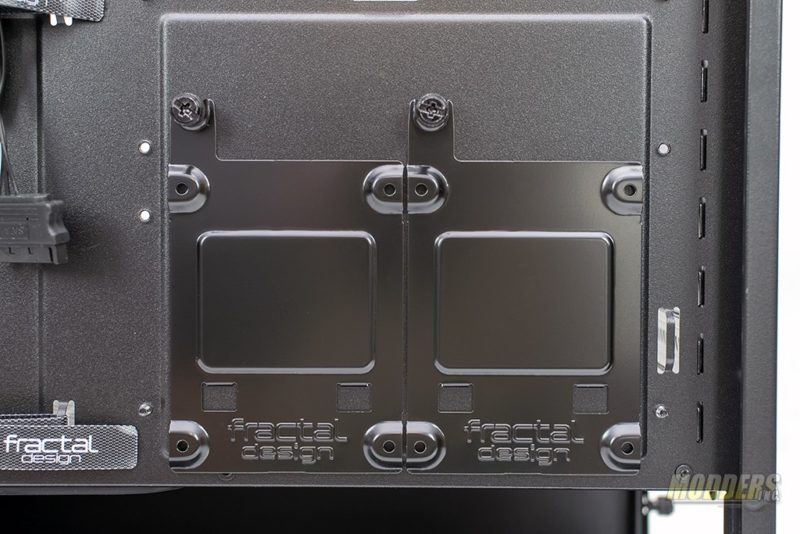 The Nexus+ PWM fan hub is mounted to the backside of the motherboard tray. The input for the hub comes from the motherboard's PWM header and is powered by a SATA connector. The hub can support three PWM fans as well as six 3-pin fans.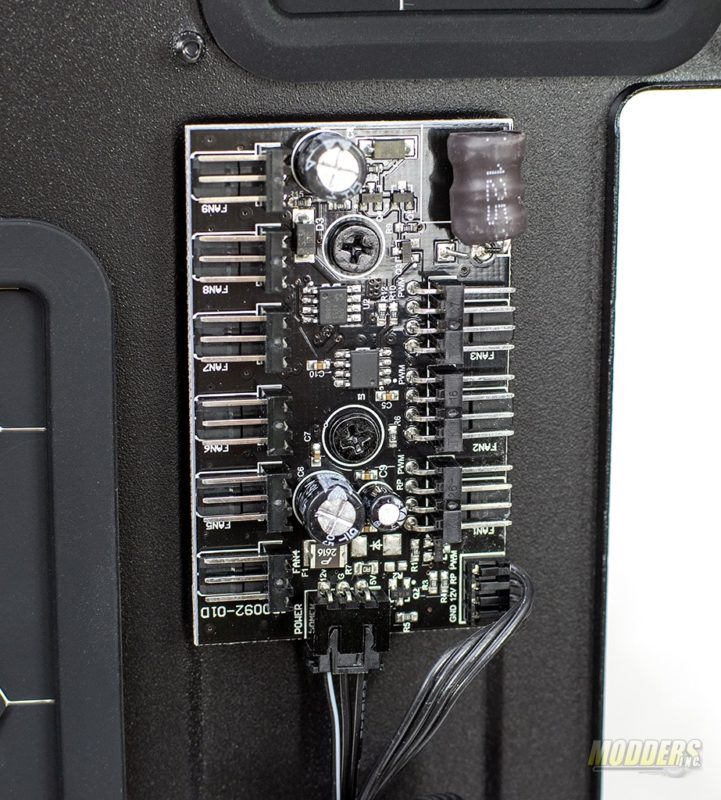 To get the installation started, I chose to start with the power supply. Simply remove the mounting bracket from the back of the case, screw it to the power supply and slide it into place.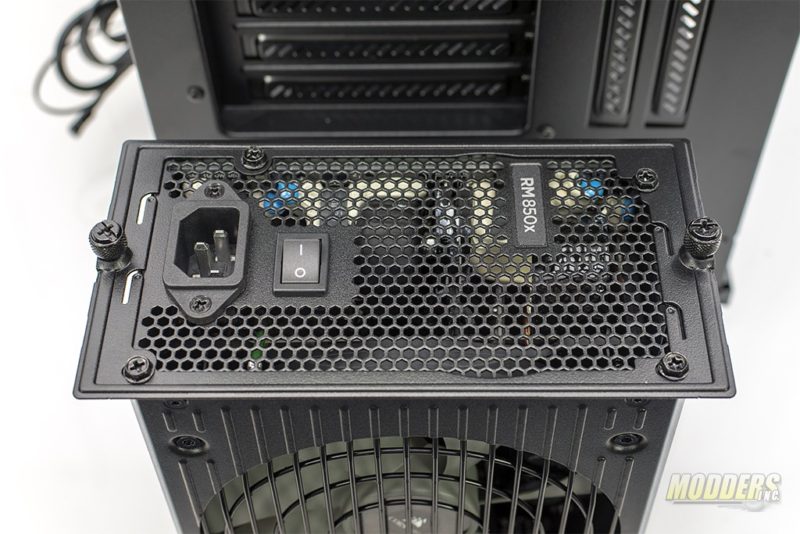 Next up I installed the motherboard. All was well and good until I installed the CPU cooler. The cooler I chose to use for this build is EKWB's Predator AIO. The cooler uses 120mm fans, however, as I attempted to install the cooler more towards the center line of the case, the motherboards VRM heatsinks prevented this. Thankfully there are multiple mounting points for 120mm and 140mm fans and radiators.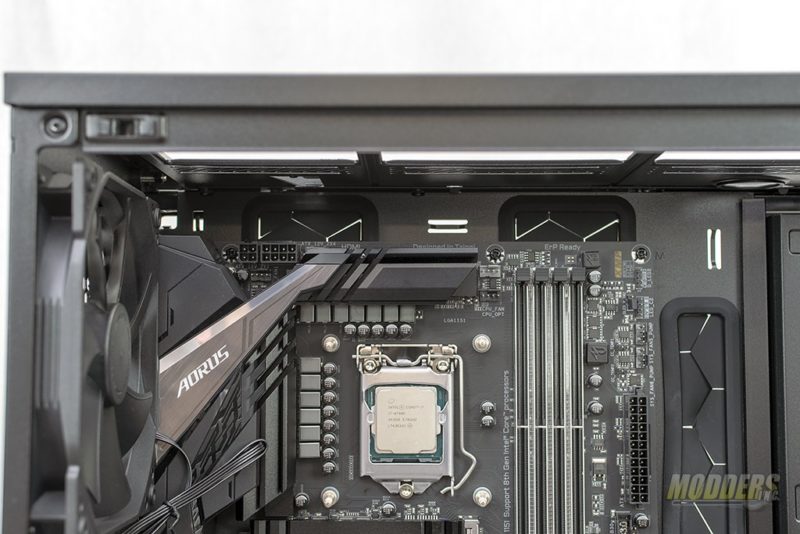 The rest of the installation went smoothly. Cable routing was made a bit easier as there is ample space behind the motherboard tray. I did find my self wanting longer fan cables to route to the PWM hub, however, an extension fixes this issue.  The back side of the case features two velcro strips to help secure cables. Fractal included plenty of zip tie locations, 14 as a matter of fact, to help manage the cables.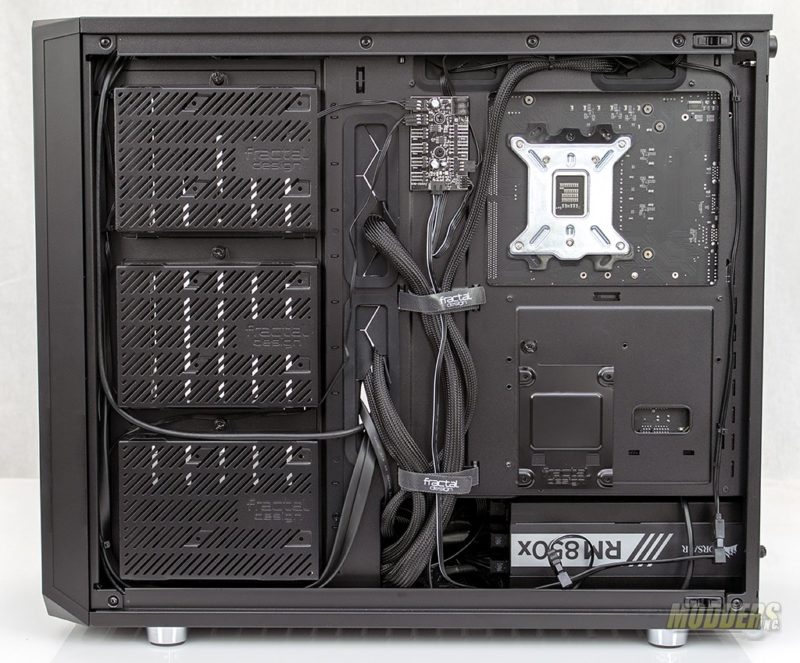 The front side of the case came out pretty clean as well. I chose to use the vertical mount GPU as well as mounted the SSD to the power supply shroud.