« A Closer Look Continued
Conclusion and Final Thoughts
Putting together a system inside the Meshify S2 was fairly painless. As I mentioned before, I did find myself wanting a little longer cables to the front fans from the Nexus PWM fan hub. An extension did solve this issue and would allow most of the cables to run as a single bundle. That is except for the USB Type-C cable. Depending on the location on your motherboard, it may be a challenge. The pass-through for the motherboard tray and the power supply shroud do a lot to help hide wires and keep things nice and tidy. There's plenty of space for me to get my meat hooks in and out of the case without too much of a challenge. No sharp edges exist inside as I was able to put our system together unscathed.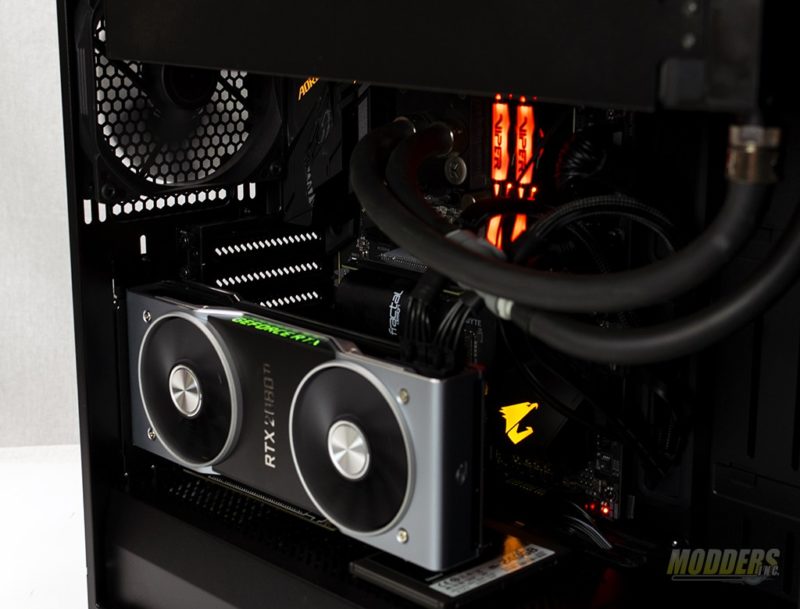 The cooling performance of the Fractal Design Meshify S2 was perfectly acceptable. I've spent a bit of time with the case over the last couple of weeks and the stock i7-8700K didn't see temperatures in excess of 60°C and the Nvidia RTX 2080TI reached 78°C during heavy gaming sessions. Even during those sessions, the fans were still quiet. The Nexus+ PWM Fan hub was connected to the motherboards CPU_OPT fan header and set to normal in the BIOS. Good airflow through the case helped keep fan noise and temperatures in check.
The Fractal Design Meshify S2 shares its core with another Fractal Design, the Define S2. And why not? Is this bad. For me, I say no. If the design works, then use it. By using the same core, Fractal can produce the cases at a lower cost in both design time and manufacturing. The differences between the two series, the Define series caters to aesthetics more so than airflow whereas the Meshify's focus is on airflow. Granted, in my opinion, the Meshify S2 with its angular front panel looks just as good. I personally have used the Define S2 and like it just fine. Each has their own place. The MSRP for the tempered glass versions will run you $149.99 and the non-glass version will set you back $139.99.