Article Pages:
« Introduction and Specifications
|
Hardware Installation and Clearance Compatibility »
A Closer Look at Vector RS Blackout TG
The case itself weighs about 25 LB or 12 kg. This is not too bad considering the steel construction and tempered glass top and side door. The majority of Vector RS is made from rolled steel. Skeleton of this case is assembled using rivets. In most cases, we see two rivets to support the corners for stability. With that said I saw no issues with this case being as stable as possible. Even without doors, this case is as solid as a tank.
The front bezel of the case is made from ABS plastic and has a glued tempered glass on the right side and a thin metal sheet on the right side for that stylish look. In the middle of the bezel is a thin RGB strip which carries to the top and along the top of the case. The back of Vector RS is a pretty standard layout. The power supply comes with a mounting bracket here so you would need to remove it and attach it to your PSU. There are seven PCI slots and two vertical slots for vertically mounting GPU.
The top of the case I found a removable tempered glass bezel. If you are planning to do just air cooling you can leave this bezel as tempered glass, however, if are planning to install a radiator, I would recommend replacing this panel with an open mesh one which is provided. The entire case rests on four small rubber feet. The size of these feet is adequate to keep case stable on a flat surface. To keep case clean Fractal Designs installed a removable filter in the bottom of the case which could be easily removed and cleaned from the front of the case.
The left side of the case is made from steel sheet and also glued tempered glass. The tempered glass width is only 3mm and not 5mm as we see in many current cases. The right side of the case is made from steel sheet as well however, it doesn't have any tempered glass on it.
To keep case noises to a minimum, Fractal Design is using Bitumen sound dumping pad on the inside of the right door. This material greatly reduces noises which could be coming from the inside of the case. What I found unique about the doors in Vector RS is the latching of the doors. The doors have ball-type inserts which tightly slide into the frame of the case.
The front bezel could be removed with ease to perform any maintenance you require. To remove top bezel you would need to remove the front bezel first to gain access to the mounting screws on the top.
While exploring the case I found that there are multiple places which could be outfitted with fans and radiators. From the front of the case you can remove provides 140mm fans and use smaller 120mm fans or radiators such as 120, 240 or 360mm. To gain access to the bottom filter you would need to remove the front bezel and pull out the filter.
Changing over the top bezel is pretty easy. Once you gained access to the two mounting screws you can just pull and slide up the bezel and replace it with slotted one. Since I am planning to use a top-mounted radiator in my build, I wanted my radiator to have maximum airflow possible.
Motherboard tray supports a variety of motherboards (E-ATX (up to 285 mm wide), ATX, mATX, Mini-ITX). A large maintenance window makes it easy to install a CPU cooler or a CPU Water block. To keep wires as neat as possible Vector RS has multiple cable routing grommets around the motherboard in addition to Velcro straps on the back of the motherboard tray. Vector RS has multiple hard drive sleds which could be removed on demand. There are also two dedicated SSD sleds on the back of the motherboard tray. On the top right bezel, there are IO controls with two USB 3.0, one Type C, microphone and headphones jacks, power and reset buttons.
Fans (3) which come with Vector RS are Dynamic X2 GP-14. These fans have a maximum rotational speed of about 1000RPM and have an extremely low sound level of 18.9dBA.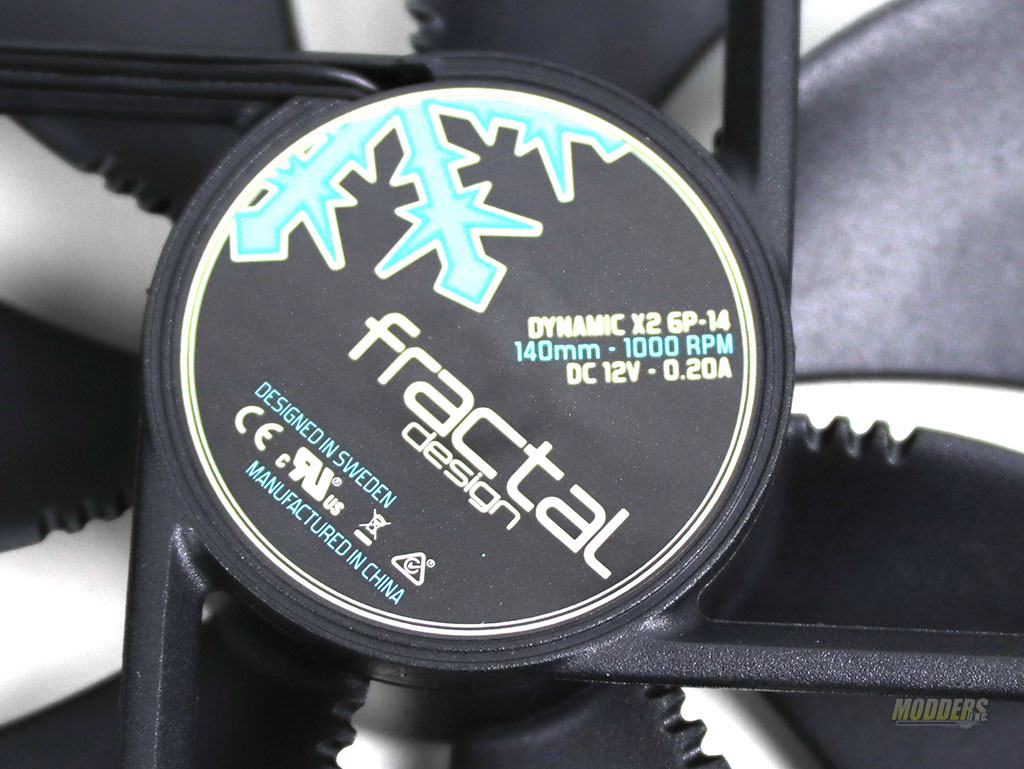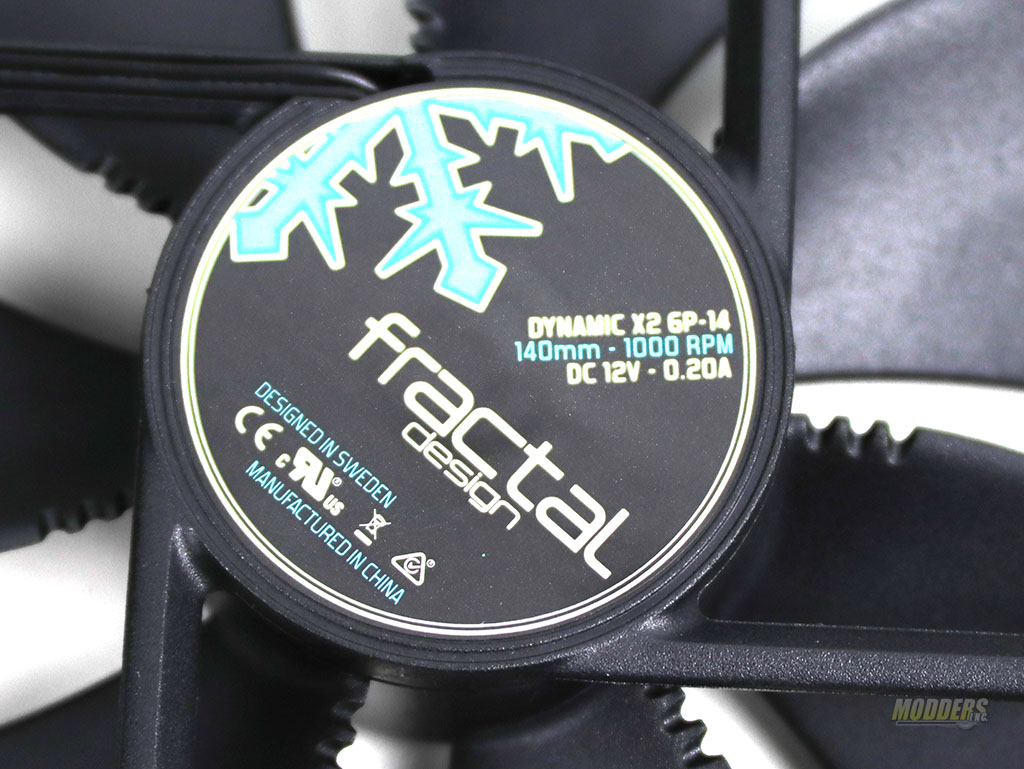 Looking closely at the Dynamics x2 6p-14 we can see small cuts on the fan blade. This unique design of the blade greatly shapes the vortex of airflow.
The front panel where the hard drive sleds are being mounted could be completely removed if you desire. A good reason to remove the hard drive column would be if you are planning to mount an extended GPU into this case and need all the room you can get. Vector RS comes with a Nexus+ PWM Fan Hub controller which could be used to spread power to all the fans in the case from one central location.
If you are planning to install your GPU vertically then you are going to need a vertical GPU Riser Kit. Fractal Design has a vertical PCI Express 3.0 x16 Riser Kit for purchase on their site. Note this part is not included with Vector RS. Installation is extremely easy as it requires just two screws.