« A Closer Look at Vector RS Blackout TG
|
Final Thoughts »
Hardware Installation and Clearance Compatibility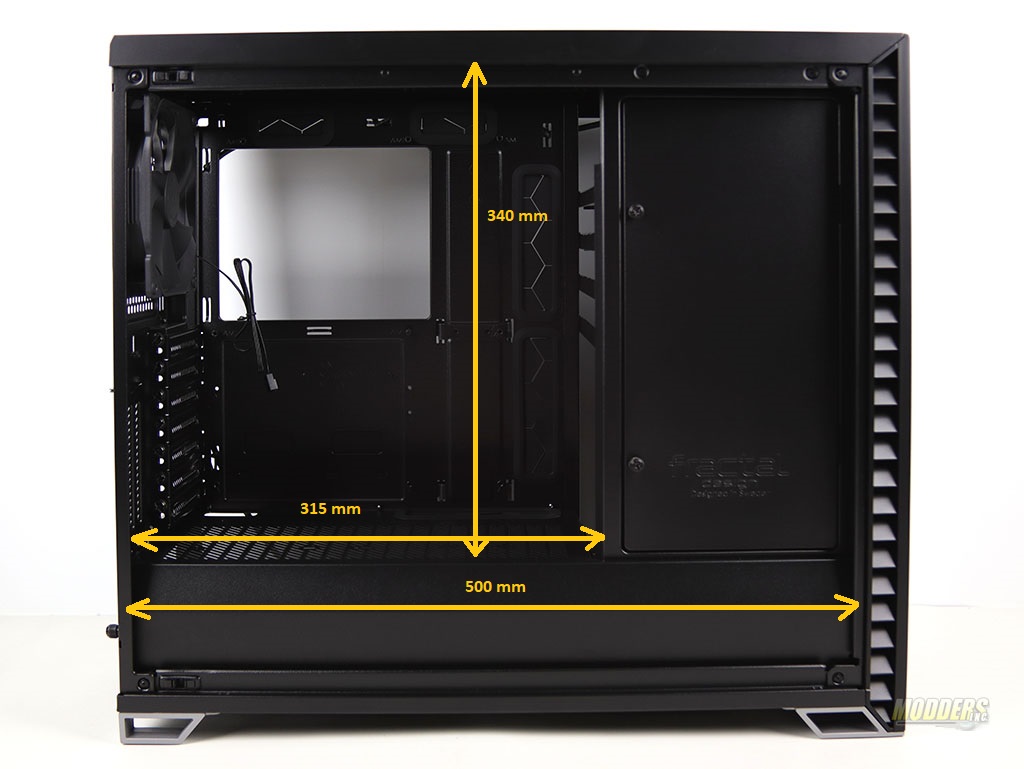 Internal length: 500mm.
Internal height: 340mm.
Internal depth: 180mm (to the glass)
Fan Support
Storage Layout
Front: 3 x 120/140 mm (2 x 140 mm preinstalled)
Top: 3 x 120 or 2 x 140 mm (with cooling bracket installed)
Rear: 1 x 120/140 mm (1 x 140 mm preinstalled)
Bottom: 2 x 120/140 mm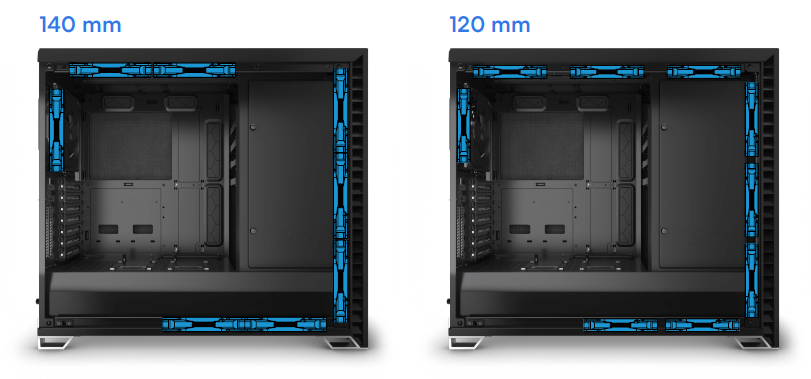 Open Layout
Front: 3 x 120/140 mm (2 x 140 mm preinstalled)
Top: 3 x 120/140 mm (with cooling bracket installed)
Rear: 1 x 120/140 mm (1 x 140 mm preinstalled)
Bottom: 2 x 120/140 mm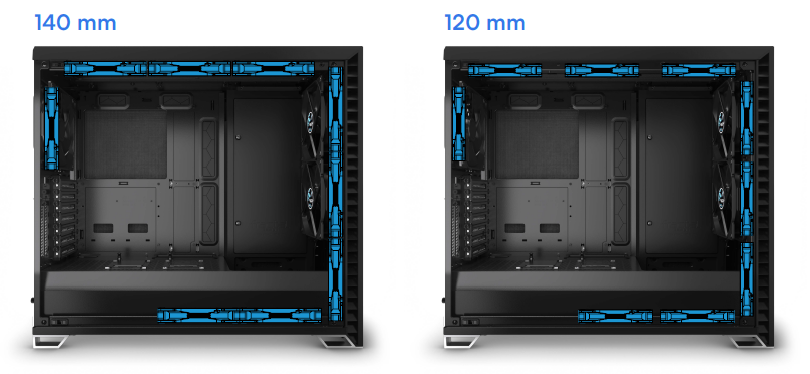 Radiator Support
Storage Layout
Front: 360/240/120 mm, 280/140 mm
Top: 360/240/120 mm, 140 mm
Rear: 120 mm
Bottom: 240/120 mm, 280/140 mm

Open Layout
Front: 360/240/120 mm, 280/140 mm
Top: 360/240/120 mm, 420/280/140 mm
Rear: 120 mm
Bottom: 240/120 mm, 280/140 mm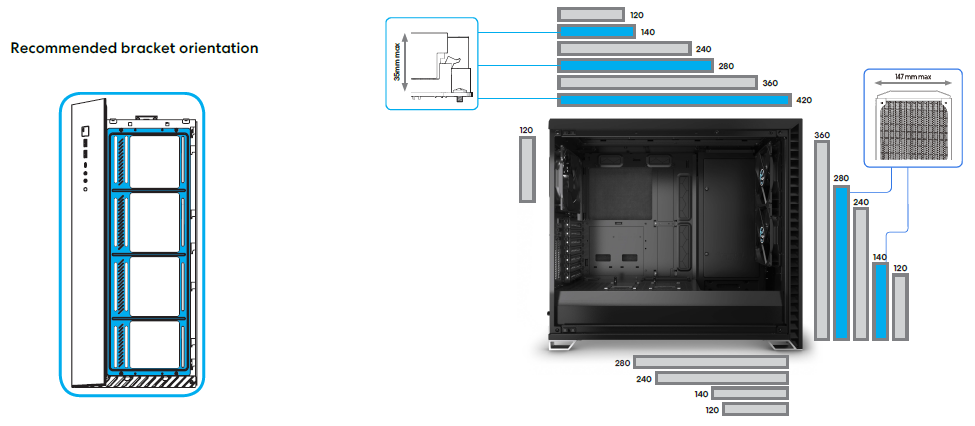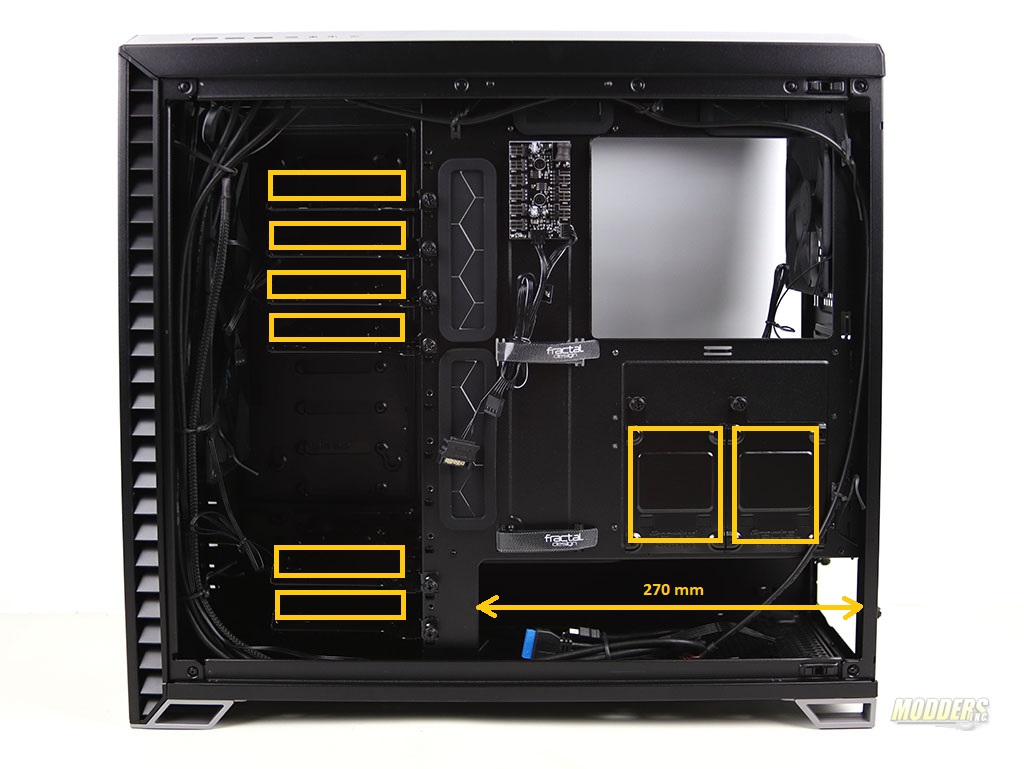 Power Supply:
There is a removable plate.
270mm Max Clearance for Power Supply installation. (300mm if you remove the storage cage)
Video Card clearance:
There is 440mm Max of clearance before reaching the front fan mounting area. (However, in storage layout the GPU clearance is 315mm)
CPU Tower coolers:
CPU heat-sink height clearance is about 175mm. (from the motherboard tray to the glass).
Large CPU backplate cutout.
I ended up using Fractal Design ION+ 660P in this build and the PSU fit like a glove plus I had plenty of space to store cables. The best way to run the cables from a power supply, in this case, is to attach required cables to the power supply first before installing it. If you have big hands like me you might have some issues snaking and plugin cable while the power supply is already in place.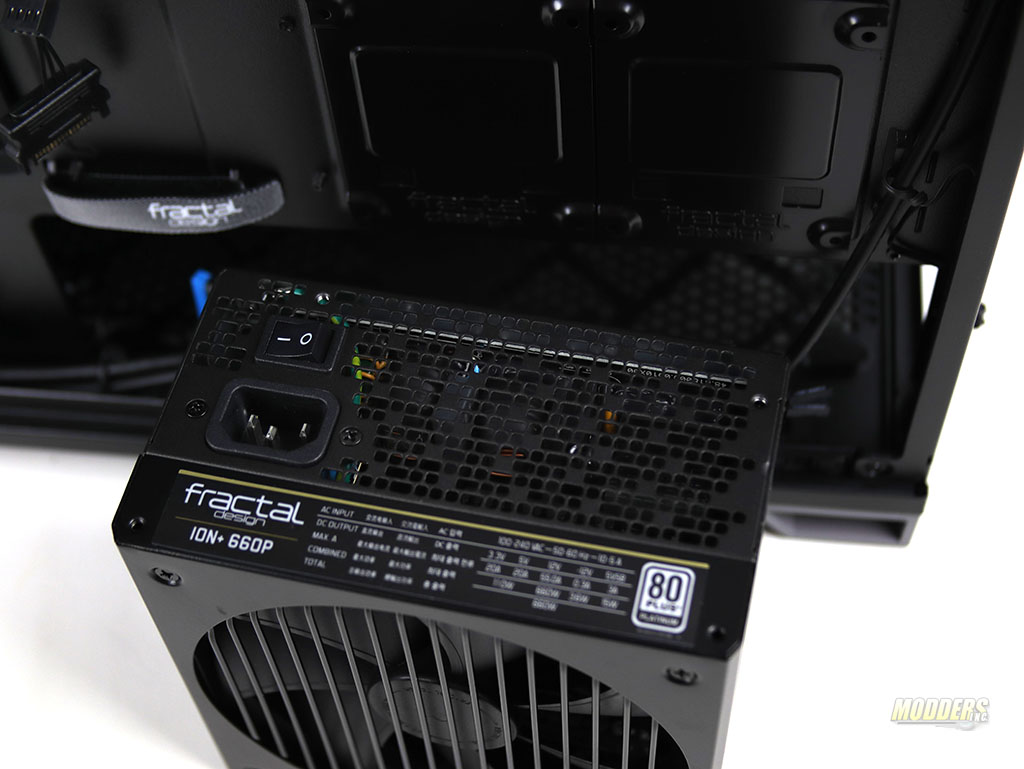 Assembling the system was extremely easy and fast. There is plenty of space to work with and the cable management, in this case, is a pleasure to work with. If you are planning to use custom PSU cable, I think you will be very pleased with the design of the cable management system here. Since I was just using my 240mm radiator, it fit without any issues on the top of the case. (using AIO CPU cooler here). For more complex systems you might want to think to remove the hard drive trays and the section altogether to give you more room for a custom pump, reservoir and maybe another radiator in front of the case. Possibilities are endless. When the system is on the RGB section of the case lights and syncs with the controller (motherboard or one included). The RGB flow is just enough to provide you with a minimum RGB glow.