DDR Memory Reviews
GEIL Super Luce 3200 RGB SYNC Ready Ram Review
GEIL Super Luce 3200 RGB
« Benchmarking
Final Thoughts
Super Luce 3200 by GEIL definitely turns heads. The RGB functionality of the RAM pretty much makes this kit worth looking in to. GEIL doesn't have dedicated RGB software however, Super Luce 3200 supports ASUS Aura Sync, Gigabyte Fusion, MSI Mystic, and ASRock Polychrome software. So, if you have any of the listed motherboards you can take advantage of customizing your color scheme to your liking with ease. The stylish heat sink is effective and easy on the eyes. Super Luce series has heat sinks in both white and black options.
Looking at Super Luce 3200 from a performance perspective it illustrates the ability to be stable at stock speeds (3200MHz) and also when over-clocked (3700MHz). From my personal experience with Super Luce 3200 highest stable frequency, I was able to achieve was 3700MHz at 1.37v. Pushing it further even at 3733 causes system to freeze and blue screen. If you ask me a 500MHz bump, is not bad at all.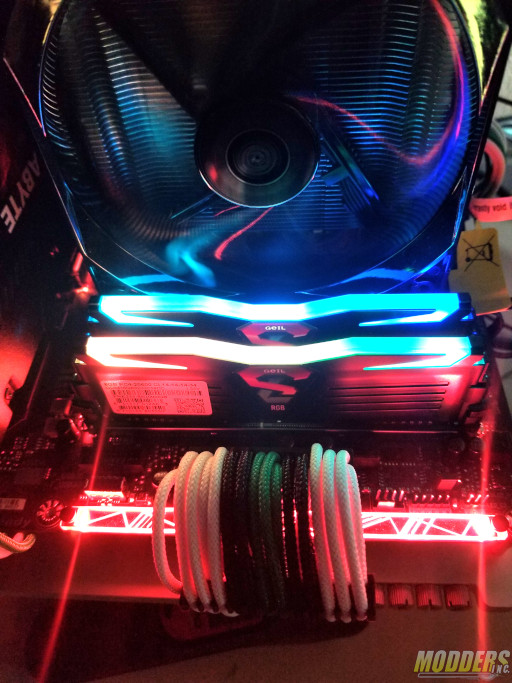 Right now, GEIL Super Luce 3200 retails for about $ 189 USD which is high for an RGB 16GB kit. Other similarly spec'd kits retail from $130 – $220 so, the Super Luce kit falls in that range, although on the higher end. While the kit is on the higer end of the market, performance of the GEIL Super Luce kit was very good and I did get a decent overclock on the memory. Prices with RAM are always in flux and I do expect the price of this kit to drop. When it does, it may just make a good addition to your next build.