PC Mouse
Genius GX Gaming Gila Mouse Review
« Page 2
|
Page 4 »
Genius GX Gaming Gila Software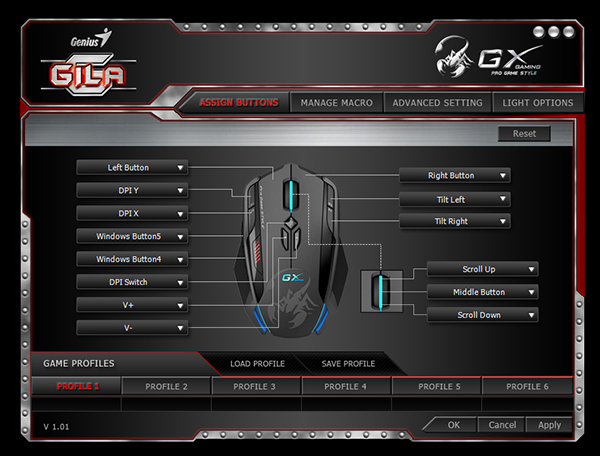 Although the GX Gaming Gila mouse can be used out of the box without any additional drivers, the GX Gaming Scorpion driver software allows users to unlock the Gila's full potential. With the software installed, users can remap buttons, record and assign macros, adjust advanced sensor settings, and customize LED color and behavior.
The main button assignment window allows users to re-assign values to all 12 buttons as well as assign scroll up and scroll down functions. This can be done across all six profiles for a total of 72 + 12 programmable functions. There is a built-in 32KB memory and onboard processor on the GX Gaming Gila so these settings can be saved and recalled without the aid of the Scorpion driver software, even on a different computer.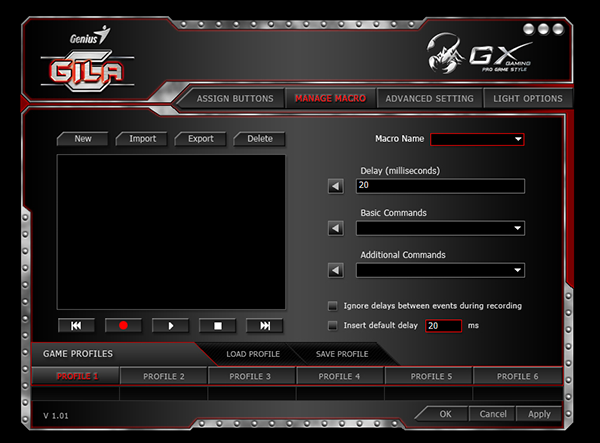 The macro tab allows users to record and edit their own macro inputs. Delays can be inserted and additional commands can be utilized.  Each individual named macro setting can also be imported into or exported from the current system.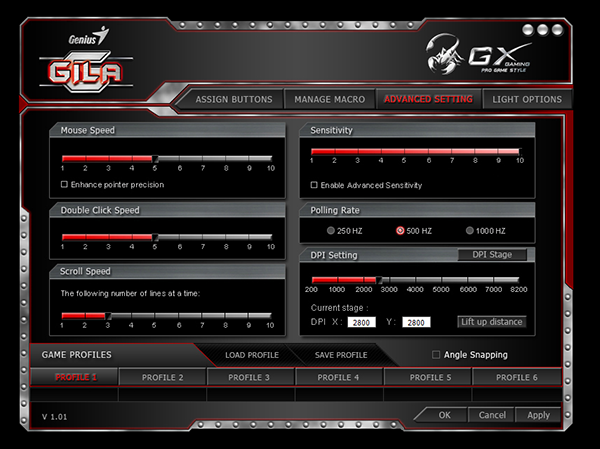 The advanced tab provides all the mouse and sensor control functions including polling rate changes, DPI setting, Z-axis distance adjustment, scroll speed, sensitivity, double click speed. As per ADNS-9800 sensor specifications, there is also option to enable angle snapping function (it is disabled by default), which smooths out the output motion data by resetting the angle to the closest axis. This might be useful to some that need assistance and experience jitters on higher DPI settings but those who are more advanced will find the motion imprecise as additional movement data is added to the input.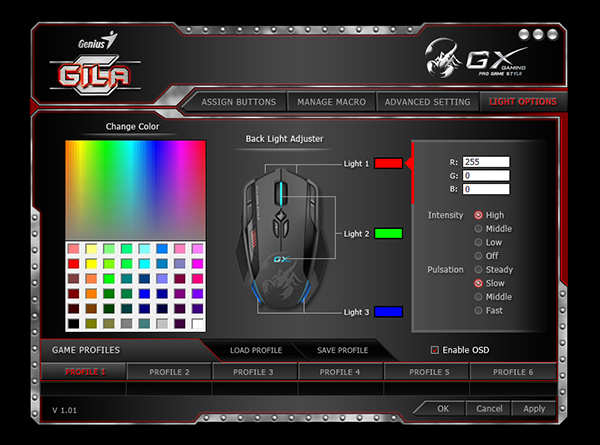 The last tab is the RGB LED control section, with the ability to adjust the three different light zones and assign an RGB value with up to 16 million combinations. The brightness can also be adjusted (three levels) or turned off completely with additional light behavior options including slow, medium and fast pulsation or the default continuous lighting.