PC Mouse
Genius GX Gaming Gila Mouse Review
« Page 3
Final Thoughts about the GX Gaming Gila Mouse

Let us get the issue of price out of the way first as I imagine many will be taken aback by the almost triple digit dollar price point, especially those who are not enthusiast-class gamers. Several factors are at play justifying this high price, and believe or not, it has nothing to do with supply-and-demand economics. This mouse is feature packed and each of those add tangible dollar value that push the price to that level.  Omron micro-switches are Japanese long-life clickers that are expected to be the norm for a mouse on this level. By long life, we are talking about millions of clicks, delivered with precision and tactile feedback. The Avago ADNS-9800 sensor is also something of considerable value and a top of the line VCSEL sensor (at least on mouse input device applications) with 150 ips speed and 30g maximum acceleration. Further add the cost of implementing triple RGB LEDs. It is one thing to add LED diodes but to add three separate, programmable RGB LED with up to 16 million color possibilities is another thing entirely.  Also, programming functions into the Gila itself requires a processor and memory built-into the unit itself so data can be recalled and stored with reflex efficiency. Further add premium braided cabling, gold plating, variable weight system and grip coating, it is not a surprise that the asking price reached just shy of triple digits.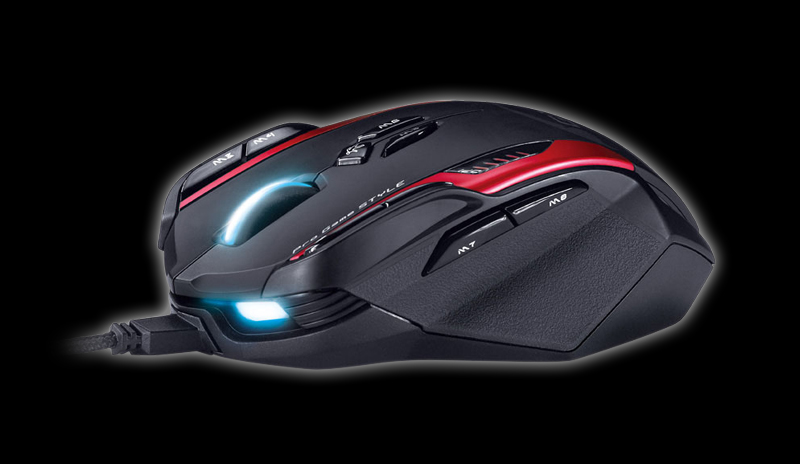 So yes, the price is indeed justified considering all the features you get. The Gila is essentially a lot smarter than the average mouse and have a lot going for it under the hood than just a simple sensor and some switches. The semi-ambidextrous design works well, especially for small to medium hand sizes. For larger hand sizes, claw grip can be utilized to access the extra buttons.  It is only semi-ambidextrous as the side buttons are only conveniently accessible to right handed users as thumb buttons, while left handed users have a bit of an awkward positioning with the use of a pinkie finger to access these. The top button angles are far enough apart that accidental key presses are not an issue.  One gripe I have however is the lack of LED lighting or separating identifier for these extra buttons. The LED on the front and rear would be better served if they were functional and provided back lighting for the additional buttons, but I guess implementing this setup would alter the GX Gaming Gila's shape and weight distribution too much.
Overall, the Genius GX Gaming Gila provides extensive functionality for users who are looking for a mouse with superior input flexibility and that can withstand extended play time. The optional weight system also furthers functional configuration, while full RGB LED customization adds personal eye-candy on a level that is uncommon. The price might be too high for most users but the Gila offers plenty of features to satisfy even the most fickle of gamers.
[sc:must_have_award ]