Keyboards
Genius GX Manticore Gaming Keyboard Review
« Intro
|
Page 3 »
A Closer Look
The length of the GX Gaming Manticore keyboard measures 21.5 inches wide and has an integrated wrist-rest area which extends its length from 6 inches to 8 inches. Needless to say, it occupies a lot of desktop space. The Manticore is mainly black with attractive red trim flanking the sides. The main top body is glossy while the sides and wrist-rest area have more of a matte black look.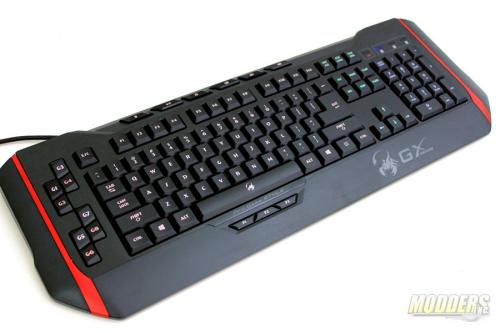 The layout is a full-size mixture of 104-key ANSI and 105-key ISO, having a large enter key but having the backslash right beside a small backspace instead. Aside from being a full-size keyboard, the eight macro keys on the left side extend the width further compared to a typical layout. These macro keys are staggered and angled to minimize accidental key presses and for easier no-look fingering while playing. It is quite a brilliant design for macro keys and since they are of slightly lower profile than the main keys, they are unobstructive.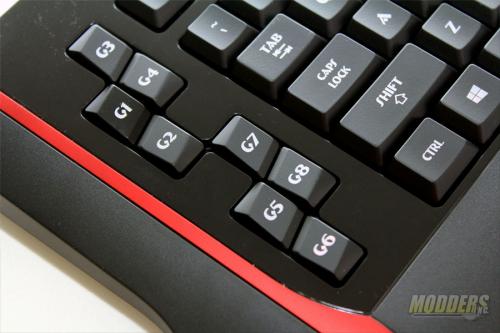 Genius refers to typing on the Manticore as "mechanical" like in the promotional ads so I was curious to see what was underneath. Genius after all has offered an affordable tenkeyless mechanical keyboard before dubbed the M1 using Chinese Cherry-MX clone switches although the significantly lighter weight makes that less plausible. Also, having full-RGB backlight control on individual mechanical keys is somewhat of a breakthrough and I doubt it will be offered at sub-$100 price range if it was available. It could be a hybrid switch or a scissor-switch or a capacitive switch, but there is only one way to find out.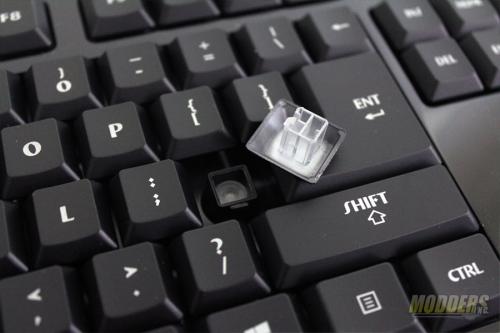 I should have expected it but it is pretty much a dome membrane keyboard. There is no spring inside to simulate that mechanical feel nor is there a special housing on the button. It actuates at around ~48 grams and it doesn't feel remotely like a mechanical keyboard or any hybrid implementation at all. It does light up though.