Keyboards
Genius GX Manticore Gaming Keyboard Review
« Page 2
|
Page 4 »
Unlike other backlit keyboards, the GX Gaming Manticore has three backlight sections which can be different at any time (or the same depending on your style). The backlight color is also customizable to almost any color you want possible with LED technology, which may not be in the millions but is in the hundreds of thousands so this gives you more several thousand more color options compared to other gaming keyboards which only offer one. These colors are of course customizable via the driver software although the backlight level can be controlled or turned off via a dedicated button.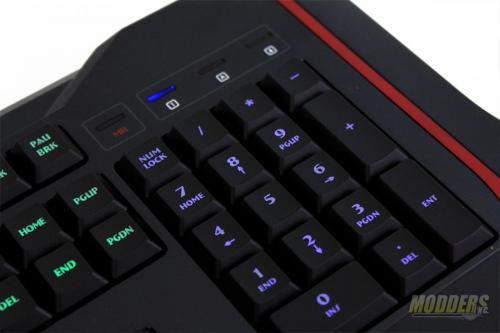 The row of slim keys located above the function keys not only include the backlight control key but also the multi-media control keys and the master record key. Dedicated multimedia and volume control keys are superior to combination secondary function multimedia keys as they can be quickly accessed without sacrificing gaming time or hand position.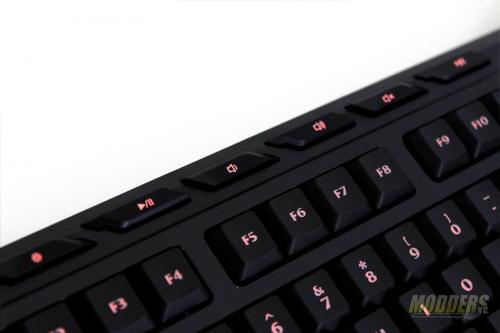 The master record key meanwhile enables live macro recording which, I am happy to report, works extremely well compared to other live macro recording keyboards I have used before which tend to require a few seconds of waiting time before initiating. The GX Gaming Manticore macro record function is instant and saves the macros recorded in the driver software drop down list immediately for recall later. The only downside of course is that it has to be assigned via the driver before you can use it.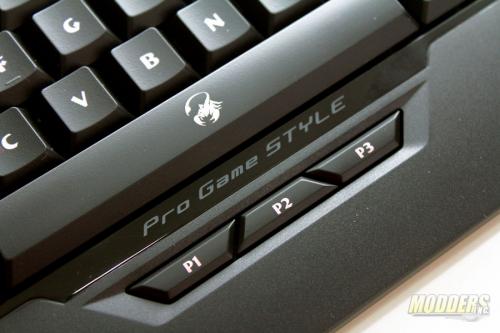 Three profiles are available for a total of 24 macros or functions available. These profiles are easily accessed via the buttons below the space bar and are recessed so they are not accidentally pressed but are easy enough to access when you need them. Whenever you switch a profile, an OSD will show up notifying users that the profile has changed but this feature can be disabled via the driver software if needed.