Gigabyte has packed a GeForce GTX 970M inside their slimmest 14″ laptop yet. The Gigabyte P34W measures a scant 20.9mm in thickness and weighs 3.77lbs but can go toe to toe against steep gaming system requirements. Inside is a 512GB  mSATA SSD with a 2TB HDD for storage as well as an Intel Core i7 mobile processor. No gaming experience is complete without great visuals of course, so Gigabyte provides a full-HD 1080p display with a wide color gamut and viewing angles. For more information, check out the official press release below:
More powerful than ever. GIGABYTE Unwrapped World's Only 14" Gaming Laptop P34W with GeForce® GTX 970M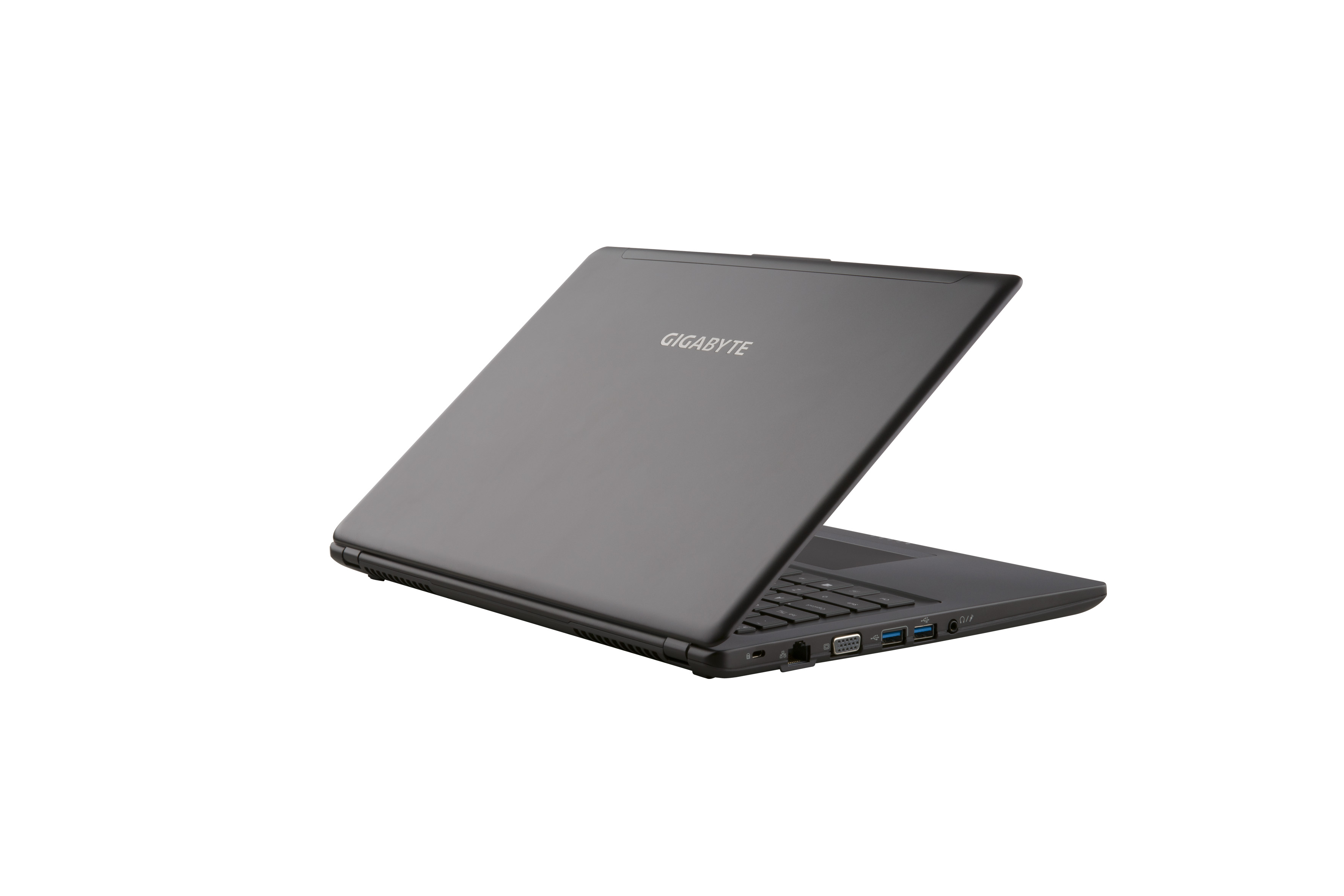 0.8 inch thin ultra-slim gaming laptop packed with unimaginable power beyond its size
GIGABYTE introduced the new successor of its 14" ultra-slim gaming laptop line, P34W. Measuring just 20.9mm/0.8 inch thin and weighing 1.71 kg/3.77 lbs, this slender beast boasts a competent GTX 970M gaming graphics within a slender dimension. A rapid mSATA SSD and a whopping 2TB hard drive blend speed with capacity, readying users for backup anytime without resorting to the cloud. P34W also sports a Full HD display with wide viewing angles, rendering excellent image quality even when screen shared among friends. P34W equips hardcore gamers with full-spectrum features for uncompromised gaming experience without the heft synonymous to the desktop systems.
Immense Horsepower in Ultrabook Shell: GeForce® GTX 970M
P34W gets its primary motivation from a quad-core Intel Core i7 processor with an NVIDIA® GeForce® GTX 970M GDDR5 3GB, a more punchy yet efficient combination than ever while remaining a slender size as seen on any Ultrabook. Benefit from the Maxwell architecture, GTX 970M brings a phenomenal score, P9000+ in 3DMark 11, creating a solid edge in running most games in high settings, offering gamers and graphic professionals desirable processing resources comparable to desktop systems when portability is a priority. Multiple visual innovations including DSR, MFAA & VXGI renders more realistic and stunning images for unprecedented gaming virtual reality. Storage is configured to one rapid 512 GB mSATA SSD and a 2TB hard drive, a blend of speed and capacity in an incredibly thin and lightweight chassis.
Immersive Gameplay with Dolby® Digital Plus
P34W also boasts a 1080p display with wide color gamut, granting viewers forgiving viewing angle as well as impressive color accuracy from the axis. Users of different scenarios like sharing screens among friends or switching between multiple displays would be finding an effortlessly rich, sharp viewing experience. Dolby® Digital Plus Home Theatre™ provides a thrilling cinematic experience on the go, fine-tuning customized settings and presets for music, movie, and game create optimal audio effect; Dolby technologies automatically adjust according to listening output for the best experiences.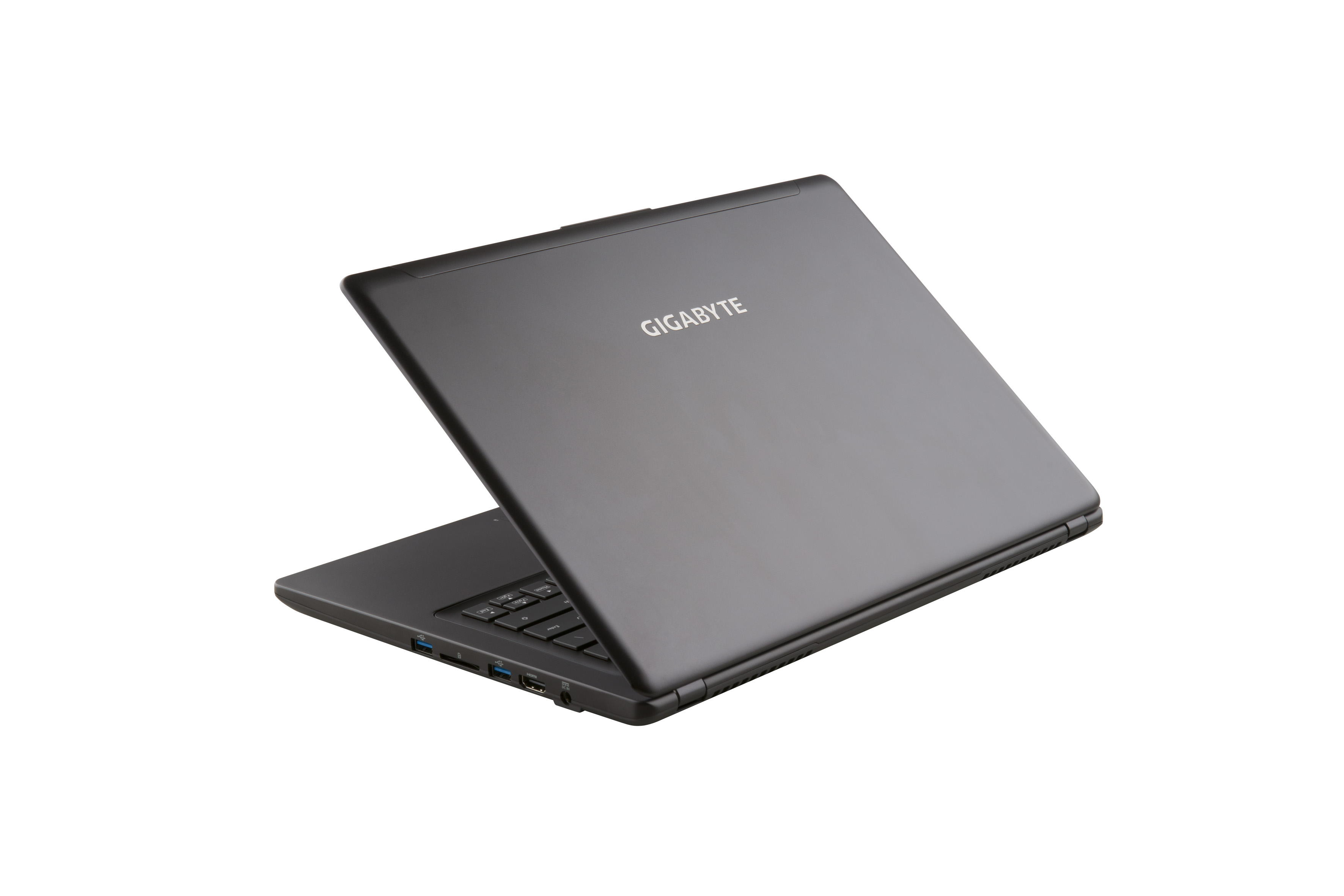 Customizable Fan Speeds + Innovative Supra-Cool technology
GIGABYTE exclusive Fan Tweak offers 4 modes of fan speed, customizing 4 dedicated modes for essential scenarios. The newest added Auto Low Speed allows the system fan to run at a low turning speed, achieving tranquility for light usages; it automatically switches to higher speed as system loads elevates or heat accumulates. GIGABYTE exclusive Supra-Cool technology incorporates dual heat pipes plus two dedicated fans for CPU & GPU, ensuring the highest level of reliability and stability for the most arduous of tasks and gaming.
Smart Integration: Taking User Experience to a New Level
In addition to all the outstanding features, the integrated hardware and innovative software makes for an intuitive interface, LAN Optimizer eliminates network latency and improves online gaming and/or web browsing by prioritizing the desired type of packets according to user settings. LockWin Key allows users to lock the Windows Key during gaming sessions in case of mis-registering the key during gameplay and jumping to the home screen. The P34W is forged to ensure gamers have the best playing time anytime, anywhere.
P34W v3 Features and Specs:
1.    Astonishing Visuals by NVIDIA® GeForce® GTX 970M GDDR5 3GB
2.    Extremely Powerful 4th Generation Intel® Core™ i7 Processor
3.    Slim & Lightweight: only 0.8 inch/ 3.77 lbs
4.    Massive Storage: up to 512GB mSATA SSD + 2TB HDD
5.    Stunning Visual Enjoyment with Full HD Display
6.    Illuminated Backlit Keyboard
7.    USB 3.0 x 4, D-sub, HDMI, RJ45, Headphone-out jack (Audio-in Combo), SD Card Reader, DC-in Jack
8.    Dimensions: 340(W) x 239(D) x 20.9(H) mm
About GIGABYTE
GIGABYTE Technology Co. Ltd., headquartered in Taipei, Taiwan, is known as a leading brand in the IT industry with branch offices located in 24 countries around the world. Founded in 1986, GIGABYTE started as a small research and development team and has since taken a position as one of the in the world's top motherboard manufacturers. In addition to motherboards and graphics cards, GIGABYTE further expanded its product portfolio to include notebook and desktop PCs, datacenter servers, networking products, mobile handsets, and home entertainment devices to serve each facet of the digital life in the home and office. Everyday GIGABYTE aims to "Upgrade Your Life" with innovative technology, exceptional quality, and unmatched customer service. Visit www.gigabyte.com for more information.