« A Closer Look at the In Win 101c
|
Thermals »
A Closer Look at the Polaris RGB Fans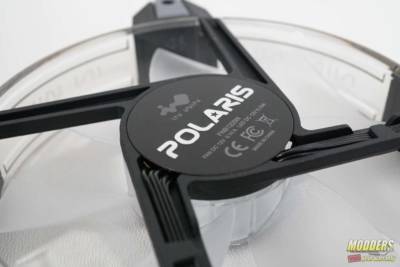 The fans used in the In Win 101C were also an In Win product, their Polaris Fans. They make three versions of the Polaris fans. The Polaris LED, Polaris RGB, and Polaris Aluminum. We used their Polaris RGB fans in this build. One of my biggest issues with RGB everything is the addition of yet another RGB controller into your system which means more cables to manage and more software to use. However, the Polaris fans cut out two of those issues, and the way they did the wires on the Polaris fans are no different than just having regular fans in there. The Polaris fans each have six individual RGB lights in the center of the fan. These lights require no RGB controller which is amazing! In addition, they require no separate software and are controlled through your motherboards RGB software. I used GIGABYTE's RGB fusion software to set up lighting effects on these fans. So, if you have RGB strips, graphics card, keyboard, and mouse, all controlled by your motherboard's software, the Polaris fans can sync up with the rest of your system. The Polaris RGB fans are compatible with ASUS Aura Sync, MSI Mystic Light Sync, GIGABYTE RGB Fusion, and ASRock RGB LED.
The Polaris fans are RGB, variable speed fans that can run between 500 to 1280 RPM. The fans measure 120mm x 120mm x 25mm. They have an air flow of 43.31 CFM and run whisper quiet at 20.2 decibels. The sleeve bearings are rated for 35,000 hours. The fans have a unique 8-pin modular connector and you can daisy chain several fans together. In fact, each 2-pack requires you to daisy chain them together. There is a long cable, 800mm, with a traditional 4-pin PWM header and a 4-pin RGB header connected. There is also a shorter cable, at 100mm, that connects the two fans together. The fans also come with RGB couplings to daisy chain the RGB headers together. For this build, we connected the RGB headers off all five fans to one RGB header on the motherboard.
The Polaris fans have a black plastic frame with shockproof rubber mounts on either corner. These rubber corners reduce vibration and prevent rattling noises that develop over time with traditional, plastic mounts. The outer rim of the fans is a clear plastic that amplifies the RGB lighting. The PWM control allows the Polaris fans to run at a range of 500 to 1280 RPM. These fans are quiet, practically near silent. We ran the Polaris RGB fans at 650 RPM. The system, both under idle loads and even while gaming, never went above 25 decibels. For comparison, I have an open-air test bench that idles at about 35 decibels. Your average library is about 40 decibels and casual conversation is about 55 decibels. I really like these fans. They look great and run whisper quiet. Most importantly of all, like I mentioned at the beginning of this review, they come from a respected company with a solid reputation for making quality products that last.