Page 2 »
As of lately, it seems that a lot of companies are branching out into other product lines; Kingwin is one of those companies. Until recently I had not noticed that they started offering CPU coolers and they currently show four different variations on their site, along with several other product lines. Today we are going to take a look at a budget minded cooler from them, the Kingwin XT-1264 HTC. The XT-1264 HTC falls in the 120mm class of heatpipe coolers. Will the XT-1264 HTC be able to keep up with the likes of the Titan Fenrir or Cooler Master Hyper N620? Read on to see how it rated in our testing.
Sponsor: Kingwin
[hr]
First Impression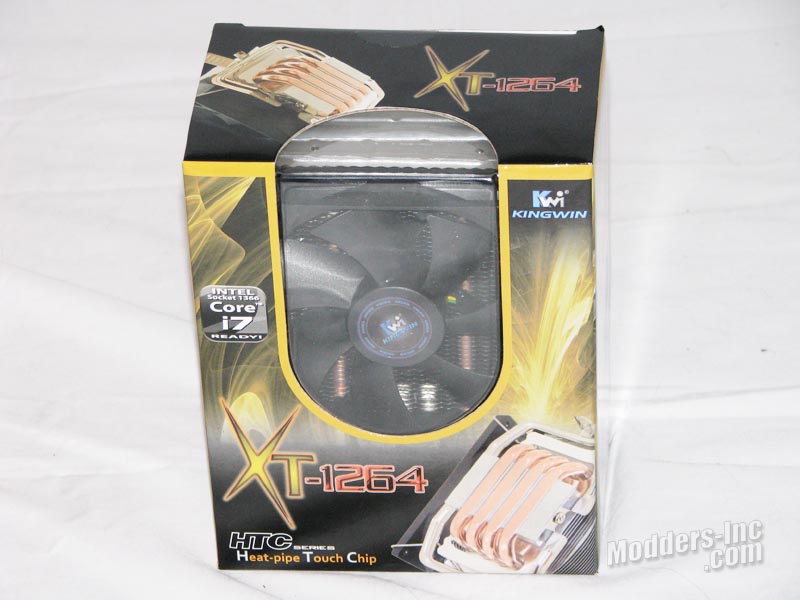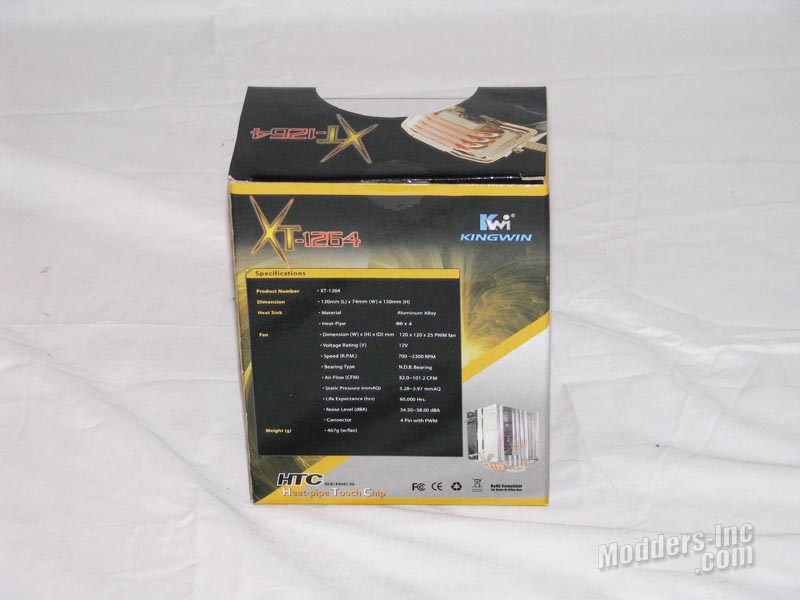 The Kingwin XT-1264 comes packed in a windowed retail box which will allow anyone looking to purchase the cooler at local retail shop to see what they are getting. On the front of the package we see a single picture of the XT-1264's base which reveals its HTC (Heat-pipe Touch Chip). One will also notice by looking at the left front edge of the box that the XT-1264 supports the Core i7 (LGA1366) processors. Flipping the package around to the rear we will find the specifications for the XT-1264 CPU cooler.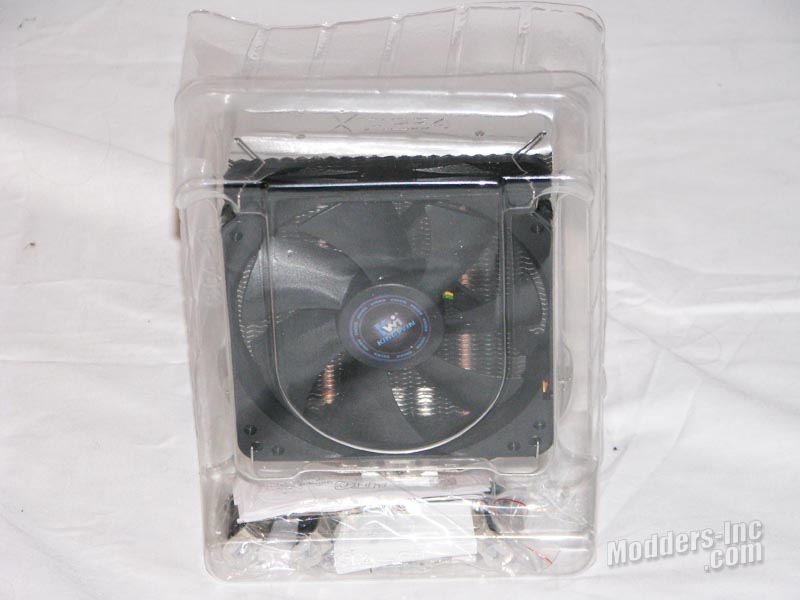 Upon opening the box you will notice that the cooler is sandwiched in a clam shell style blister pack to hold everything in its place during shipping. Although this is not my ideal packaging method, it generally does its job except in the most extreme situations (angry delivery drivers that like to throw things).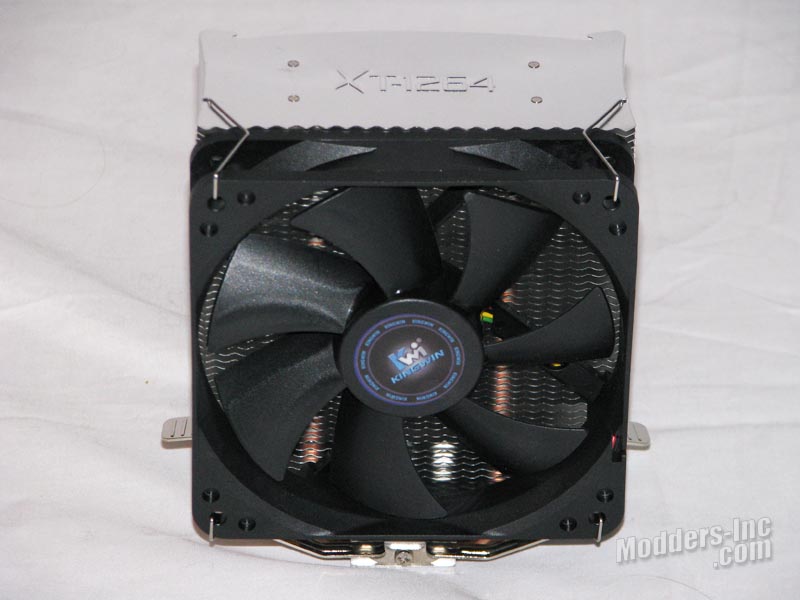 With the XT-1264 out of the packaging, one might think that the cooler reminds them of the popular Xigmatek coolers. The XT-1264 comes with a pre-installed 120mm fan that is rated at 700 – 2300 RPMs and 82 – 101 CFMs while producing roughly 34 – 38 dBA. Although the above image really doesn't show it, the XT-1264 comes with the AMD mounting bracket pre-installed. The cooler measures in at 120mm (L) x 74mm (W) x 150mm (H) and weighs roughly 467g.
  At first glance I thought the XT-1264 looked a lot like the old Xigmatek HDT S1283 I reviewed a couple of years ago. After taking a few seconds to check out Xigmatek's latest coolers. It is apparent that it is obviously an updated version closer to the HDT S1284. With little effort one should easily be able to come to the conclusion that the similarities are due to the fact that the cooler is OEM'd by Xigmatek. This means that we should see some acceptable performance numbers from the Kingwin XT-1264.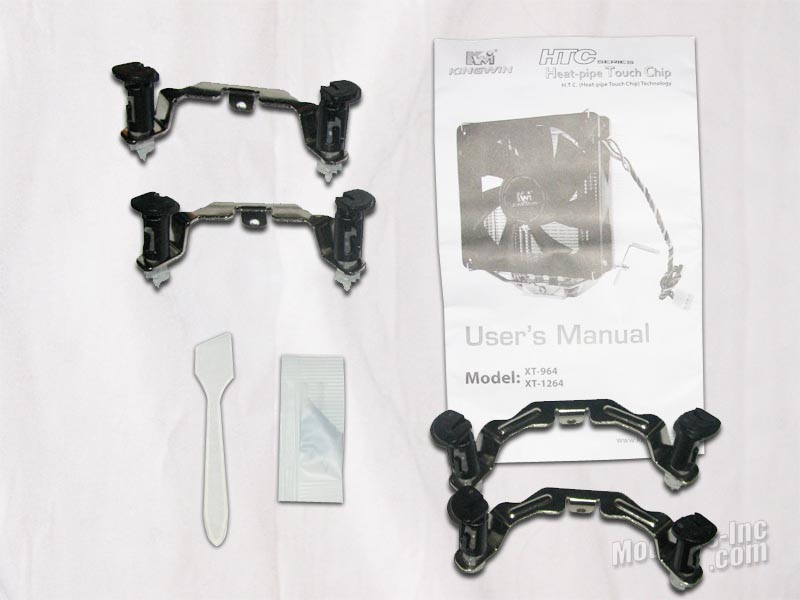 Also included with the XT-1264 CPU cooler is the two Intel (LGA1366 and LGA775) mounting brackets, User's Manual, thermal paste, and a spreader.
Features:
Model: XT-1264
Intel: Socket 1366/775/Core i7/Core 2 Extreme/Quad/Duo/Pentium Extreme Edition/
Celeron D
AMD: Socket AM2/754/939/940/Athlon 64/FX/X2/Opteron/Sempron
4 pcs High Performance U Type Heat-pipe Touch w/ CPU Chip
Easy installation
Direct H.T.C. (Heat-pipe Touch Chip) Technology
4 Copper Heatpipes
120 mm NDB Fan
Aluminum fin
Light weight
Tool-Free clip
Universal Application: 1366/LGA775 push-pin & AM2/K8 Tool-Less Clip
Specifications:
Model:
XT-1264
Dimension:
120mm (L) x 74mm (W) x 150mm (H)
Heat Sink:

| | |
| --- | --- |
| Material: | Aluminum Alloy |
| Base: | Copper (Heat-pipe Touch Chip) |
| Heat-Pipe: | Φ 6 x 4 |
| Dimension (W) x (H) x (D) mm: | 120 x 120 x 25 PWM fan |
| Voltage Rating (V): | 12V |
| Speed (R.P.M.): | 700 ~2300 RPM |
| Bearing Type: | N.D.B. Bearing |
| Air Flow (CFM): | 82.0~101.2 CFM |
| Static Pressure (mmAQ): | 3.28~3.97 mmAQ |
| Life Expectance (hrs): | 60,000 Hrs. |
| Noise Level (dBA): | 34.50~38.00 dBA |
| Connector: | 4 Pin with PWM |

Weight(g):
467g (w/fan)