« Page 3
|
Page 5 »
Observation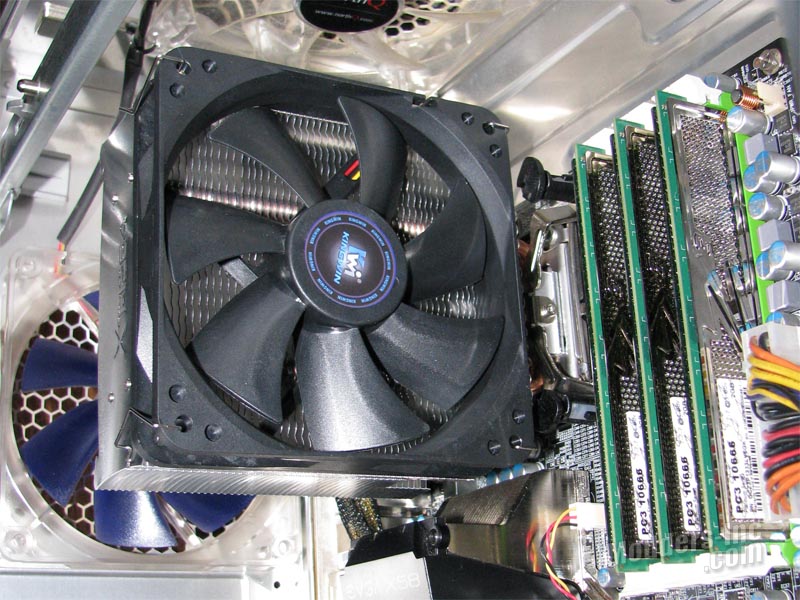 With the Kingwin XT-1264 installed we can see that my test rig has plenty of room around the cooler. Things might get a little tighter in other chassis, but you should be OK. Now we can move on to the testing phase of the review.
The Test Rig:
Intel Core i7 920 @ 2.66GHz ~ 3.875GHz
EVGA X58 Motherboard
BFG GTX 280 Video Card
Thermaltake Toughpower 850W Cable Management ESA
OCZ 6 GB PC3-10666 DDR3 Platinum Series Memory
1 Western Digital Caviar SE16 500GB Hard Drive
Logitech G15 V2 Keyboard
OCZ Equalizer Mouse
Samsung 24″ Wide screen Monitor
Cooler Master Cosmos-S Chassis
Windows Vista 64bit SP1 w/Current Updates
Testing:
  Loading the CPU core(s) will be done with Prime 95 v25.8 build 4. Running tests on each of the cores will ensure that we are loading the CPU to 100% usage for the 30 minute duration of each test. During this process I will use Everest Ultimate v5.00.1650 to record the minimum, maximum, and average temperatures obtained. I will also be repeating all tests multiple times across six different clock settings on the Core i7, which should give us a broad scale to see how the cooler does at the six different clock settings.
  When testing CPU coolers I generally will not push my processor over 100C load temps. If by chance one of the coolers manages to hit 100C, I will stop the test and record that as the maximum temp. For testing these coolers I will be using Arctic Silver AS5 thermal compound. I will be using a Titan Fenrir cooler, and a Cooler Master Hyper N620 cooler for the comparisons.
Level 1: 2.66 GHz (Default) All fans set to 100%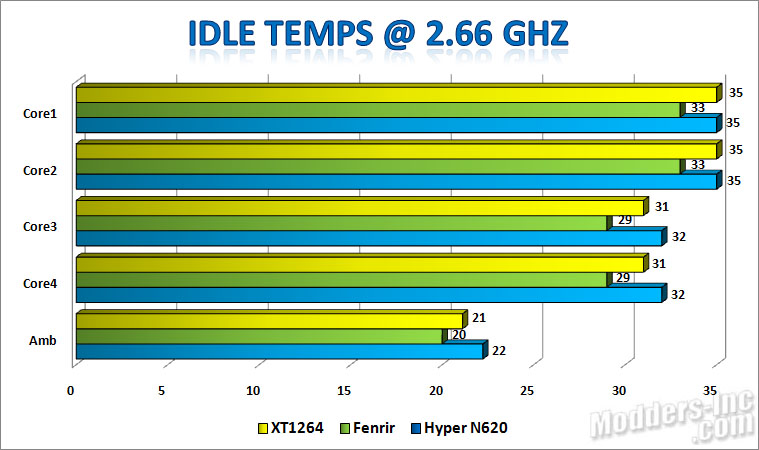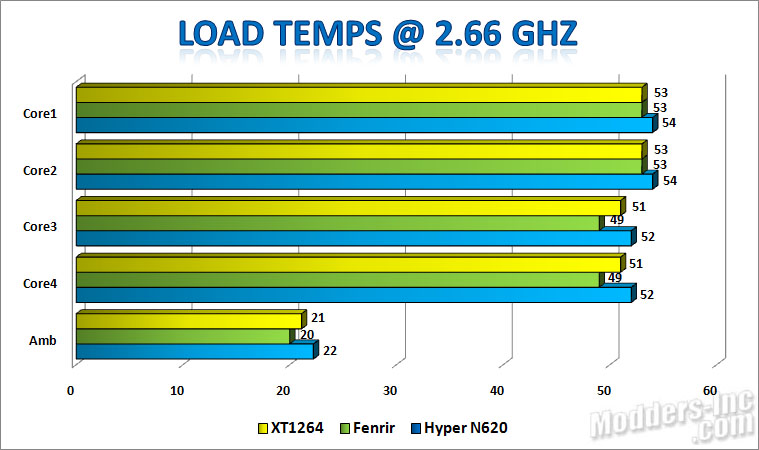 Level 2: 2.78 GHz (5% OC) All fans set to 100%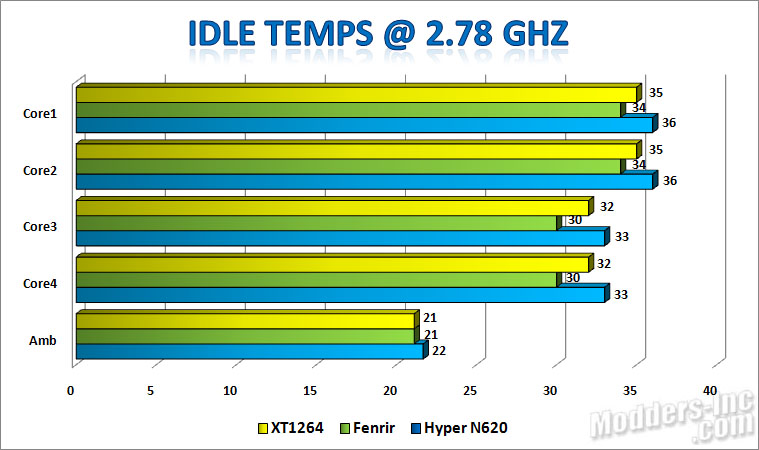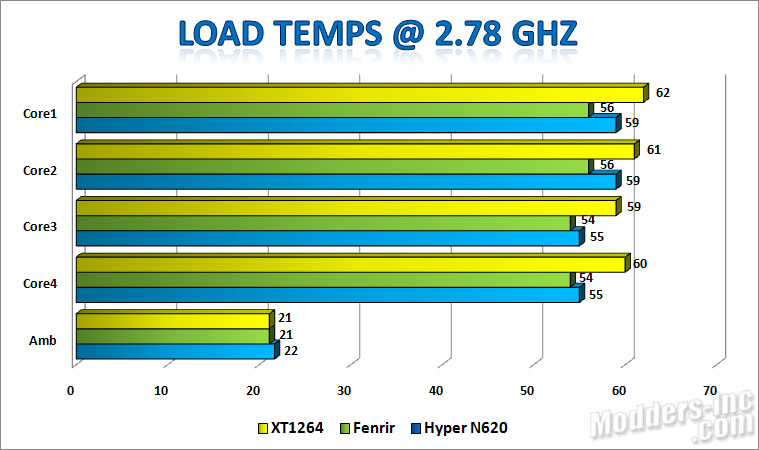 Level 3: 3.05 GHz (15% OC) All fans set to 100%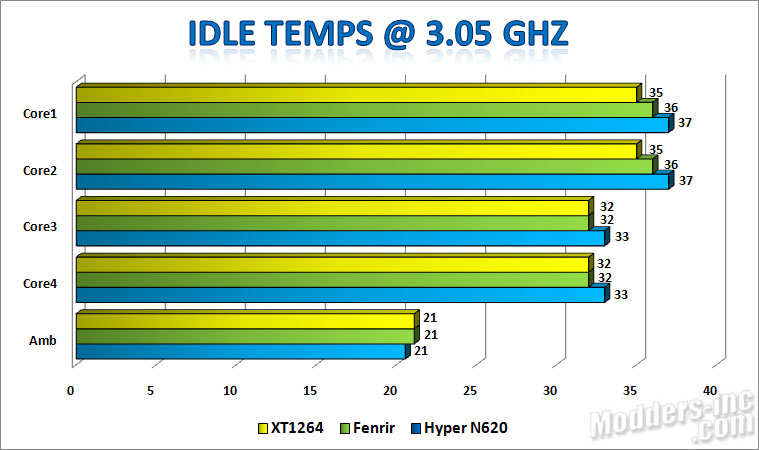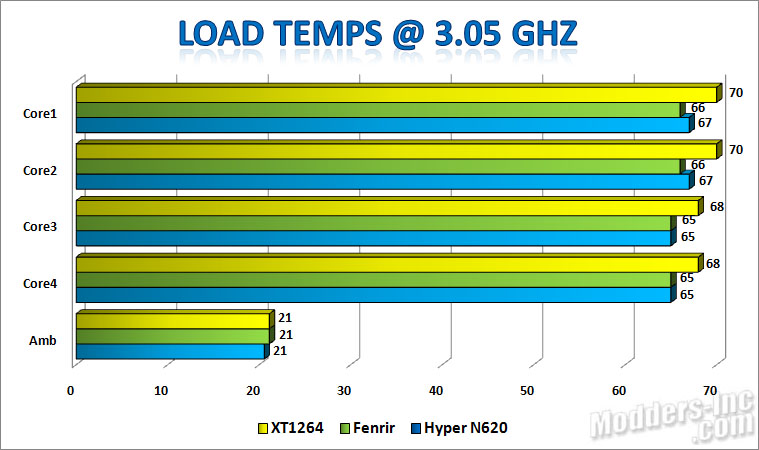 Level 4: 3.33 GHz (25% OC) All fans set to 100%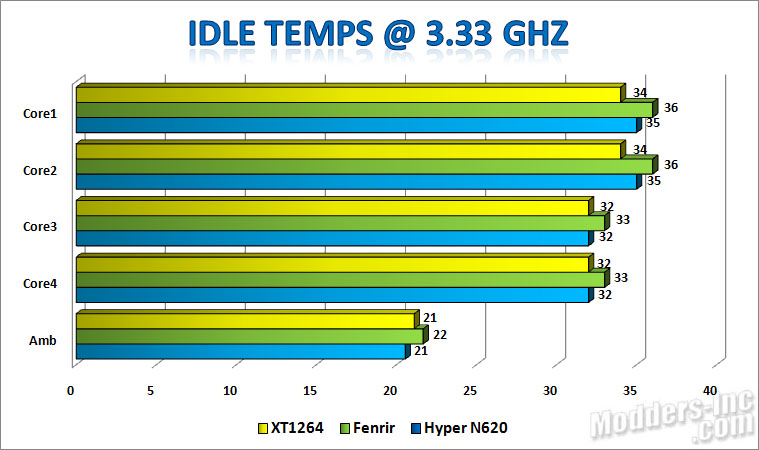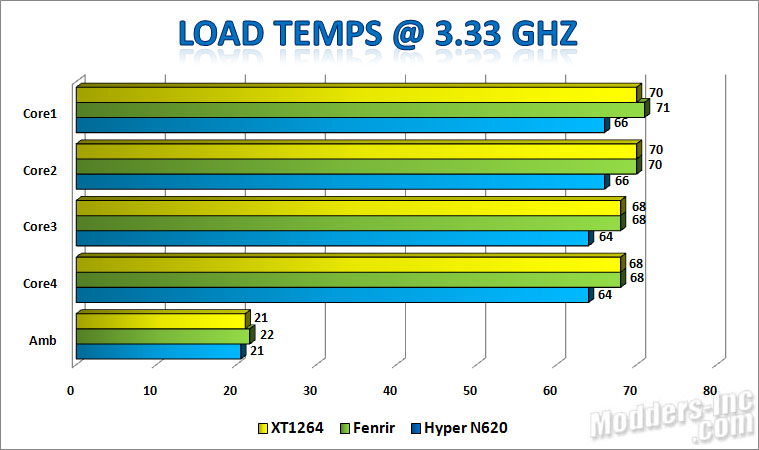 Level 5: 3.60 GHz (35% OC) All fans set to 100%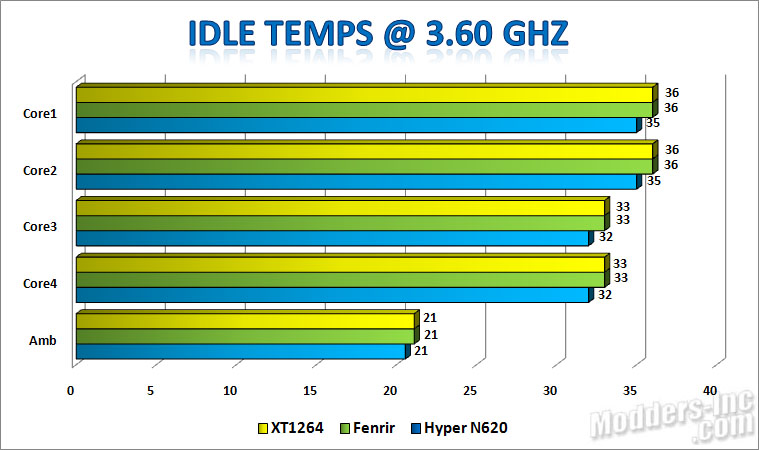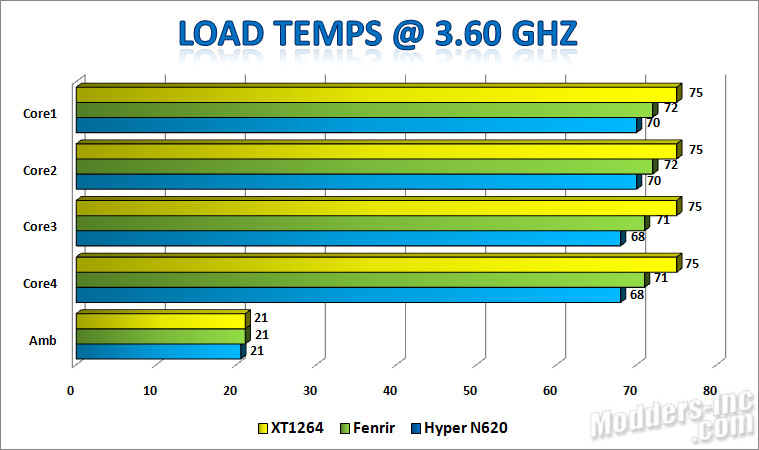 Level 6: 3.87 GHz (45% OC) All fans set to 100%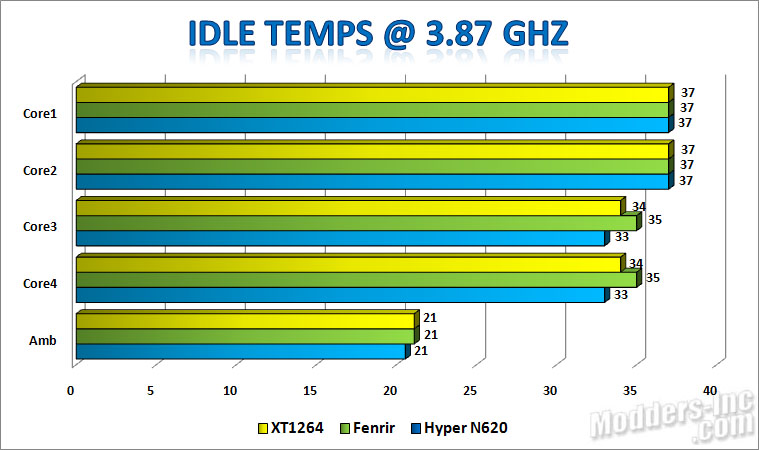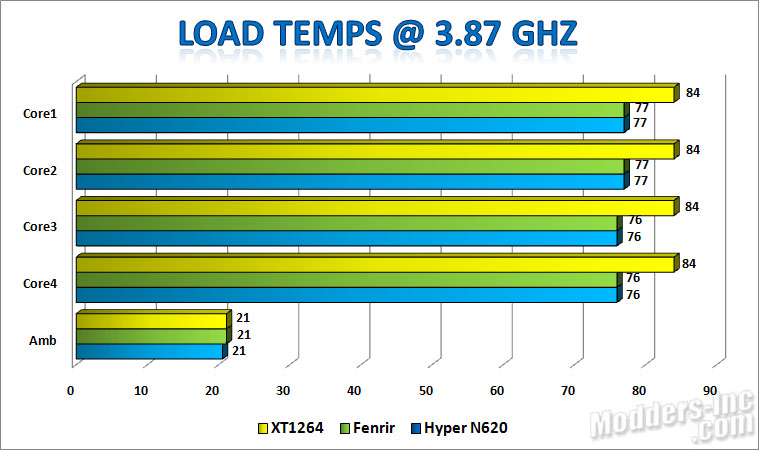 Looking at the six different clock settings that we ran on our Core i7 920 test rig we can see how the Kingwin XT-1264 managed. On the idle side of things, we an see that the Kingwin XT-1264 has no problem keeping up with the Titan FENRIR and Cooler Master Hyper N620 across the board. When we look at the load side though, we can see a slight advantage being had by the more expensive coolers. Looking at the Kingwin XT-1264 vs. the Titan FENRIR, we can see that the XT-1264 stays within 3 – 4 degrees of the FENRIR which is impressive. The Hyper N620 does pull out out to a good lead, but we have to keep in mind that it's also running dual fans where as the others are only running one fan each.
  The Kingwin XT-1264 is currently going for $34.99 US @ Newegg, while the Titan FENRIR goes for just over $50 and the Hyper N620 goes for almost $60. We can see that although the XT-1264 does lack just a tad, it makes up for it coming in at 35 – 40% less than the two competitors. The Kingwin XT-1264 is definitely a cooler to keep on the shopping list if your looking to build a budget Core i7 system.