« Page 6
Final Thoughts and Score: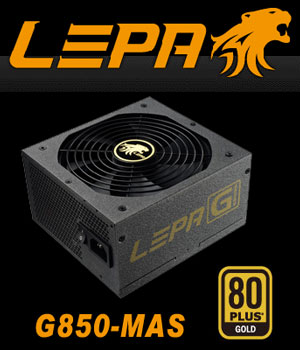 The LEPA G850-MAS 80 PLUS Gold Certified Power Supply earns itself the  Must Have award with Modders-Inc. No, we did not test the LEPA G850-MAS to it's limits and beyond, as we are not equipped with the proper testing hardware to do so. However, I did test each and every cable, connector and their voltages, which remained consistent across the board. Being made by CWT (Channel Well Technology) we wouldn't expect anything less.
   I found the fit and finish throughout the LEPA G850-MAS to be very nicely done. Including the cable sleeving which I tend to have a pet peeve about. Loose shrink tubing just plains ruins the looks of a good cable. While we are speaking of the cables, I also found the lengths of the cables More than adequate and also with plenty of peripheral connectors.
   The fact that the LEPA G850-MAS is 80 plus Gold in itself is a strong selling point. Add to that all of the great features like Japanese capacitors, low-load fan less mode and over voltage protection etc, and you have a PSU that is ready to get down to some serious business in your favorite gaming rig, with no worries. The many features of this power supply are strong points indeed, but do not let that be the only reason you choose it. LEPA has thus far proved itself in even more strenuous testing at sites equipped with load testers.
  My overall impression of the LEPA G850-MAS 80 PLUS Gold Certified Power Supply is that it's right on par with the other top quality PSUs available out there at even higher prices. Nope, I would not hesitate for one second to run the LEPA G850-MAS 80 PLUS Gold Certified Power Supply in my primary gaming rig. … I guess you can say it even earns my little add in saying, "The LEPA G850-MAS 80 PLUS Gold Certified Power Supply flat out ROCKS!"
[dhr]
PROS:

80 Plus Gold certified up to 92% efficiency
Hybrid Modular cable design
Flat modular cables
Adequate cable lengths
Good Fit and Finish all around
Solid state Japanese capacitors
Over Voltage, Over Power, Over Temp, Short Circuit, Brown-out and Under Voltage protection
Voltages remained consistent
Low-load fanless mode
140mm two-ball bearing Yate Loon fan
Nice carrying bag for cables not being used
3 year warranty

 CONS:

Nothing that I could find issue with