« Page 3
|
Page 5 »
Cable Impressions:
   In the left hand picture above we can see the non-modular connectors of the LEPA G850-MAS 80 PLUS Gold Certified Power Supply. You have once again, a 24 pin motherboard power connector, a eight pin CPU power connector and also a split 4 + 4 CPU power connector. You can also see here that the shrink tubing is nice and tight on the black mesh covered cables.
  The right hand picture above shows that the modular cables once removed from the LEPA logo'd carrying bag are sealed in a plastic bag also. We will take a better look at these below.
   In the left image above we have the 6 included modular cables included with the LEPA G850-MAS 80 PLUS Gold Certified Power Supply. Listed from left to right as follows;
1 x 4 pin Molex cable with 4 molex connectors and 1 fdd connector
2 x 6+2 PCI-E cables
3 x SATA cables with 4 SATA connectors per cable
  In the right image, we can see all of the included cables plug in correctly to the LEPA G850-MAS, the retaining clips hold them firmly in place. This is important as I have seen some modular cables that will pull out easily due to sloppy fitting retainers on the connectors. A cable popping out is not a fun thing to have happen during a LAN or any computer task for that matter.

   Above is a picture of the actual cable connectors, along with how many of each connector that actually comes with the G series LEPA PSUs from the G650, G750 and of course the G850 that we are reviewing.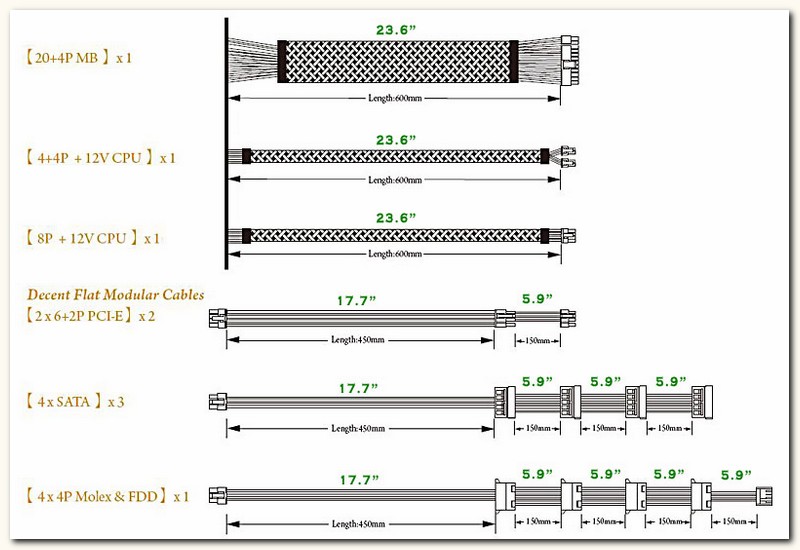 Above we have an image diagram of the cables, with the length in mm of each cable from connector to connector. I went ahead and converted the mm to inches for those who prefer to know the standard US inch length. As you can see these cables are fairly lengthy and should reach throughout most full tower cases. You should also have more than enough connectors for all of your peripherals.