« Closer Look
Construction
For those who are interested in seeing how to put together the MMRS, the video below goes through the basic steps for assembly: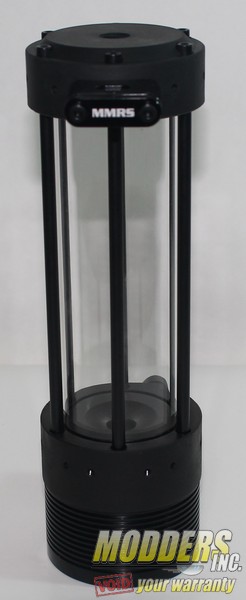 Once the unit is assembled it is ready to be mounted and integrated into your loop.
Conclusion
Likes
Reasonable pricing
Quality Material/Construction
Multiple Colors
Dislikes
The Delrin is not as black as some of the others out there.
Tapped mounting holes are a bit difficult to get started.
The bottom plate of the pump cover does not have access to the D5 Vario speed control.
The Monsoon MMRS is by far one of the more impressive looking reservoirs in the market. It is also one of the most solid feeling pieces of equipment I have had in my hand regarding LCS gear that it could easily be used as a blunt weapon. The styling is reminiscent of the Chain-gun fittings that Monsoon came out with last year. I can easily see this being the go-to res system for builders looking to have that something special in their system.
[sc:editors_choice_award ] [sc:modders_choice_award ]