« A Closer look at the MSI GeForce GTX 1060 Gaming X Plus
|
Synthetic Results »
Test System and Testing Procedures
Processor
Intel Core i7-7700K (Retail)
CPU Cooler
DeepCool Captain 360 AIO with Noctua NT-H1 thermal compound
Motherboard
Gigabyte GA-Z270x-Gaming 7
Memory
Kingston HyperX Fury DDR4 2x8GB @ 2666MHz 15-17-17-35 2T (XMP)
Storage
Samsung 240 EVO 256GB SSD, Seagate ST3000M001 3 TB Mechanical Drive
Case
DeepCool Genome II
Drivers
NVIDIA 381.65, Radeon Crimson 17.4.2
Video Card(s)
MSI GeForce GTX 1060 Gaming X Plus, MSI GeForce GTX 1060 Gaming X,
Sapphire Radeon RX480 Nitro Plus
VR Headset
HTC Vive
Monitor
Monoprice CrystalPro 28″ LED TN panel 4K 60Hz monitor – Resolution set at 1920×1080
Operating System
Windows 10 x64 Pro with latest patches and updates
Latest working BIOS, updates and drivers were used at the time of the review. Each gameplay test was conducted at least three times for accuracy. All benchmarks were performed at a resolutions of 1920 x 1080 unless otherwise specified.
The preset in game settings (medium, high, ultra, etc..) were used, and vendor specific (Nvidia & AMD) settings were disabled if enabled.
Testing Software and Methodology
Fraps is no longer used in our benchmarks. Instead, PresentMon is used as it will allow us to capture framerates for DX11, DX12, and Vulcan.
Graphics quality settings were not changed between the resolutions.
Synthetic Benchmarks
3DMark Firestrike – One run Per GPU

Standard settings used.

3DMark TimeSpy – One run per GPU

Standard settings used.

VRMark – One run per GPU

Standard settings used. Orange room test used as benchmark.

Unigine Superposition – One run per GPU

Benchmarks ran at 1080p high, 1080p Extreme, VR Optimal, and VR MAX.

VRScore – DX11 – One run per GPU

Standard test is run with the HTC Vive connected.
Gameplay Benchmarks
Alien Isolation-

Preset at Ultra. Built in benchmark used. Recorded with Fraps.

FarCry 4

Graphics Quality Ultra
5 minute game play. From Arjay's house on the cliff – fly across the river in the wing suit. Once we land, grab a car and head to Pagan Min's palace.

Metro Last Light Redux

Built in Benchmark.
Direct X 11
Quality Very High
Texture Filtering AF 16x
Motion Blur Normal
Tesselation Very High
SSAA and Advance PhysX were disabled.

Shadows of Mordor

Graphic Quality Preset to Ultra
Max FPS set to No Limit.
5 minutes game play after tutorial. Run through the large pit after jumping off the tower and kill as many enemies in the time limit.

TESV:Sky Rim

Graphics Quality preset set to Ultra.
5 Minute game play after the dragon attacks and you gain control of the character.

Witcher 3

Graphics Quality set to Ultra. – Hair works turn off. Lighting settings not changed.
5 minutes of game play after getting to White Orchard. We explored the town and the map to find as many enemies in the time allotted.

DOOM – Vulkan

Graphic Quality set to Ultra
5 minutes of game play in the Crucible level.

Hitman 2016 – DX11 & DX12

Graphic quality set to ultra 8x AF
Built In benchmark used

Ashes of the Singularity DX11 & DX12

Graphic Quality set to crazy
Built in benchmark used.

Rise of the Tomb Raider – DX11 & DX12

Ultra Graphics Quality 8x AF
Built In benchmark

Overwatch

Graphics Quality set to Ultra 8x AF – Frame limit set to custom of 300 and resolution scale set to 100%.
5 Minutes of game play in Napal custom game with 1 player and AI

Star Wars Battlefront

Graphics quality set to Ultra
5 minute game play in Tatooine survival single player.
IMPORTANT INFORMATION:
Before we move into the results, I thought it would be prudent to give you some information on a rather large discrepancy that I found during the course of the review.
First, the MSI GeForce GTX 1060 Gaming X Plus came to me shipped with the gaming BIOS enabled. According to the official specifications, this should yield a maximum boost clock of 1784 MHz. However, during testing MSI Afterburner, GPU Shark, and GPU-Z showed a maximum speed of 1974 MHz. Due to the dynamic nature of the boost clock, during some of the tests, I would see the clock speed drop as low as 1936 Mhz. During the initial rounds of testing, I benchmark the cards as they come out of the box and use the three pieces of software above to verify clock speeds on both the GPU core and memory. Memory speeds showed up as 9024Mhz.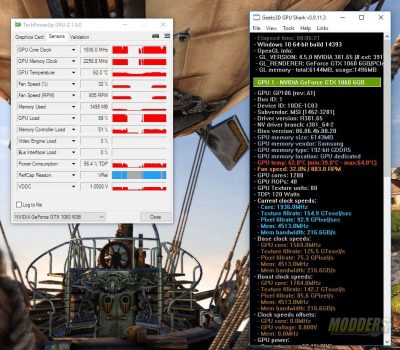 Later on in the process while I was looking at MSI's Gaming App, it verified the clock speeds as well. There are three modes; OC, Gaming, and Silent. OC and Gaming gave the same clock speeds of 1974 MHz where as silent showed a max speed of 1888 MHz.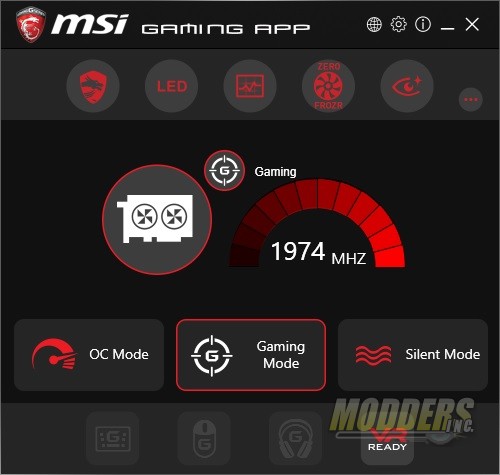 With that said, I'm not complaining about a card running faster than what MSI has published as their official specification. What I don't know is if this was intentional or just a misprint as the official press release from MSI did have typos in it as well.