NETWAR is Omaha, Nebraska's biannual LAN party, and the most recent event ran from September 7th-8th at the Baxter Arena. The BYOC isn't just the biggest in the state, it's the biggest one within a 500 mile radius, drawing regular attendees from all over the country. The doors opened Friday night at 7:00 PM, and closed again 26 hours later. There are games, tournaments (complete with laser-etched acrylic trophies), VR demos, vendor booths, food, drinks, prizes, and most notably for us here at Modders-Inc, there's a mod contest.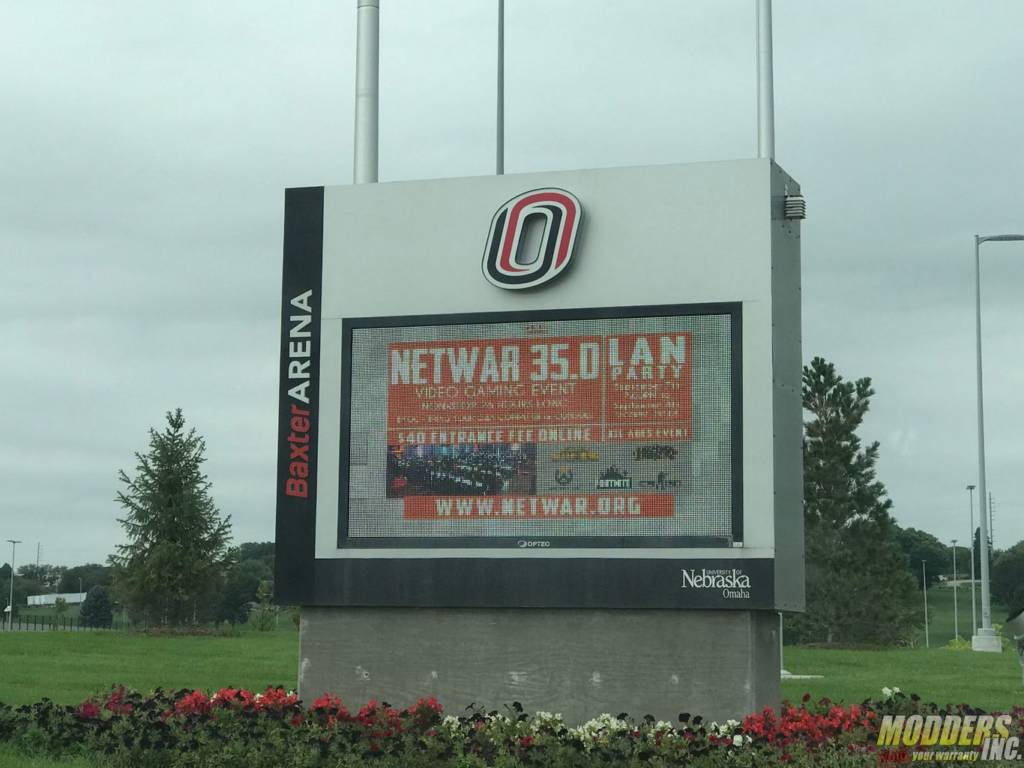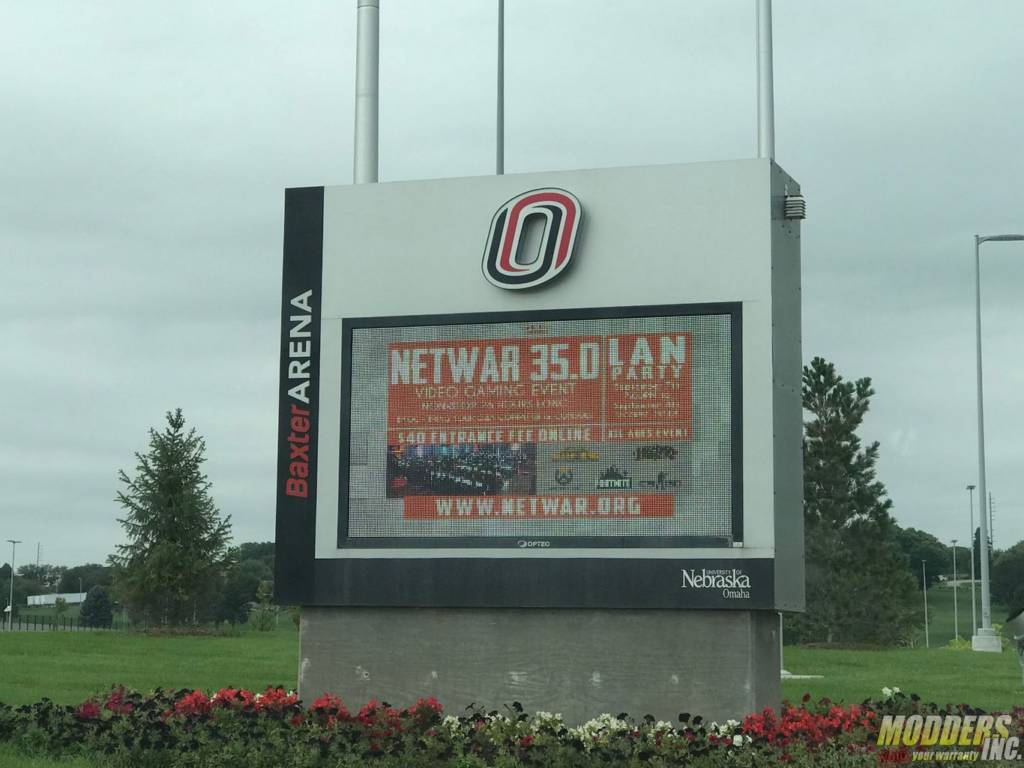 Gaming For A Cause
As with every event, the proceeds from NETWAR 35 went to charity. This time around, the charity that was chosen is the American Foundation for Suicide Prevention, in honor of Brandon "Bean" Retzlaff.
The New Digz
For those of you who haven't attended NETWAR since the early days, the subhead for this paragraph probably just looks like it's trying too hard to be edgy. But I assure you, there's an in-joke here about a particularly bad early venue for NETWAR from many years back. Let's just say that when the roof starts leaking on the attendees' PCs in the middle of the StarCraft tournament, it's time to find a new place to have the LAN party. Thankfully for us all, NETWAR did just that.
The Baxter Arena is just the latest in a long line of venues that have hosted a NETWAR, but from what we saw, it may just be the best. There was floor space for more than 600 gamers and a total of 530 showed up to this event. That massive scoreboard suspended from the ceiling in the middle of the event makes your RGB fans look even sillier than usual.
Sponsors & Vendors
One of the added benefits of attending NETWAR, as if a LAN party needs added benefits, is the host of door prizes given away throughout Saturday afternoon. NETWAR gets prizes from MSI, Patriot, Zotac, Enermax, FSP Group, Gigabyte, SuperMicro, Genius, Cooler Master, Antlion Audio, Intel, Tesoro, HyperX, Razer, Logitech, and more. There were a handful of other sponsors who had the chance to make a good impression on the gamers, including, InWin, Crazzie.com, Nebraska Furniture Mart, Extreme PCs, and Infinite Loop Virtual Reality. These vendors had booths where you could sign up for drawings, talk to representatives from the company, and buy or try out products.
NETWAR's Mod Contest
No matter how many times we've been a part of it, NETWAR's mod contest always has something special, and this year was no exception. Dave Cathey, the professional modder known as Insolent Gnome, stepped up to organize and host the mod contest, and he asked us to help narrow the field. Johnny Gomez from InWin also provided his two cents as we scoped out the mods on the event floor. InWin also provided the top prize, which was just as awe-inspiring as the winner's mod. But let's not get ahead of ourselves.
There were eight mods on the list when we started making or rounds, but we'd soon picked our top three. Highlights from NETWAR's mod contest included multiple custom graphics card back plates, etched tempered glass, hand-made PSU shrouds, and loads of hand-cut vinyl, and all of this was found on the systems from the runners up!
The man who took the top prize was none other than Joshua Judy. His Threadripper-based mod, named Quintessential, is a scratch-built system that use a unique custom-designed aluminum chassis, with a 24-inch LCD bolted onto the backside. That screen is hinged so that it can flip over when the system is being transported.
The hardline tubing job behind the windows is every bit as impressive in-person as it is in the photos. Although Joshua and his Quintessential mod took home the first prize at Quakecon 2018 in August, his reward at NETWAR was rather unique.
InWin gave him one of the Medieval Metal 509 cases inspired by Bob Stewart and Rod Rosenberg's creation from the InWin 30th anniversary Mod in Taiwan case modding competition. Although the extremely rare case retails for a cool $1K, take a closer look at the limited edition number on this bad boy.
Not even Bob Stewart or Rod Rosenberg can boast about having the very first case to roll off the assembly line.
February Can't Get Here Soon Enough
NETWAR's next event is expected to be held sometime in early 2019. We're planning on attending, and we'll be judging mods once again. Best get a head start by picking up a new set of cutting wheels and some paint now. We have a feeling the competition will be fierce yet again.