Article Pages:
« Test System and Synthetic Benchmarks
|
Conclusion and Final Thoughts »
Nvidia GeForce RTX 2080 Super Gaming Benchmarks
Shadow of the Tomb Raider is an action-adventure video game developed by Eidos Montréal in conjunction with Crystal Dynamics and published by Square Enix. It continues the narrative from the 2013 game Tomb Raider and its sequel Rise of the Tomb Raider. These tests were done with Ray tracing and DLSS turned off.
In Shadow of the Tomb Raider, the RTX 2080 super averaged 134 FPS at 1080p, 95 at 1440 and 50 at 4K. For our 1st gaming test, this is a nice lead over the previous RTX 2080.
Witcher 3 closes the chapter on Geralt's life. The game features a massive open world that the player can explore. Witcher 3 uses REDEngine developed independently by CD Projekt RED. The game engine features stunning visuals.
Witcher is one of my favorite games as far as visuals go. Performance is very close at both 1080p and 1440 but the RTX 2080 Super starts to pull away a bit at 4K with an average FPS of 65 vs. 60 for the RTX 2080.
Mordor: Shadow of War is an action RPG game based on the novels of J. R. R. Tolkien. It's the sequel to Monolith's successful Middle Earth: Shadow of Mordor game and the events of the game take place after The Hobbit but before the Lord of the Rings. The game builds upon the nemesis system that made the first game such a surprise hit, and it's just brutal to PC hardware.
At 1080p, we run into a CPU bottleneck with both the RTX 2080 and the RTX 2080 Super. Once we increase the resolution, we see the RTX 2080 Super start to pull away. 1440P is this cards playground as it shows the biggest lead over the previous RTX 2080.
Far Cry 5 is an action-adventure first-person shooter video game developed by Ubisoft Montreal and Ubisoft Toronto and published by Ubisoft for Microsoft Windows, PlayStation 4 and Xbox One. It is the successor to the 2014 video game Far Cry 4, and the fifth main installment in the Far Cry series. The game was released on March 27, 2018
The RTX 2080 Super still flexes its muscle here and averages 140 FPS at 1080p, 113 FPS at 1440P, and 74 FPS at 4K. With all the graphics options turned up the game is beautiful and very playable at 4K on both the 2080 and 2080 super.
Deus Ex: Mankind Divided is an action role-playing game with first-person shooter and stealth mechanics. Players take the role of Adam Jensen, a man equipped with mechanical cybernetic implants called augmentations.
Even though it is an older title, Deus Ex still strains GPUs. At 1080, we again see a bottleneck from the CPU but as we move up the RTX 2080 Super outpaces all the other GPUs.
Battlefield V is a first-person shooter video game developed by EA DICE and published by Electronic Arts. Battlefield V is the sixteenth installment in the Battlefield series. Battlefield V features a limited single-player campaign in the form of War Stories, the rest of the missions and adventures are online multiplayer.  For this specific test, I did not have DXR or DLSS turned on.
In Battlefield V, I didn't expect the 2080's performance to be as close to the 2080 Super results. It's a close race between the top two cards at all resolutions.
Final Fantasy XV is an action role-playing game developed and published by Square Enix as part of the long-running Final Fantasy series. It was released for the PlayStation 4 and Xbox One in 2016, and for Microsoft Windows in 2018. The game features an open world environment and action-based battle system, incorporating quick-switching weapons, elemental magic, and other features such as vehicle travel and camping. Final Fantasy XV was the first production game to feature DLSS.  The test results below are with DLSS off.
Battlefield V DXR/DLSS: The final set of tests I ran were with Battlefield V and DXR and DLSS set. There is still a performance penalty for enabling DXR which, I expect will always be there. However, DLSS aims to bring back some of that performance. As of this review, DLSS still has a ways to go as far as image quality but, for me at least, I have to be really looking for the imperfections as I'm playing. When I am benchmarking, I am aware of all the little issues. One for example, with DLSS, turned on, I noticed a halo effect around the crosshairs in the sniper scopes. With it turned off and DXR enabled, it no longer appears. Now, when I'm playing around in single player, I have DXR and DLSS enabled and I don't notice the halo effect.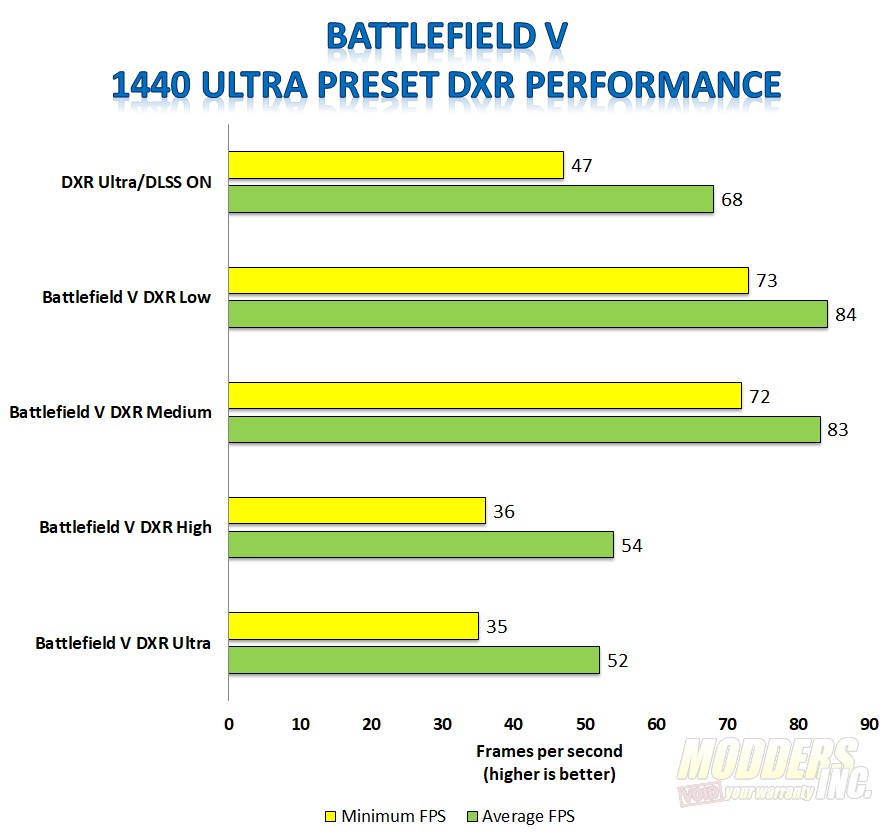 At the top of the chart, DXR is set to Ultra and DLSS is turned on. I feel this is really the best mix of performance and quality, image issues aside. As I said, I don't really notice them when I am not benchmarking.