« Page 4
Conclusion
OK, here is probably were most of you probably just jump ahead to during the review readings so here we go. At first glance you see a case that looks as though it will be like any other $50 or below case, but one you past that in the first minute you pleasantly surprised. The NZXT Beta has some minor features that I wish some of the more expensive cases on the market had, such as the rubber guard on the corners (go back and look if you missed that). The basic styling of the case actually enhances the looks of it. The semi-gloss flat black allows the case to either blend in or creates a great canvas for a case modder to work from.
The easy to use hardware to install you stuff in to the drive bays or the hard drive cage is perfect for the beginner or the expert to quickly install or swap out hardware. If you are putting together a case for a friend or a family member that may not worry to much about the lack of features or if they are working on a very tight budget then I think they you could not go wrong with the NZXT Beta.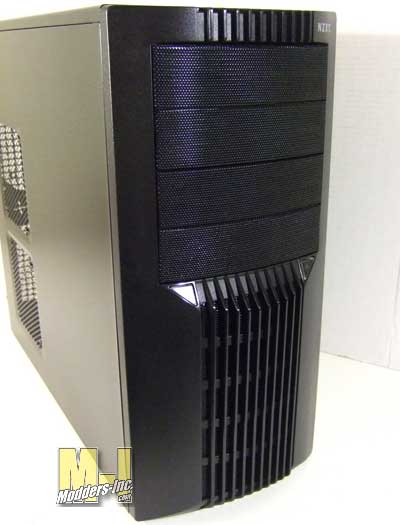 Rating this case is going to be a hard one to do as the case is not up to the standards of the higher end cases, but it is well made and thought out for low end case. If I were to judge it against the Cooler Master Cosmos S of course the Cosmos would stomp it, but against other economically based cases I would have to say that it would be at the top of the list.
 OK, so here it goes…rated as a $50 standard case I will rate it at a

, but compared to other cases it will get a lower score because of the lack of top end features and some accessories not included.
Overall I will have to give the case an award for the both a standard case with a $50 price tag and for a case that could probably be sold for more as it has some features that more expensive cases do not have.
 
When rated against other case we have reviewed I will have to give it the following rating.
Pros

---

Cons

---

+ Price
+ Style
+ Nice minor features
+ Tool less install of most hardware
– Lots of fan holes but only comes with one fan.
– Found that my hands left prints all over the paint
– Case feet are to small
– Fan filter for front fan came off and clogged front fan.
–