« Intro
|
Page 3 »
A Closer Look
The NZXT is a rather plain looking case, but oddly enough it does grab your attention. With very little detail on the out side it kind of focuses more on the inside of the case.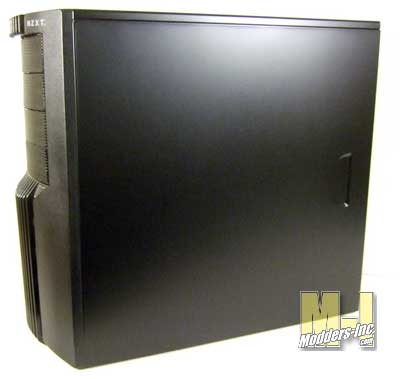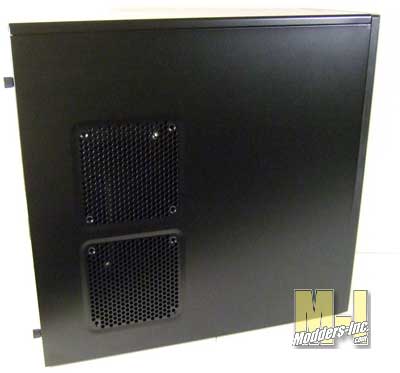 On the right side access panel of the NZXT Beta case we see that there is are places to add two cooling fans, which are not included. These two areas can take one 120mm fan each. This should be more than enough help to keep the inside of  case cool. Even if you decide to not install any fans this will allow your CPU and GPU fans to draw in unrestricted air into the case.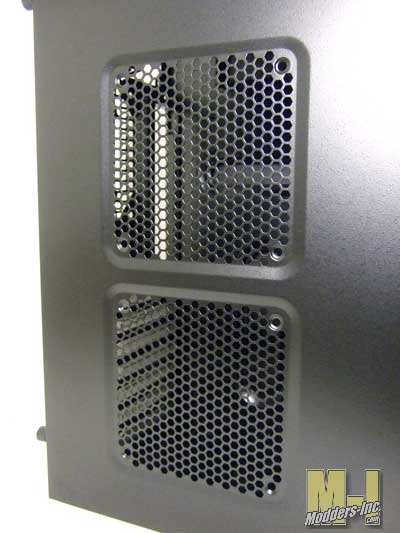 On top of the case and out in the open and not hidden by a cover, which normally is just in the way when you want to use them,  are your external ports. I think they got the right one here and finally there is not Firewire port. Does any one really use that anymore? With two USB ports you have plenty of ways to plug in your extra devices and with a E-SATA jack you can hook up an external hard drive for fast/portable storage.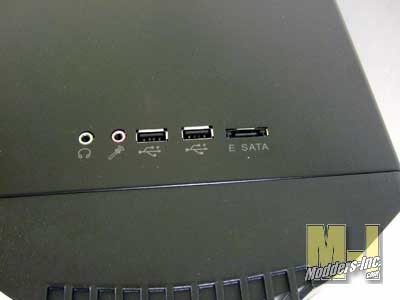 Four drive gays are available for you to use and they filled with wire mesh inserts that can removed fairly quickly.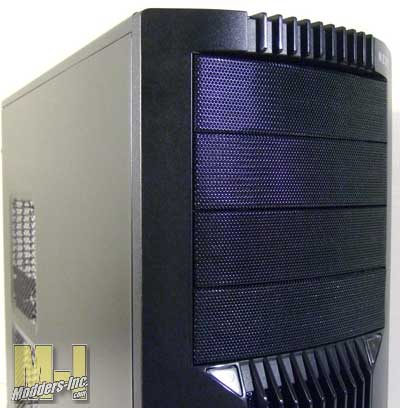 Once they are taken out of the case you can remove the wire mesh from the holder to gain access to the filter so you can clean it. The mesh cover has some small holes in it that go ver some tabs so that it can easily be taken off and put back on. Again no tools are required.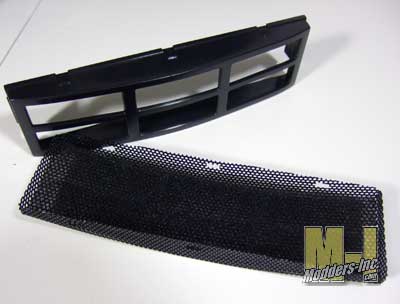 Only two buttons (on/off and rest) are on the Beta and they are located on the front side in the middle just below the drive bays.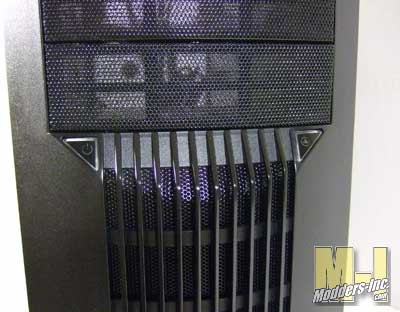 At the lower half of the plastic bezel on the front of the case we see where most of the air enters the case.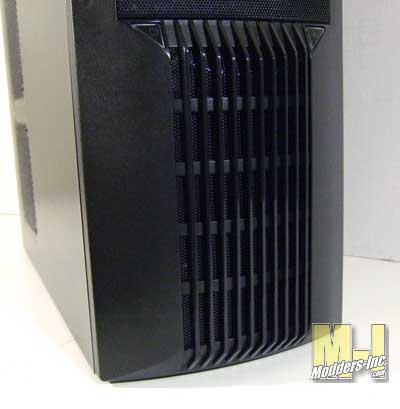 Some tiny pads are what keep the case up off the desktop and they will not do you any good if you are placing the Beta on a carpeted surface. No that is not an air intake, but rather a hand hole for you to use to help remove the front bezel off of the case.
A slight tug and the front snaps clear of the case. Behind the lower section of the front piece there is a filter that I found was not very secure and got sucked up in the front fan. If you want to keep this in place you will have to find a way to do it so that you can remove for cleaning. On the front side of the actual metal part of the case we see that a the only included fan is a 120mm unit. This fan draws air into the cabinet and pushes it past the hard drive cage.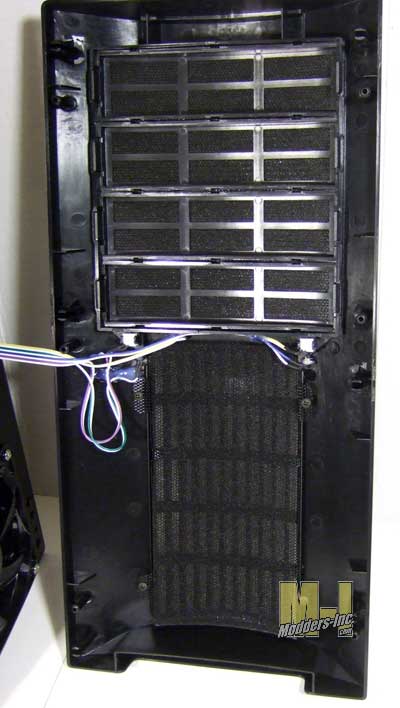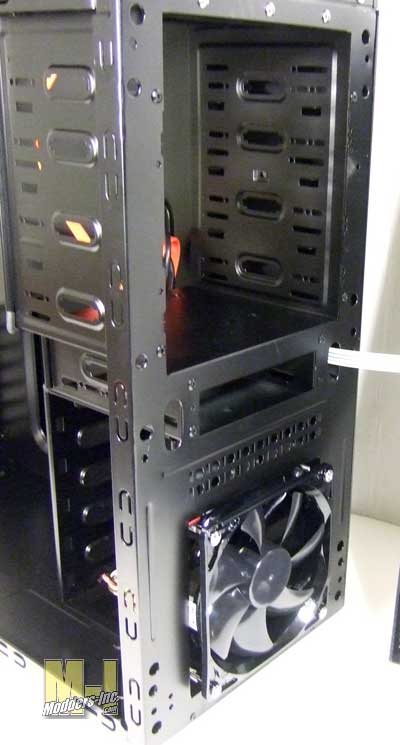 Here is something that caught me a little of guard, rubber edge protectors. Yeah I know what a great idea. I have not seen this before and I do hope that it is a trend that they and maybe other will continue to use.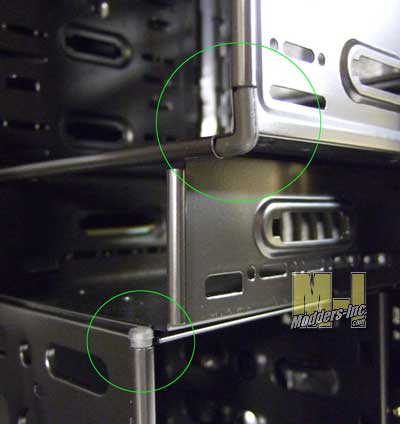 Let us turn our attention to the rear of the case and we can see that there is plenty of stuff going on here.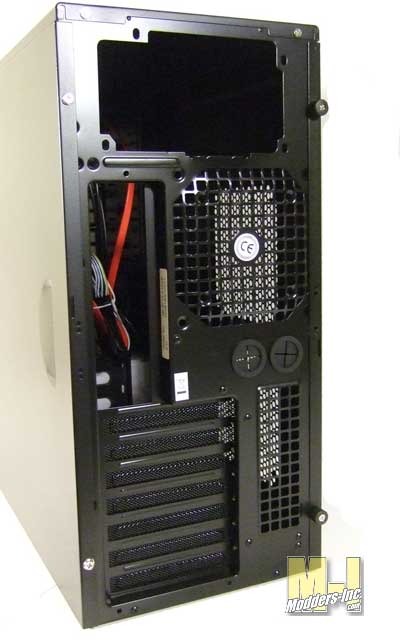 Here we can see that we have a place were a 120 mm fan (not included) can be place to help with the cooling. If you take a closer look you will that a 80mm fan can alos be placed here and if you elect to go that route it will sit a little farther away for the hard ware inside the case as the punched out mesh extrudes out the back just slightly.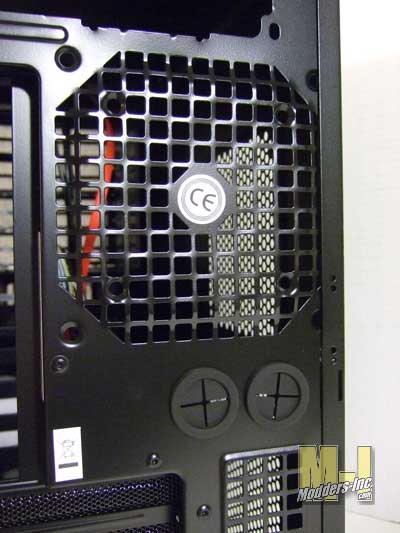 Now if you are into water cooling you are in luck as you have to holes to run your hoses through to an external radiator or pumping system. The holes with rubber grommets will easily accommodate a .75 inch O.D. (Outside Diameter) hose.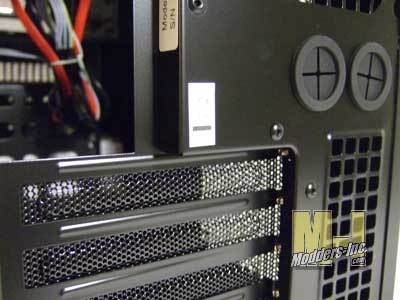 Something you may not eveb see on higher priced cases are the perforated IO covers. This is a really nice touch and it should not be overlooked with thinking about another case. Just to the right of IO slots we see a vent for air flow and that the right side panel is held in place with a thumbscrew. One at the top and lower end of panel help keep in place.