« Page 2 | Page 4 »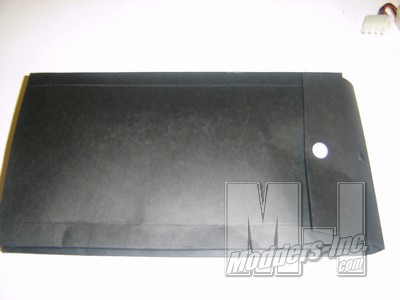 Installing hardware in the Guardian 921 case is fairly simple. Included inside the case is a packet that has everything you will need. There are brackets for your hard drives, a Manual and 3 neatly labeled bags with assorted screws and bolts. The chassis is supposed to be a tool-less design but there is really no such thing. You always have to screw something down. In this case it's the motherboard and the PSU that require the screws. Stand offs and screws for the motherboard and 4 screws to hold the Power supply in and that's really all I needed to screw down. The DVD drive was a simple push lock as well as the hard drives. Even the PCI-E and other add in cards don't require that you use screws. You can use only the quick release tabs but I would recommend adding a screw if you move your case around a lot. There are holes available in the chassis for this purpose.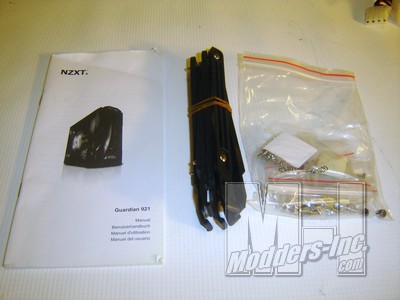 The manual is pretty sparse and consist of basically 9 pages in English. The rest is other language translations of the same thing. There is no real directions on how to install hardware just the rails that go on the hard drives and how the tool less locking mechanisms work.  All my hardware went in without a hitch and there is plenty of room for larger video cards. Although it's going to be really tight trying to fit the larger Video cards into the case if you have hard drives or floppies located in the upper rack. There is roughly 11″ of space there so it would come down to how well you can manage cabling that will be running between the two.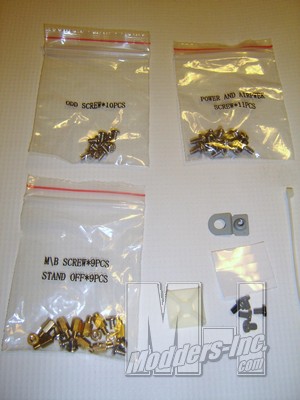 Speaking of cabling there is really no where to go with it. There is a small channel behind the top hard drive cage and you are able to pull some of the front ports under the lower hard drive cage out of site. Mostly you are going to be stuck trying to bundle up the cables and shoving them in the Drive bay or up by the Power supply. Again the Power switch bundle isn't long enough to route around so you HAVE to come straight down with it. Add to that the several smaller wires for the thermal sensors and you have yourself a weekend project of just cleaning up the mess.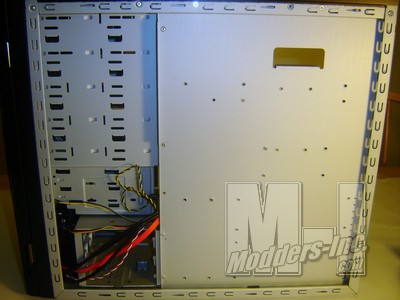 I'm not saying it's impossible but a clean cable setup is going to be difficult. The side fan cable dangling in the breeze ain't doing you any favors here either.