Page 2 »
NZXT Releases another in their line of budget Gaming "crafted series" Chassis. The Guardian 921 is a follow up to the original Guardian and is "Designed with futuristic and sleek curves" but does it follow up with the same flaws the original Guardian had?  Or has NZXT advanced and refined thier product?   We have seen several good gaming cases built of this popular chassis, will the Guardian be one of them?  Read on and see what we think.

Sponsor: NZXT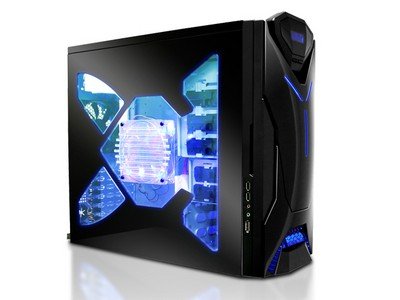 Today we are going to be looking at NZXT latest addition to their Crafted Series of mid size towers.   The Guardian 921 is the follow up to the
 notorious Guardian
 case from several years back.   I'm not sure how well this case was received by the general populace, but among modders the original Guardian case was the embodiment of all that we hated about Pre-Mods. It looked like a transformer, was way over the top and looked like it was designed by and for 10 year olds. I'm hoping that NZXT has learned a few things since then and evolved and refined the case.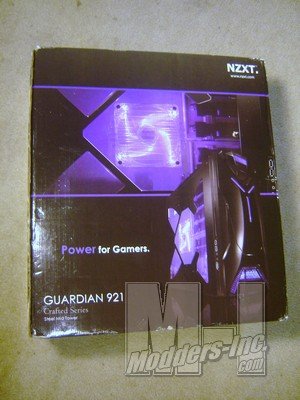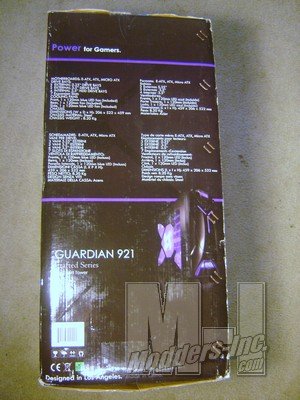 The box arrived through UPS looking rather beat up but mostly in tact. It features a futuristic but somewhat clean looking case displayed prominently on the front of the box with general specs on the side. The interesting thing about it is that the colors depicted are black and purple in the image on the bx. This would actually have been really awesome seeing how that is a very rare color found in case mods these days. I don't want to spoil the surprise but it's not, the color of all the LED's in this case are blue. Well F#$@!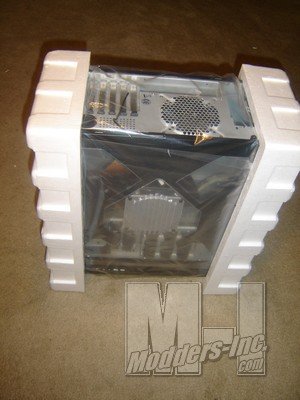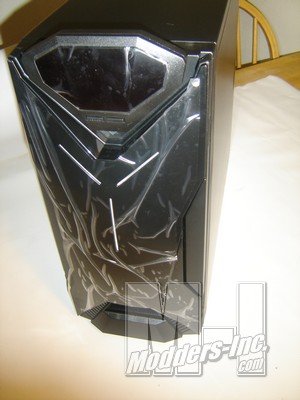 The case is wrapped fairly typically of most cases and surrounded fairly well by foam and plastic. The shinier features and Plex window have and extra layer of plastic protective film added to safe guard against scratches during your build.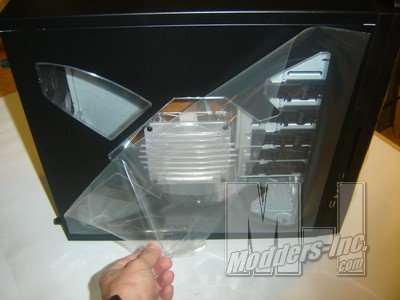 MODEL
GUARDIAN 921
CASE TYPE
MID TOWER STEEL CHASSIS
DIMENSIONS (W x H x D)
206X459X522 mm
COOLING SYSTEM
FRONT, 1 X 120 mm BLUE LED FAN [Included] REAR, 1 X 120 mm FAN [Included] SIDE PANEL, 1 X 120 mm BLUE LED FAN [Included]
DRIVE BAYS
9 DRIVE BAYS
3 EXTERNAL 5.25″ DRIVE BAYS
2 EXTERNAL 3.5 " DRIVE BAYS
4 INTERNAL 3.5″ DRIVE BAYS
SCREWLESS RAIL DESIGN
MATERIAL(S)
SECC STEEL CHASSIS
EXPANSION SLOTS
7
POWER SUPPLY
400 WATT PS2 ATX 12V ( OPTIONAL )
WEIGHT
8.2 KGS (W/O Power)
MOTHERBOARD SUPPORT
MOTHERBOARDS: ATX, MICRO-ATX, BABY AT
Features:
NZXT Crafted Series Design: NZXT's latest addition to the Crafted Series takes cues from gaming culture with elegant curves and a newly designed clear side panel
Spacious Interior and Solid Construction: Built from solid .88mm and 1.00mm steel, the Guardian 921 gives the user ample space for large, high-end video cards and space for up to four internal hard drives
Constant Temperature Monitoring: Three temperature probe monitoring system allows the user to constantly gauge thermals within the system at all times to prevent overheating
Multimedia and peripheral inputs: E-SATA, Intel HD audio, mic, and two USB inputs are standards with the guardian 921 allowing for maximum peripheral input
Silent Cooling: Comes standard with 3 120mm fans installed to maximize cooling performance with minimal noise