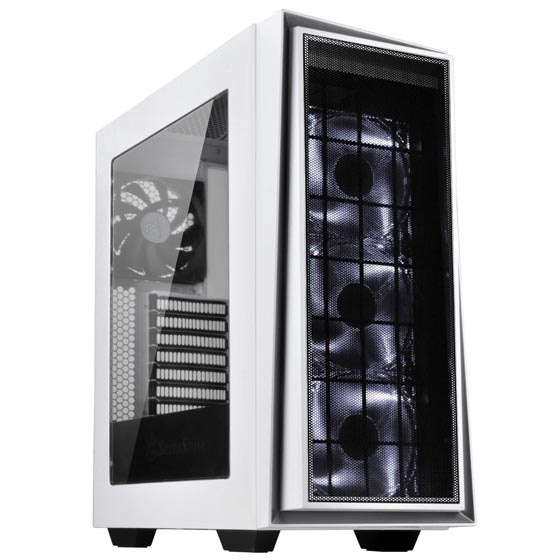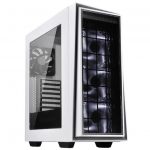 Ask any system builder to name a case manufacturer that they respect and that represents quality. You would be hard pressed to find anyone with a negative thing to say about SilverStone. After meeting up with them at CES you can tell that their commitment to a high standard is not something they take lightly. We are doing an overview of the SilverStone Redline RL06 WS – PRO to show you the quality features the case has at a very affordable price.
If you are anything like me, you would expect them to cost a small fortune for the features they bring and their quality reputation. While their high end Temjin and Fortress series may be priced higher than you want to pay, they have a *ton* of very affordable case lines that still give you that legendary SilverStone quality, at a lower price point.
The Redline PL06 White (w/Silver trim) Pro gets its "PRO" designation by the inclusion of the window panel and the LED fans up front.  Getting a RL06WS will net you a similar case, sans the side window panel and LED fans on the front, and instead have a solid panel and standard non LED case fans for the front intake. The RedLine series has two color options available: a Black/Red trim version, and this White/Silver trim variant. Both are plastic panel and steel body construction, utilizing the same design, simply different color schemes. However, I must say, with the White/Silver edition, the case internals are in black which adds a dramatic contrast to the case exterior. This is a "value" case, so in order to cut costs it is steel, and the front bezel is plastic.
Model No.
SST-RL06BR-W (black with red trim + window)
SST-RL06BR-PRO (black with red trim + LED fan + window)
SST-RL06WS-W (white with silver trim + window)
SST-RL06WS-PRO (white with silver trim + LED fan + window)
Material
Plastic panel, steel body
Motherboard
ATX (up to 12″ x 10.2″), Micro-ATX
Drive bay
External
None
—
Internal
3.5″ x 3 (compatible with 2.5″), 2.5″ x 2
Cooling system
Front
120mm LED fan x 3 (PRO version only) or 140mm fan slot x 2
Rear
120mm fan x 1
Side
—
Top
120 / 140mm fan slot x 2
Bottom
—
Internal
—
Radiator support
Front
120mm / 140mm / 240mm x 1
Rear
120mm x 1
Top
120mm / 240mm x 1 (<30mm)*
Bottom
—
Expansion slot
7
Front I/O port
USB 2.0 x 2
USB 3.0 x 2
Audio x 1
MIC x 1
Power supply
Standard PS2(ATX)
Expansion card
Support graphics card up to 13.7″ (348mm), width restriction – 6″ (152mm)
Limitation of CPU cooler
158mm
Limitation of PSU
200mm
Net weight
6 kg (standard version)
6.3 kg (PRO version)
Dimension
200mm (W) x 477mm (H) x 455mm (D), 43.4 Liters
7.87″ (W) x 18.78″ (H) x 17.91″ (D), 43.4 Liters
Remark
* For 120mm / 240mm radiators and fans, total thickness may not exceed 30mm depending on motherboard component clearance.
Metal mesh, about the hole density of automotive speaker mesh, rectangularly reinforces the clean frontal appearance, while there are removable, finer, flexible mesh inserts located throughout the air inflow locations. Below the main front is a removable plastic frame with a fine screen filter to trap dust, while on the bottom below where the power supply would pull in air is a plastic screen that is held on by metal tabs extruded from the base. The top off the case has a magnetically attached removable screen to stop dust.  Speaking of the top, there is a backlit square power button, two USB3 ports, two USB2 ports, and headphone/mic jacks.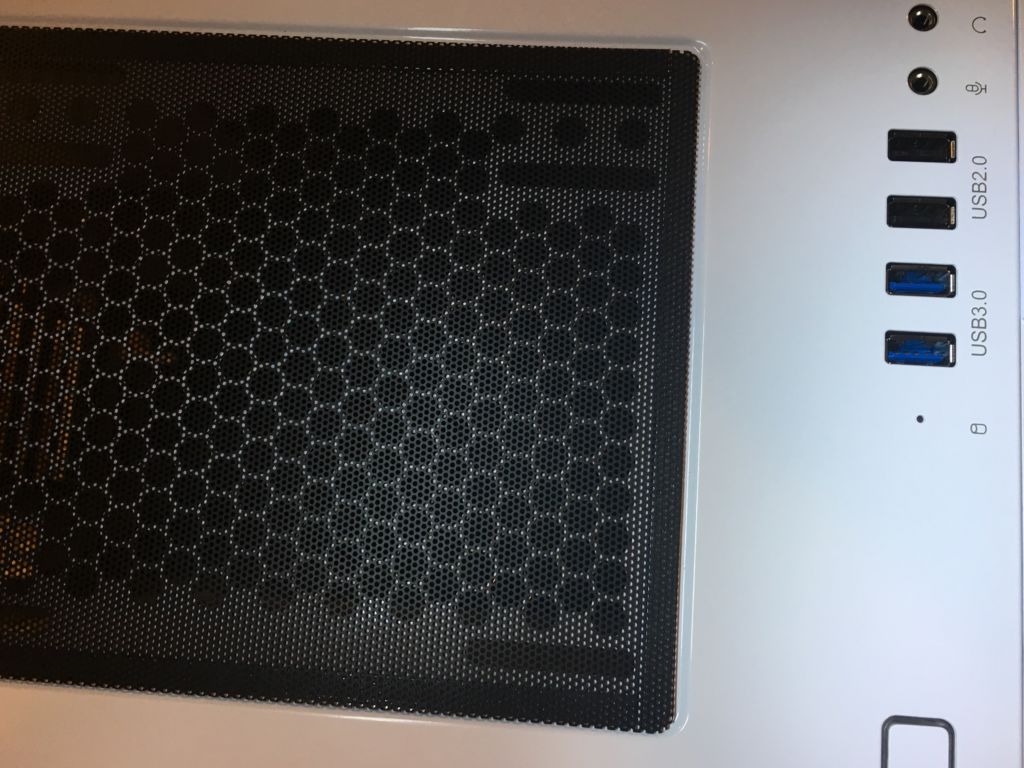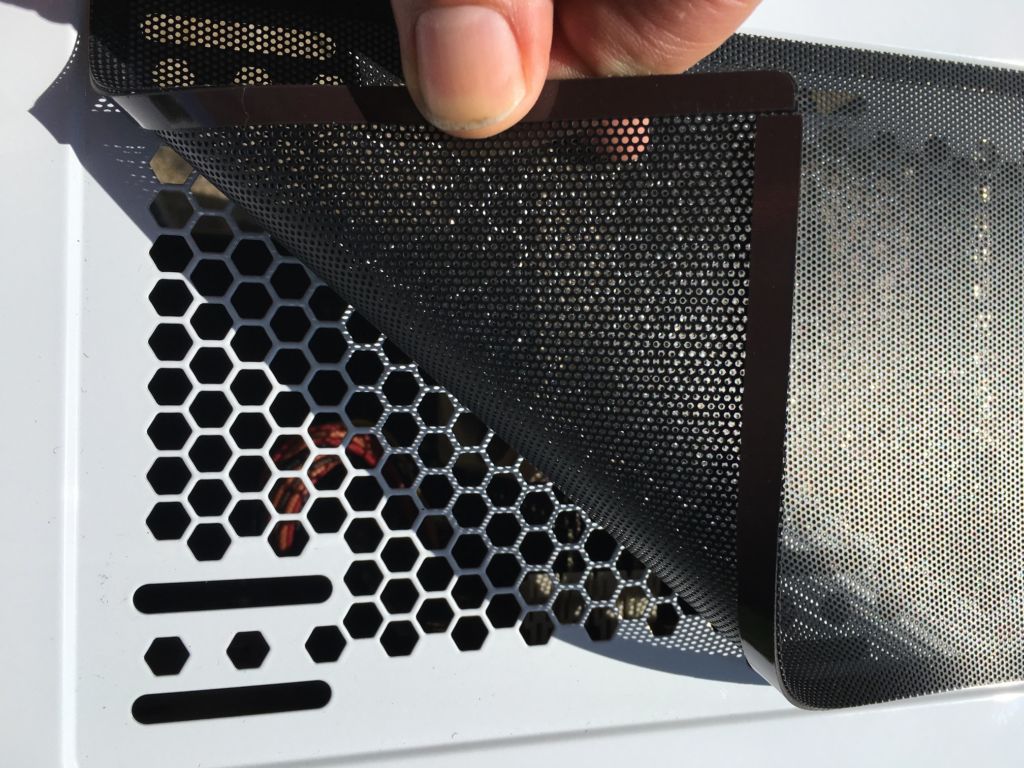 The top filter has a magnetic edge that is then and hold the screen in place.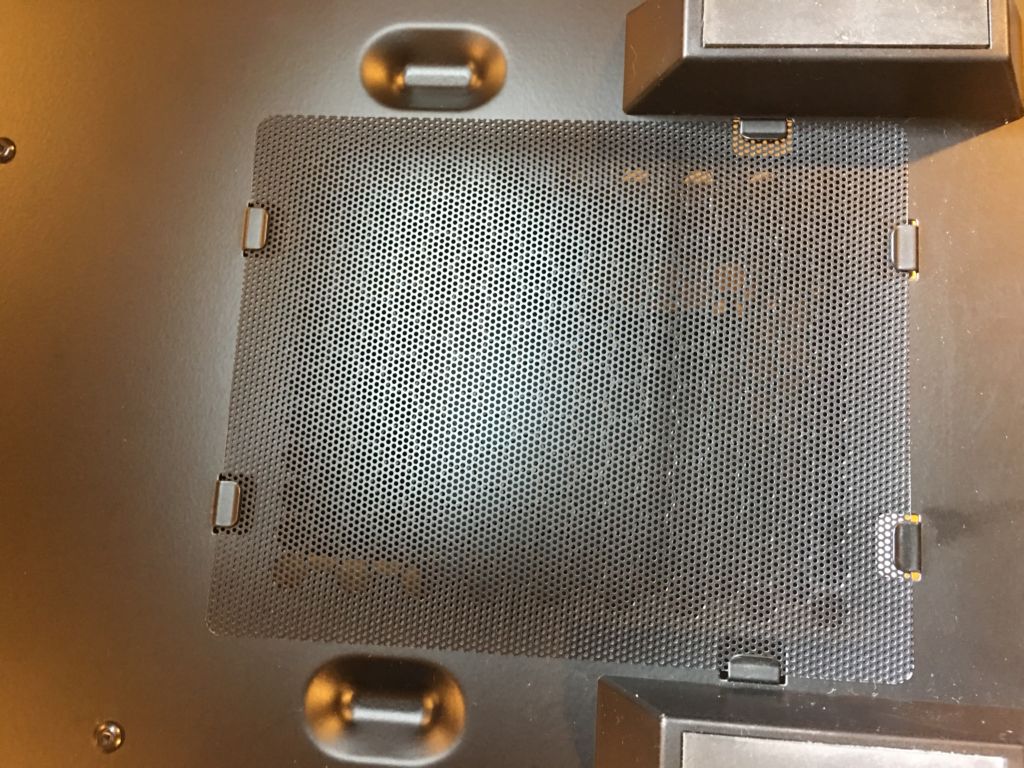 The underside of the case uses tabs where the filter screen is for the power supply intake.
One of the things that SilverStone did with this line was make it extremely enthusiast friendly. It is very accommodating to water cooling. Has lots of airflow to allow for large air cooled rigs. Has a power supply shroud, and lots of space behind the motherboard for cable routing. Let all of that sink in. I have not known a lot of cases in the $75 price point to offer all of that (points back to the opening paragraph about the SilverStone reputation). Lets step through some specifics on these features.
Watercooling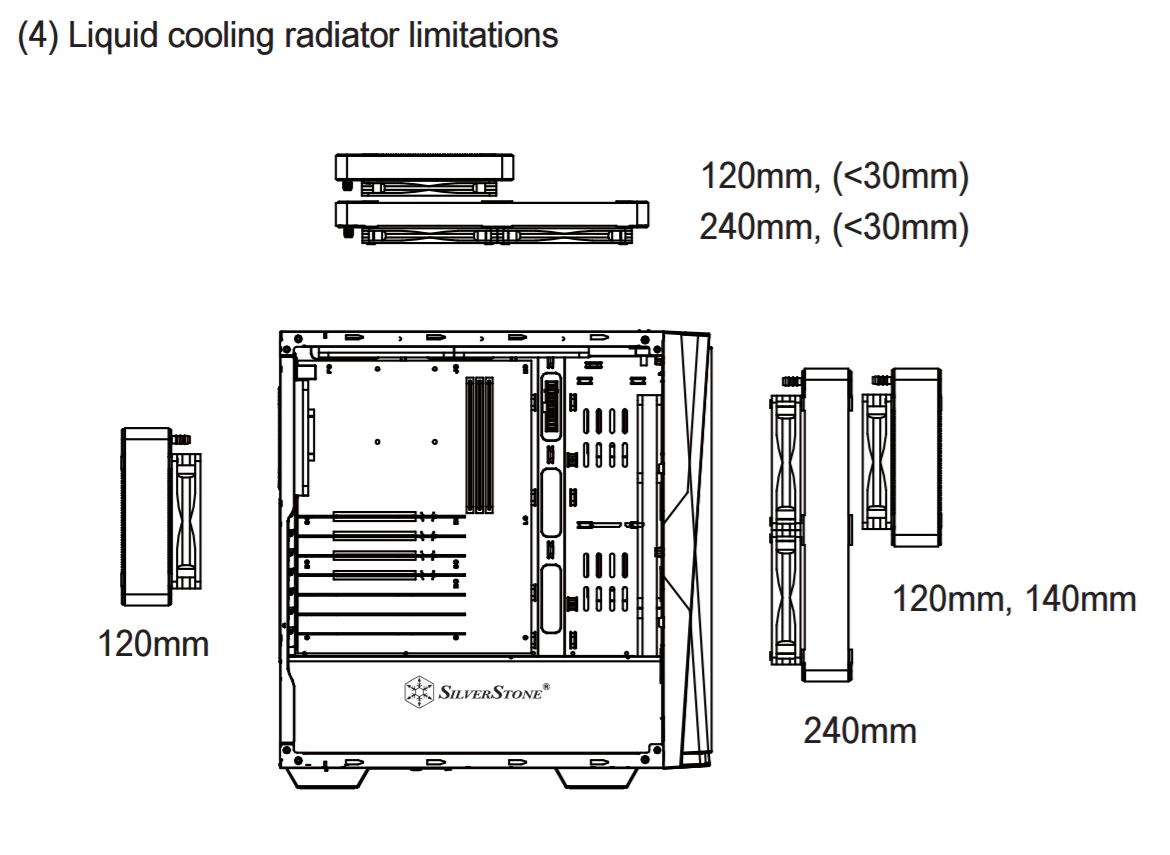 Three locations for radiator mounting. They are the front/top/back configuration with the sizes noted above. Note that the front and back mount locations have no limitations on the thickness of the radiator solution, while the top "chimney" location has a thickness allowance of 30mm or less. Also, note the thickness of the fans on those top rads, they look like they are slim units as well. . The inclusion of the lower PSU shroud forces everything up. And with that upward trend of hardware mounting, comes a cramped upper area for installation. Keep that in mind. Properly dimensioned components will looks stellar in the top of this unit. Also, the front 240 limitation is not just a shroud limitation. that is also where the 3.5 inch bay is located. I'm sure an enterprising modder could figure out a way to shoehorn a 360 into the front of one of these bad boys…  ;)
Air Cooling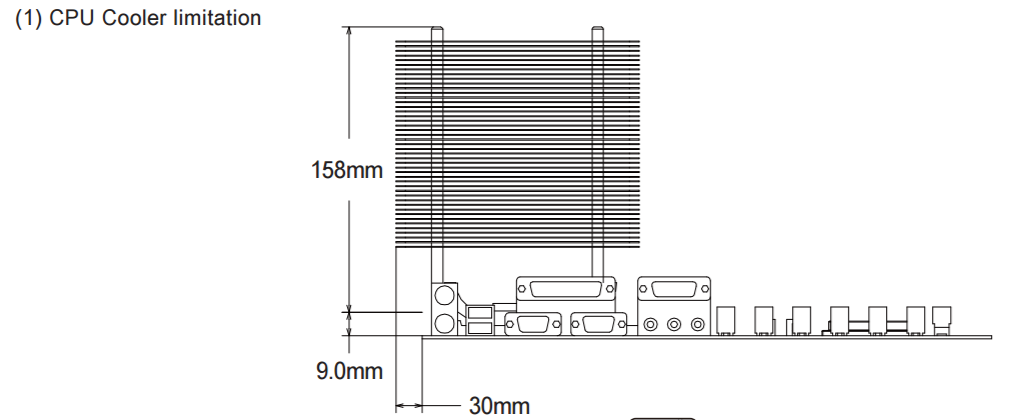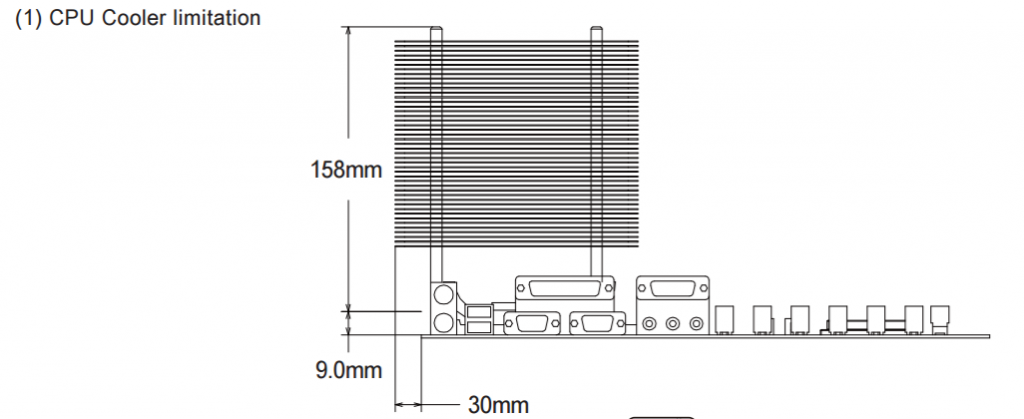 Your monstrosity of an air cooler must fit within these limitations…
Front intake fan config can either be 3 of the 120mm variety, or 2 of the 140mm variety. Rear is a 120mm only, and top exhaust is 2 of either 120mm/140mm sizing.
Power Supply Shroud, internal space and rear case details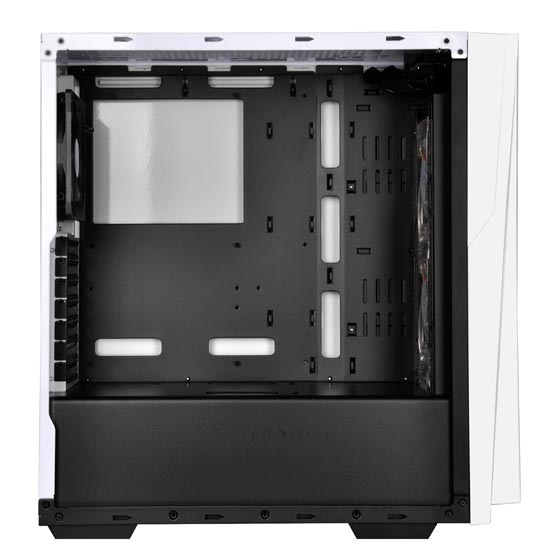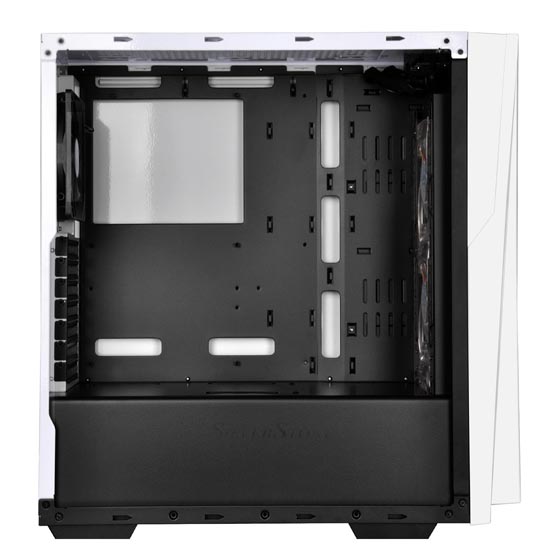 The motherboard standoffs are pre-installed for the support of ATX and Micro-ATX. It comes with spare standoffs if additional support is needed on the outer edges. The included screws are black, to go with the black internals, and they will also not stand out like silver screws do on other motherboard installs. The configuration and space config are a breath of fresh air in this segment. Most modders don't use a ton of spinning drives, so having a cascading pillar of metal extending from the top to the bottom of the case in order to hold hard drives, is quite honestly a waste of space. and SilverStone must have thought the same way for the SilverStone Redline RL06 case.  Freeing up that area in the front of the case, and including a three tray drive compartment below the shroud, opens up serious space inside this case allowing for the unfettered installation of water pumps and reservoirs.
The more time I spend with this case, the more their tag line of, "Taking affordable enthusiasts PCs to the limit" is to be believed!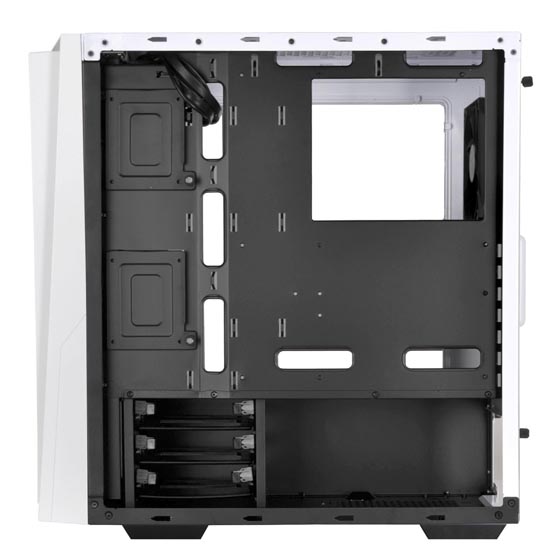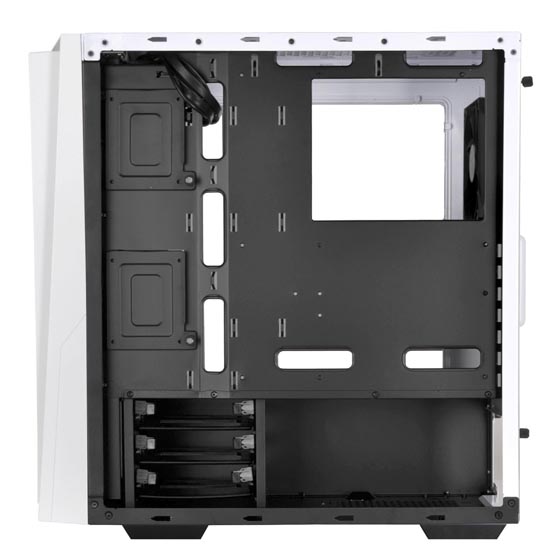 The included shroud is installed in a semi permanent config, with one oval feed port on the center front edge of the shroud. It covers the power supply area as well as the three 3.5 inch, back access, hard drive bays. The power supply bay has enough room to accommodate up to a 200mm  power supply. Cables will feed easily into the rear area of the chassis, behind the motherboard, leading to an exceptionally clean internal appearance. Feeding those power cables and cleanly routing them behind the case is made easier by the strategic placement of extruded steel slips for zip ties to be anchored to. Passing the cables to the front is permitted via eight total cable port holes. Horizontally there are two located at the top over the motherboard, two located between the motherboard and the top of the shroud. Vertically, there are three placed down the side of the motherboard area. The remaining one comes directly off of the aforementioned front edge of the shroud itself.
All of the port holes are finished and rounded to insure there will be no cable cutting. No rubber finish grommets or fillers. Also, of note on the rear side of this unit, are two dedicated SSD/2.5 inch mount brackets. So you don't have to give up a full sized drive to mount your uber super duper game spewer SSD. SilverStone has you covered!
Access to the CPU area from the rear insures that you will be able to replace your CPU coolers without the need to remove your motherboard. The motherboard tray has a large area cut out of it so that access to the back side is unimpaired after installation of your system.
Looking good…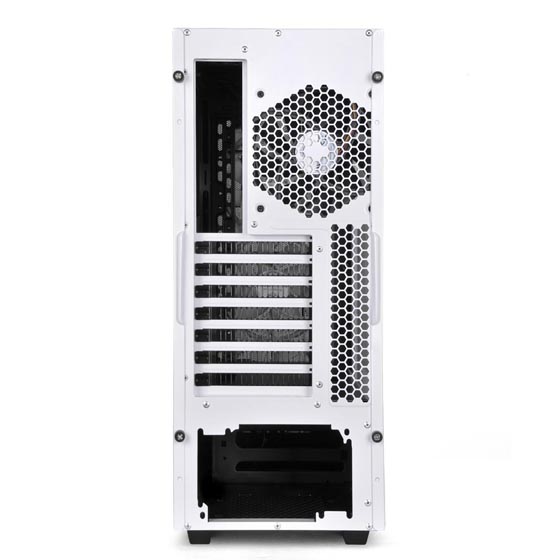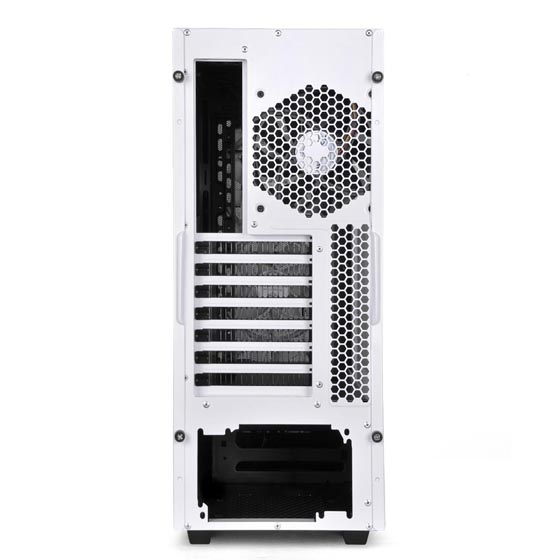 The SilverStone Redline RL06 is simple, clean, elegant. The white is a powder coat, and incredibly durable. Great thing about white is that it does not show fingerprints. The curse of white is any animal you may have that has hair. Seriously. Hex honeycomb pressed through the rear sheet steel. Rear exhaust fan is 120mm. The card slot covers are very classy with vent notches cut through all of them.
If there was a knock/critique that I was to have on this case, it is the back case panel screws. They are cylinders of plastic with a screw through them. I recognize that to meet a price point, corners must be cut. But this is near and dear to my heart, as I have experienced the failure of one of these on another manufacturer's case, while at a LAN. When the screw lets go of the plastic sleeve, there is the chance that you can twist the plastic, and it will no longer move the screw. It just spins around the screw insert.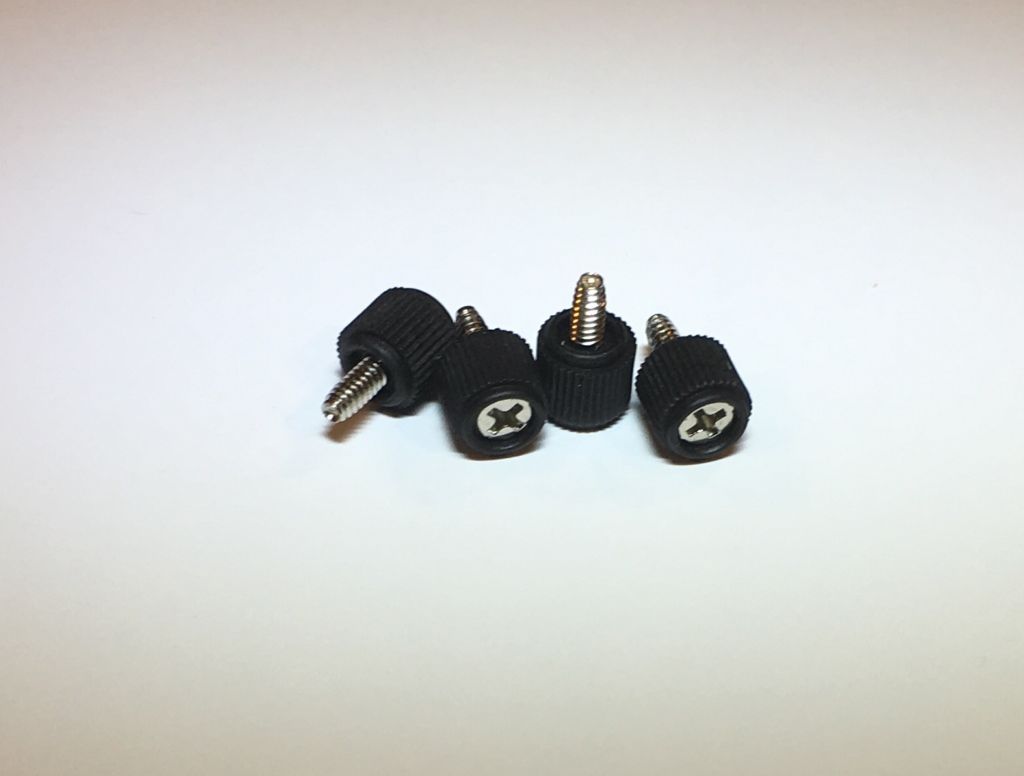 Of course, the easy thing is to use a Phillips head screwdriver. But, if you are at a LAN party, and you didn't bring your tools because you had checked your rig before leaving, and then you need to get into it upon arrival and the case panels wont come off, it becomes a very frustrating scene. Simple solution, pick up a bag of black anodized case screws, and you are fixed. These types of panel screws have left a bad taste in my mouth in the past. It would be a failure of mine not to warn you of this potential issue.
Equipment Install
No better way to confirm what you think about a case than to install your hardware and confirm your suspicions. For the components, I had a 990FX motherboard from ASRock, a Noctua D4 air cooler (largest air cooler that I have) and an EVGA 770 video card. For a power supply, I used a  BFG 550w unit, six inches square with full cabling. Not modular. One thing I did note was that if I was using an eight inch "rectangle" based form factor, and if it was modular, then it would not be able to install. If you have one of these, and it is not modular (ie: cables feeding out the back from one side), then it will likely work. Having the 3.5 inch hard drive bays in the base of the case in front of the power supply affects the ability to have the larger form factor in conjunction with the modular outputs. Keep that in mind. If you want modular cables, you will need a 6 inch "square" form factor to have enough room for the outputs of the cables, without removing the hard drive bays.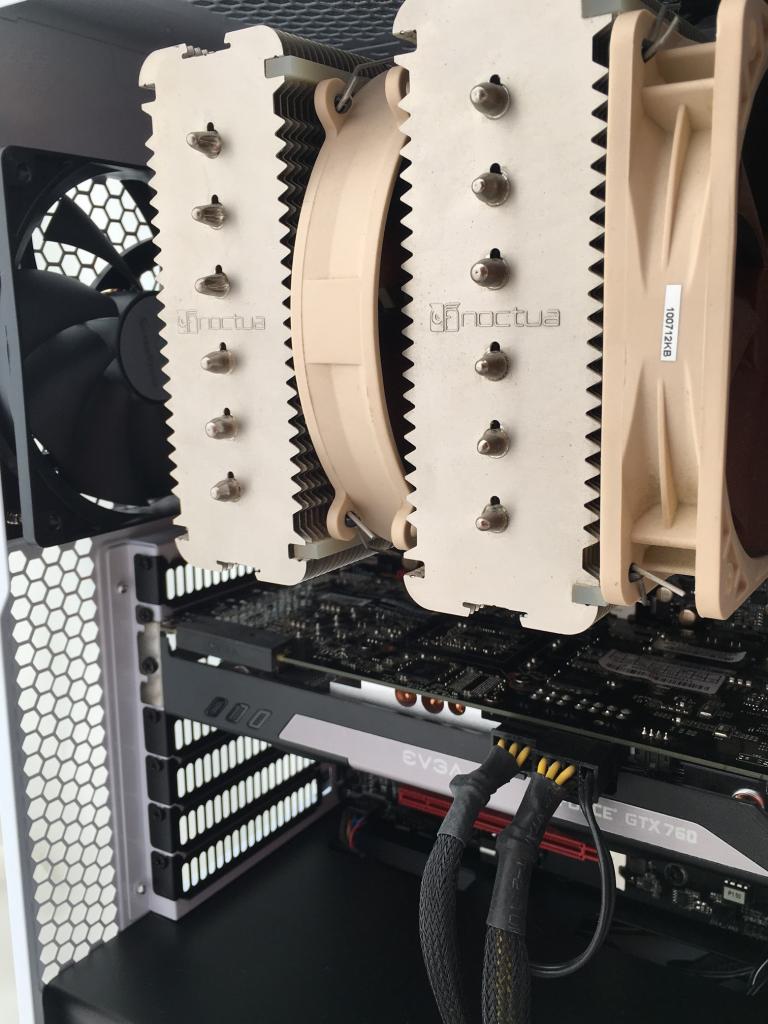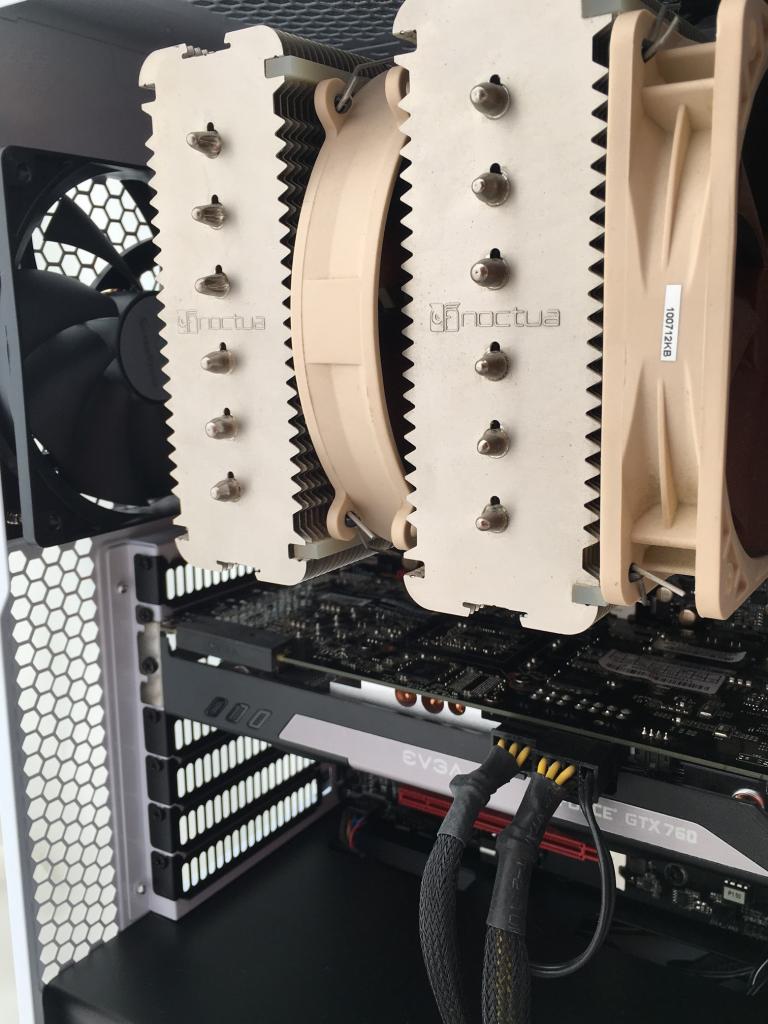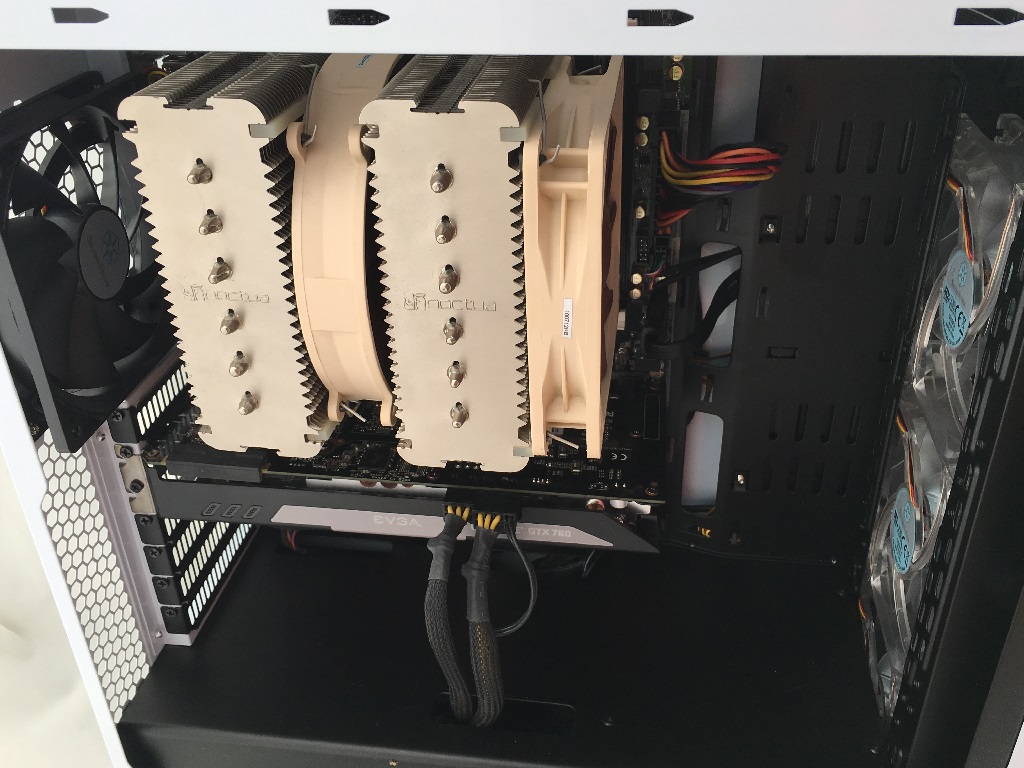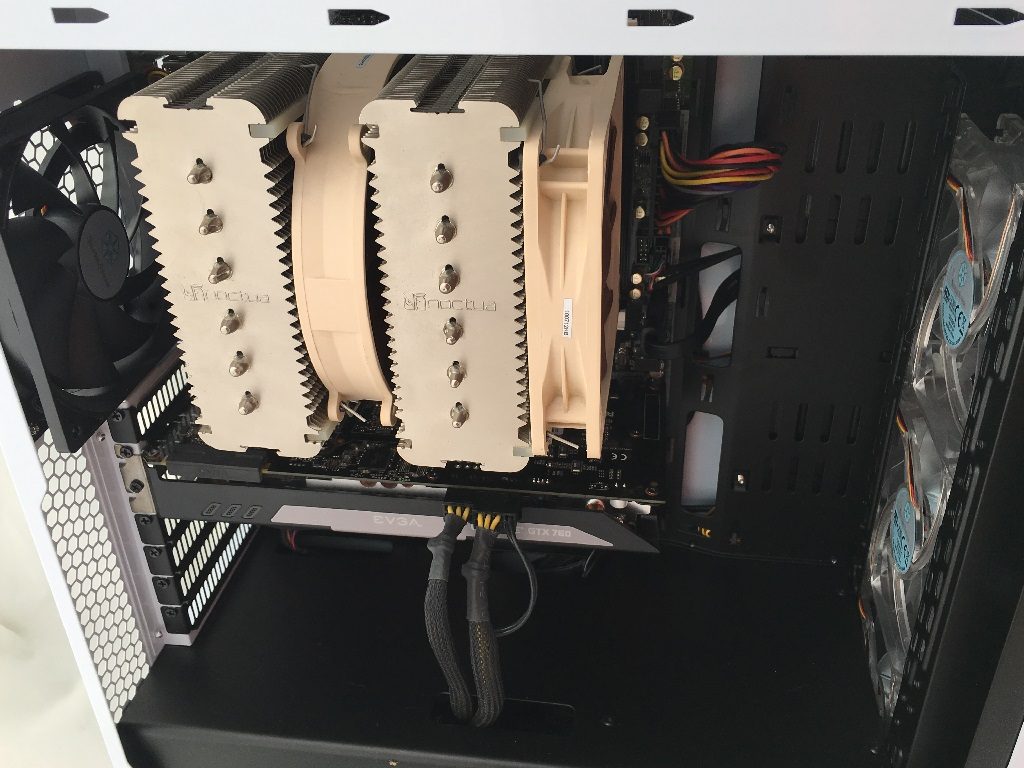 And on the point of video cards, the SilverStone Redline RL06 can support 13.7″ (350mm) long cards, which covers all retail consumer graphics cards available on the market. There is a 6 inch width restriction.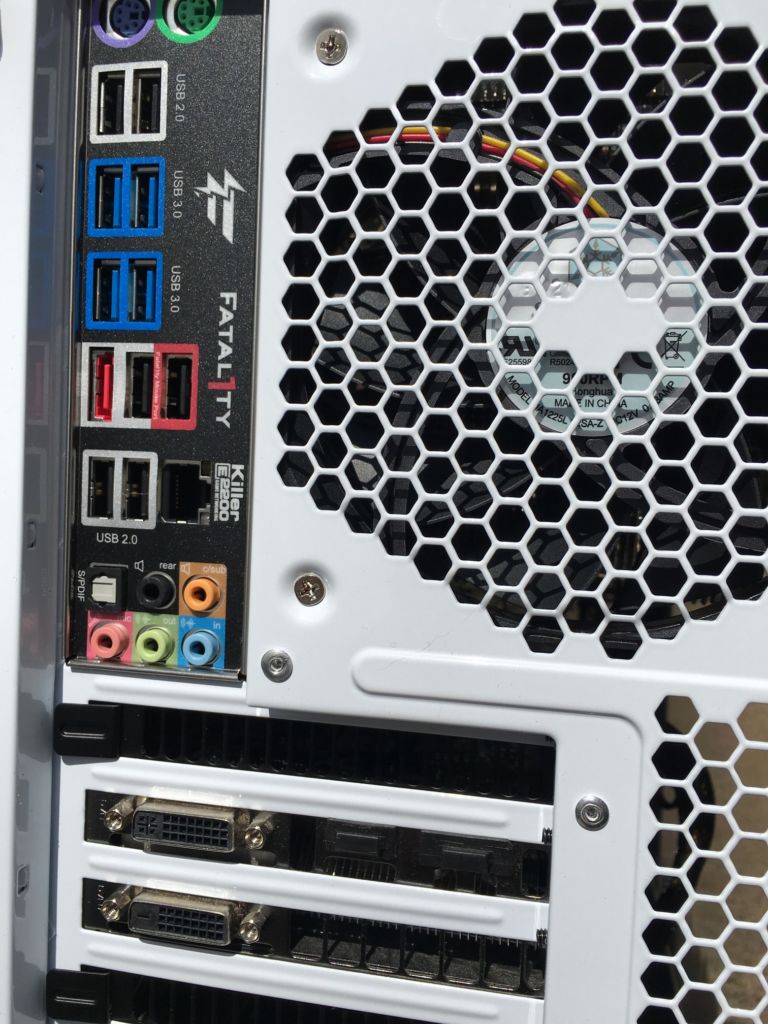 Conclusion
I am impressed. Color me a fan. The build quality of the SilverStone Redline RL06 case cuts right into the heart of an enthusiast, and allows for exceptional flexibility in incorporating many different varieties of hardware. The finish on the internal structures was simply excellent. No hard edges or seams, rolled steel openings, lots of zip tie anchor points for cable management, fully hidden drive compartments, PSU shroud and ample space in the back for proper cable routing for a clean, and epic build. My only nitpicky gripe are the panel screws. That's it!
If you are looking for a case to allow you to have an open config on a budget, you simply cannot go wrong with the SilverStone Redline RL06 case. The price fits in any person's budget that may be thinking about water cooling. The fit and finish of this case is something that I would have expected from a case in the $100-$150 range. It is stylish, it covers USB 2 and 3, the front panel has no place for an optical drive (perfectly fine by me, as most people are using digital downloads or thumb drives to populate their machines), 3 sets of filters to keep the internals clean, and a clear, durable side window with three 120mm LED intake fans on the front to get you started! Sign up and line up folks, here is a GREAT case.