« Page 4
Final Thoughts about the NZXT H440

The NZXT H440 is an achievement worth celebrating for several reasons. First, it effectively builds on the success of previous NZXT designs while offering something new and exciting. This probably should not have been a surprise considering their subsequent successful releases after the Phantom 410 and the Switch 810 case, but it is still worth noting because it is true. Ever since their inception, NZXT is seemingly driven primarily by a designer ethos that values innovation through aesthetic uniqueness and their manufacturing process has now thankfully matured to match their bold ideas.
Secondly, NZXT has leveraged the H440's plain design to functional advantage. Plain does not have to be boring and the H440 has plenty of personality for a case with no face. NZXT utilized subtle curves and angles with contrast of gloss and matte colors to great effect. Accents are present where they need be while serving a convenient function other than as eye-candy inside as well as outside.  For example, the angled front and top overhangs serve as handles when removing the panels for component installation. Inside, the power supply chamber covers unsightly cables while functioning as extra SSD mounting space. The PSU cover with an illuminated LED logo is also a shrewd move by NZXT to make sure that every photo of the H440 with an assembled system inside will not showcase a competitor's power supply, especially with the perfectly trimmed side window that shows what needs to be shown and hides what needs to be hidden.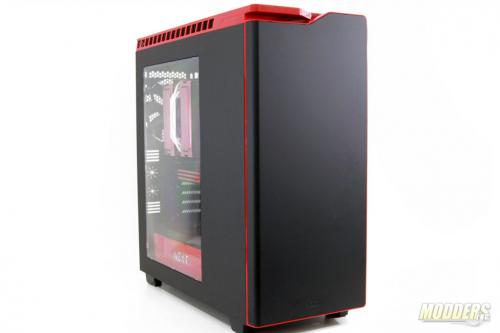 Lastly, as with every single successful NZXT case previously released, the H440 is priced very well considering the feature set it brings. With an MSRP of $119 USD (NZXT Armory Store with free shipping), it is not a surprise that even their second batch of this recently released case has been sold out. It can still be found in some retail stores, although I won't be surprised if those stores bump the price slightly as a response to the demand.
It is not without its limitations but NZXT H440 breaks down more barriers in the mid-tower segment that its shortcomings appear pale in comparison. The lack of any external drive bay is not missed one bit, in fact I fully expect a slew of imitators to crop up and copy this move soon. Smart, organized, flexible and fantastic looking; if it could cook, the H440 would be marriage-material. Whoever takes one home will definitely be happy and satisfied.
[sc:editors_choice_award ]