« Introduction | Under The Hood »
A Closer Look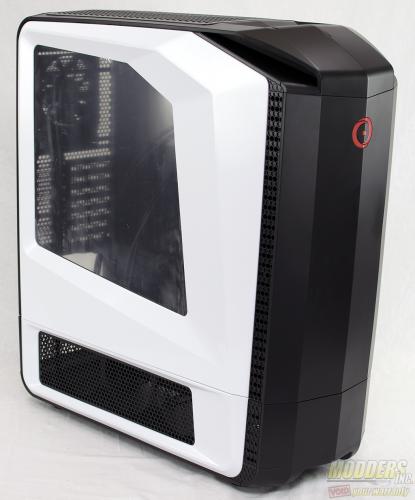 After unpacking the case, we can see the Genesis is quite different in appearance from other cases. The side doors, front, and top panels have very sharp and well defined angles. My initial thoughts were the Genesis reminds me of something out of a Sci-Fi movie.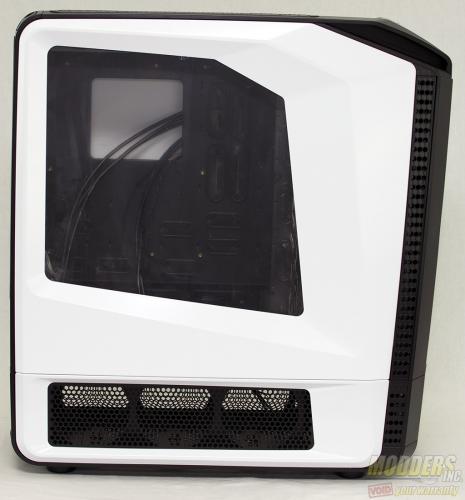 The full on side view displays a large side window to show off the goods on the inside of the Genesis. While the back of the case is perfectly vertical, the front of the case angles to the back as you move to the bottom of the front panel. The case is made up of two sections; the top section houses the core components such as the motherboard and GPU, while the bottom section can house either two 360 mm radiators or 12 3.5″ hard drives or 24 2.5″ drives or SSDs.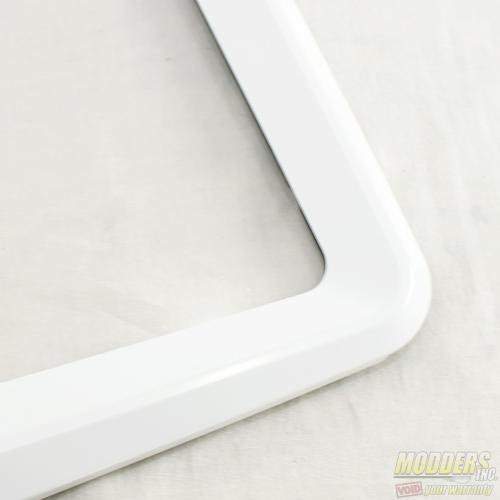 The exterior on the doors and the doors of the lower section is made from plastic. The ridge in the plastic gives the Genesis a unique shape, but it also gives the exterior skin some rigidity. The doors are not flimsy and feel solid when removed from the case.
The Genesis features a large door on the front. The door can be changed so that it opens from either side. When in operation, the Origin symbol gently glows.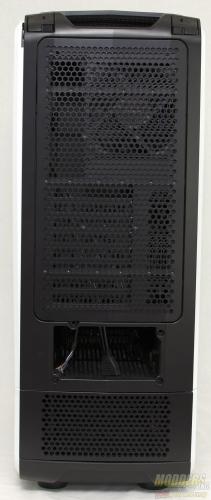 The back and the top of the case feature a removable hexagonal plastic grate. The grates are used to increase airflow and provide a finished look when the motherboard tray orientation is changed. During normal operation, for example, in the traditional motherboard tray position (as shown above) the grate cannot be used as it blocks the I/O panel on the motherboard and the PCI expansion slots.
The bottom of the case features a similar hexagonal mesh pattern for increased airflow. The case feet are about 1.5″ high and the additional elevation should allow more airflow under the case which, again, will increase airflow and thus increase cooling.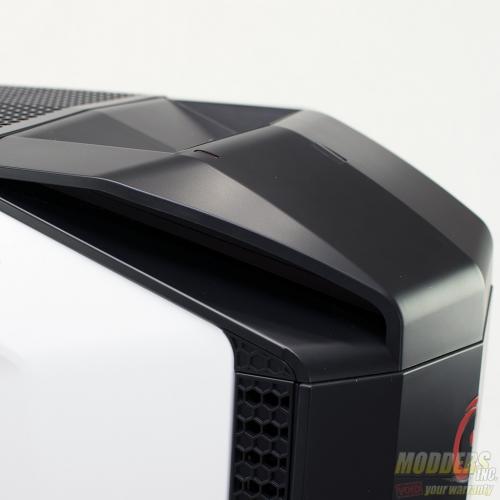 At the top of the case door, there is additional lighting via LEDs. This tends to give the Genesis a venomous snake like look when they are lit.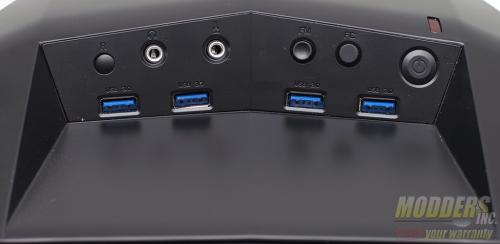 The case I/O panel is located at the top of the Genesis in a large cut out just behind the lit portion of the case. In addition to the 4 USB 3.0 ports, headphone, microphone and power and reset buttons, the Genesis features a built in fan controller that can change the fan modes as well as the fan speeds.