CPU Cooler
Phanteks PH-TC14S Dual-Tower Review: Conflict-free CPU Cooling?
Closer Look at the Phanteks PH-TC14S »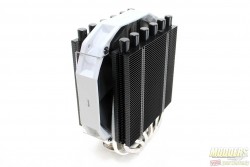 CPU Coolers come in various shapes and sizes but these variants are not all done purely for performance reasons. For instance, since memory manufacturers continue to use unnecessarily tall heat spreaders on their modules, CPU cooler makers have begun designing  heatsinks to maximize compatibility. Phanteks, specifically with their latest PH-TC14S CPU cooler, incorporates two main design ideas to ensure it stays within Intel's keep-out zone: utilizing the twin-tower design of their flagship PH-TC14PE and using a slimmer aluminum fin design.
The Phanteks PH-TC14S is equipped with six 6mm heatpipes configured in a U-shaped dual-tower design with the bundled PH-140HP II PWM fan installed in the middle. Its total operational body thickness is a mere 74mm, much thinner than conventional tower coolers. The PH-TC14S is quite light as well, weighing only 740g with the fan. The bundled PH-14HP II uses standard 120mm fan mounting so it can be replaced with any 120mm fan or 140mm fan with 120mm mounting but an additional fan can be installed on the front side as well.
[sc:sponsor sponsor="Phanteks" product_link="http://www.phanteks.com/PH-TC14S.html" product_name="Phanteks PH-TC14S CPU Cooler" product_price_link="http://amzn.to/1zRIdcq" product_price="$49.99″ ]
The Phanteks PH-TC14S is packaged in a matte gray outer box with printed graphics of the heatsink unit. Opening it is fairly straightforward at the top and the contents inside are sandwiched top and bottom in two pieces of thick foam padding.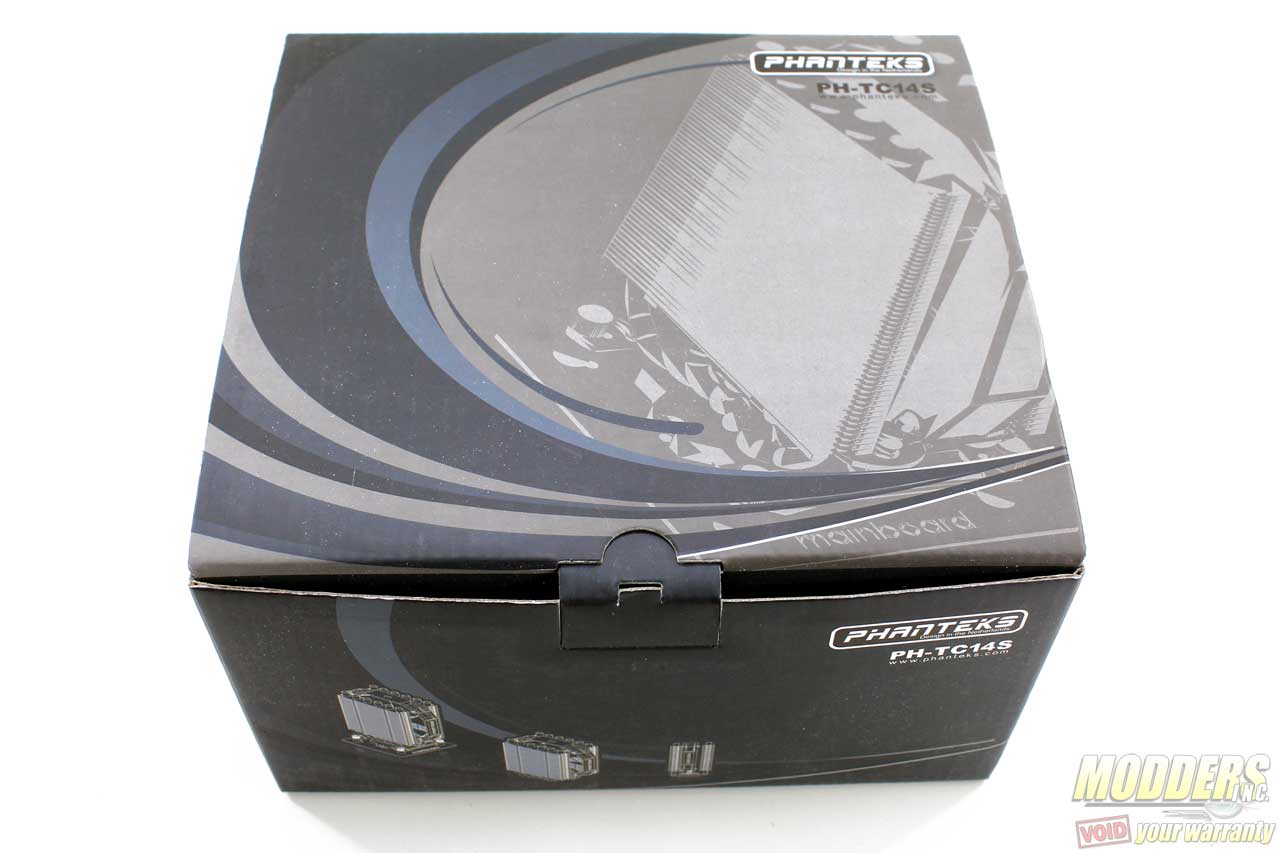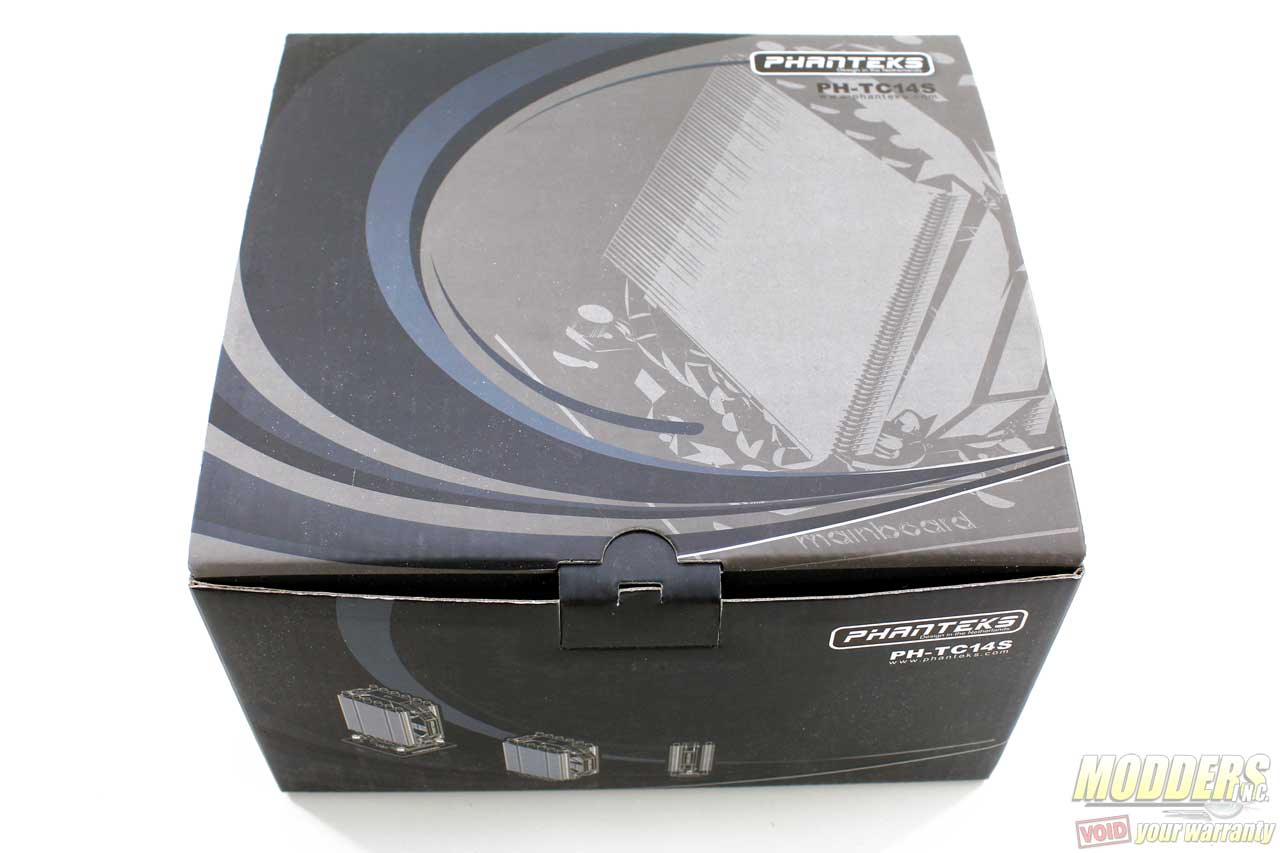 The accessories are housed in a box to the side while the main PH-TC14S comes with the bundled fan pre-attached with fan clips. This fan must be removed first so that the unit can be installed.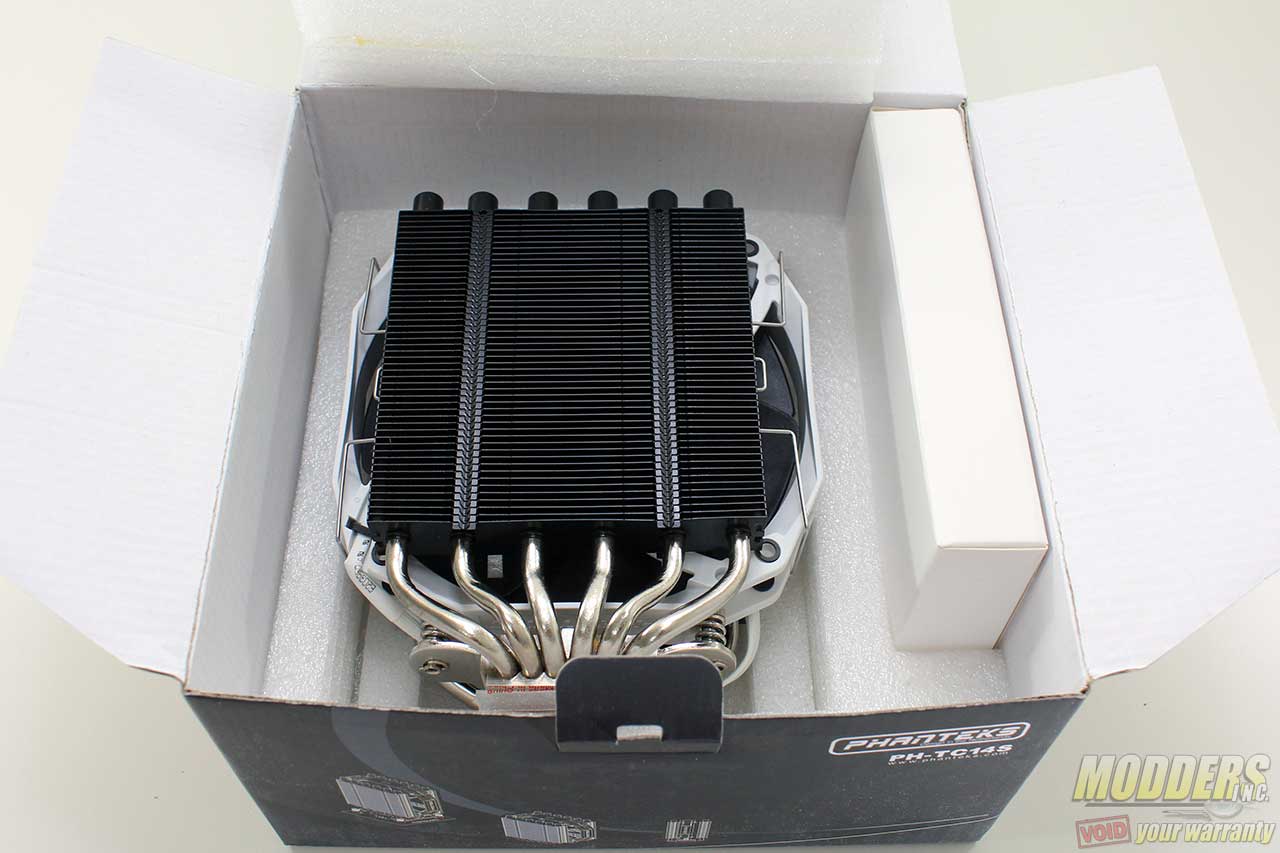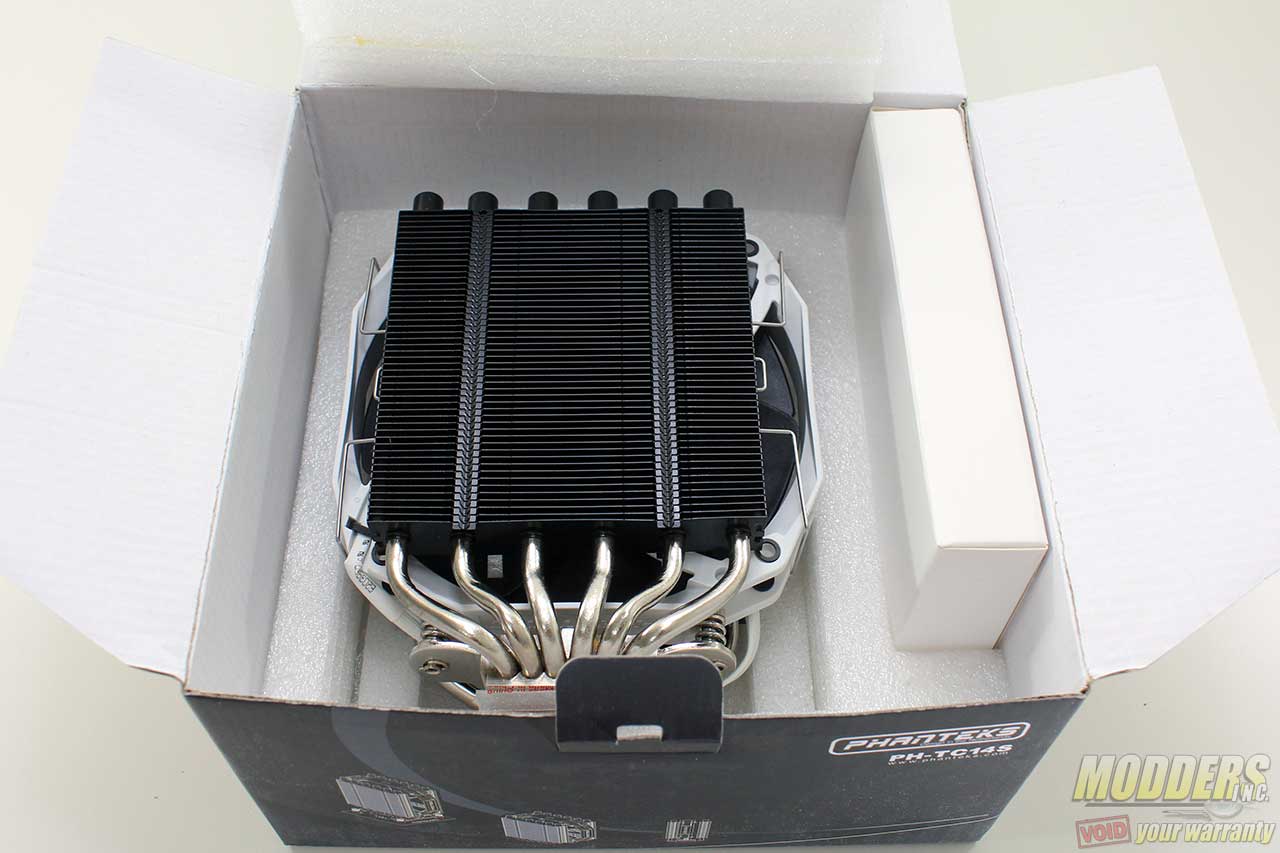 Accessories include documentation for each mounting system in multiple languages, a full-sized tube of PH-NDC thermal compound, extra fan clips for an optional second fan (with 120mm mounting distance) with plastic holders, two additional fan vibration-dampening strips, as well as mounting kits for Intel LGA 775, 115x, 2011x and AMD mainboards. A universal backplate is provided for mounting on Intel systems but the AMD mounting accessories require the use of the stock AMD backplate.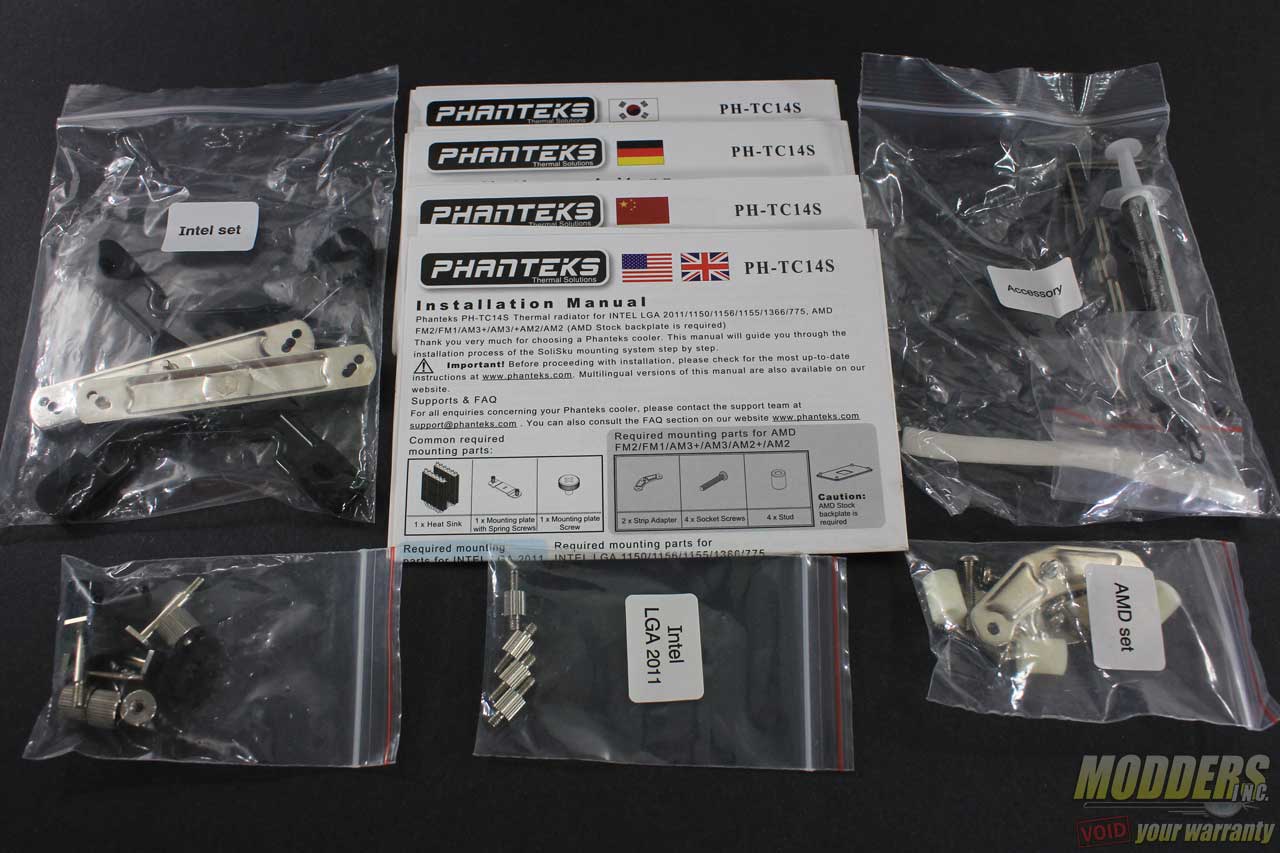 Specifications:
Socket compatibility

Intel Socket 2011/115X/1366/775. AMD FM1/FM2(+)/AM2(+)
Color

Black
Material

– Copper (Base and Heat-pipes), Nickel Plated
– Aluminum Cooling Fins with patented P.A.T.S.
Fan Model

PH-F140HP PWM Ultra High Static Pressure Premium Fan
Blade Geometry

Seven Colored Blades with MVB2
Bearing Type

UFB (Updraft Floating Balance) Bearing
RPM

500 – 1600 ± 250 RPM
Heatsink Dimensions (LxWxH) without fan

4.1×2.9×6.1 inches

Heatsink Dimensions (LxWxH) with fan

5.6×2.9×6.3 inches
Heatsink Weight without fan

1.23 lbs
Heatsink Dimension (LxWxH) with Single Fans

1.63 lbs

Package Dimensions

8.5x8x4.7 inches (LxWxH)

Scope of Delivery

– 1x PH-TC14S
– 1x PH-F140HP PWM Premium Fan
– 1x SoliSku Mounting kit for Intel and AMD(Stock backplate required)
– 4x Fan Clips, 4 Rubber Bar
– 1x PH-NDC Thermal Compound
– 1x Phanteks PH-TC4S User's Manual

Warranty

5 Years