CPU Cooler
Phanteks PH-TC14S Dual-Tower Review: Conflict-free CPU Cooling?
« Introduction and Specifications
|
Installation Procedure and Clearance Issues »
A Closer Look at the Phanteks PH-TC14S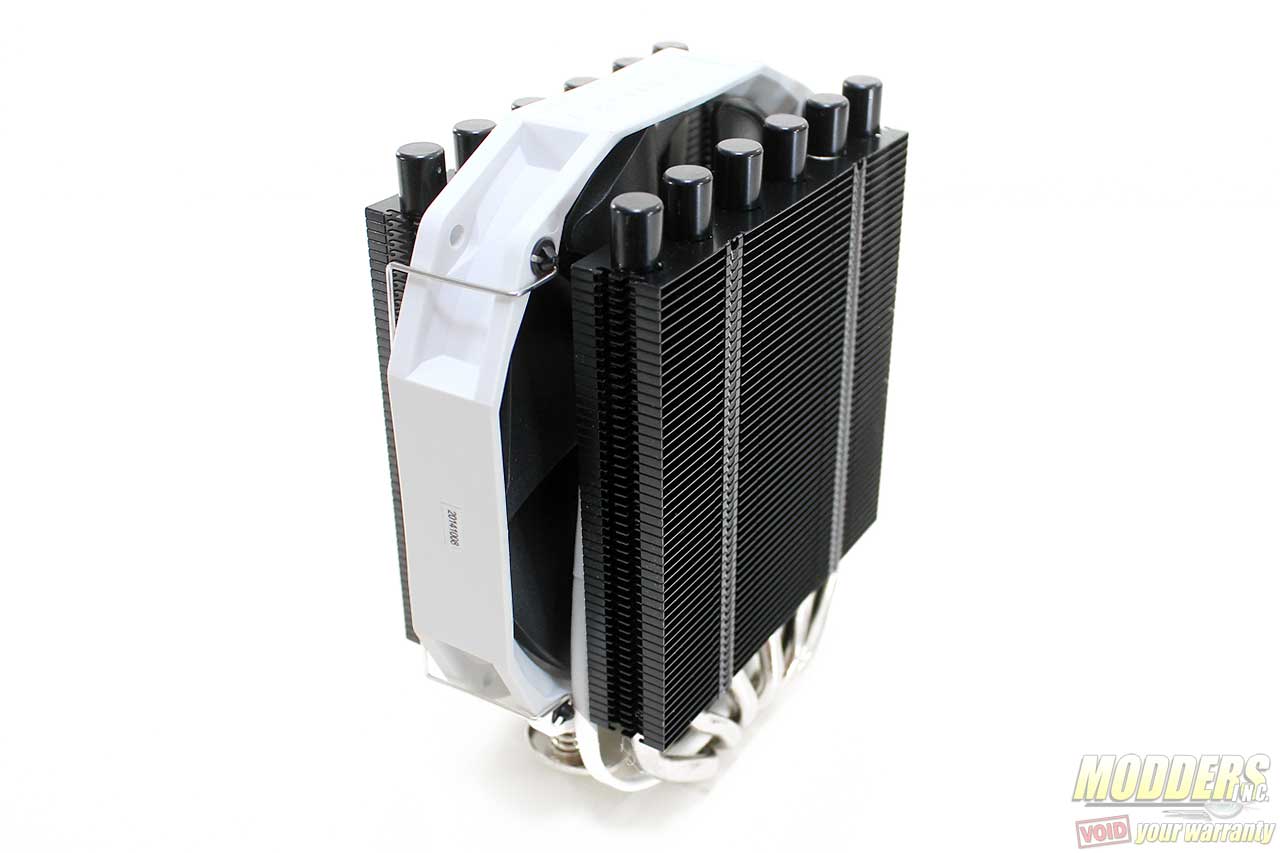 Measuring 161 x 74 x 142 mm, the Phanteks PH-TC14S is unlike most tower coolers. Utilizing a slim dual tower design with the fan in the middle, the Phanteks PH-TC14S has enough clearance for mounting extra fans at the front and/or back. As with other Phanteks coolers, the build and finish (available in black) is impeccable with uniformly capped heatpipe tips. The white-framed fan also creates a nice aesthetic contrast in the middle.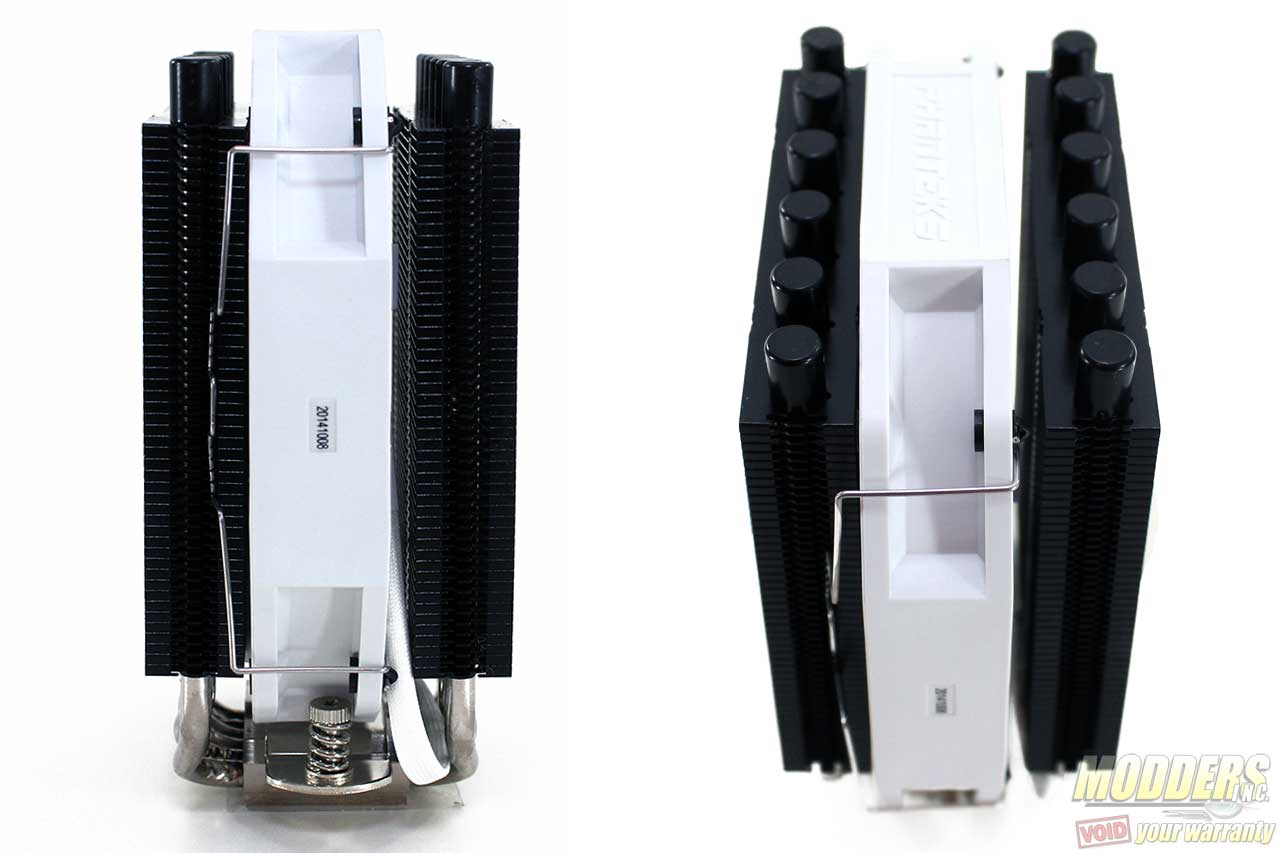 Each aluminum fin array tower has 50 fins and the pattern is uniformly flat for both sides and both towers. Since the fan is pre-installed out of the box, a pair of vibration dampening lining is already in place on the rear tower.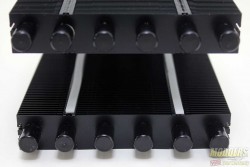 There are six 6mm copper heatpipes spaced evenly from each other, each of these copper heatpipes are nickel finished. These are also soldered clean to the base with no visible extra flux.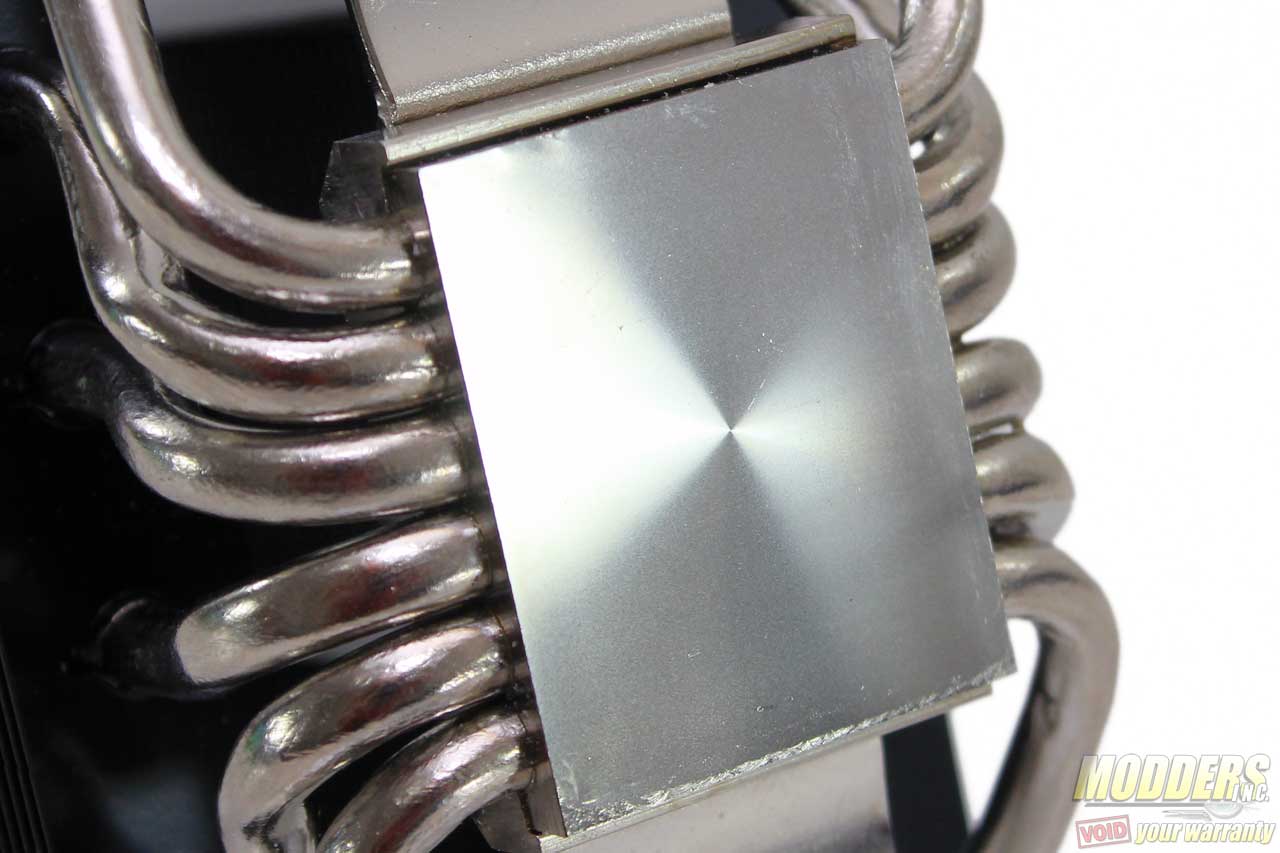 The surface is rounded smooth and slight mirror finish. The milling leaves a very visible concave center apex, although this is almost impossible to feel by hand. This surface is protected with an adhesive cover out of the box which could leave extra residue as the glue Phanteks used is quite strong so it is advisable to clean the surface further before installation.
The PH-F140HP II PWM ultra high static pressure premium fan bundled is a 140mm fan with 120mm mounting holes.  The frames are white but the blades are black to match the PH-TC14S body. This fan is the second revision to Phantek's PH-F140HP and now has seven wider surface blades that leave almost no gap compared to the nine blades of the original PH-F140HP. It still uses Phantek's Updraft Floating Balance bearing but this version goes up to 1600 RPM (instead of just 1300RPM). The plastic fan mounting holders are thankfully pre-installed as well as the wire clips as they are the most annoying things to install in a Phanteks heatsink. The fan cable is nicely sleeved in matching white to the frame, Readings from ASUS Fan Xpert II reveal the real-world controllable PWM range: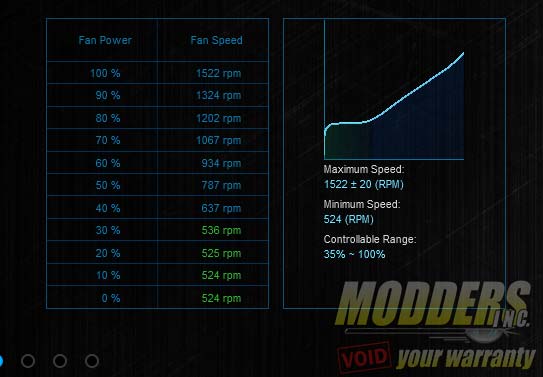 Bundled Fan Specifications:
| | |
| --- | --- |
| Bundled Fan Dimensions | 140 x 140 x 25mm (120 x 120mm mounting) |
| Bearing Type | UFB (Updraft Floating Balance) Bearing |
| Blade Geometry | Seven Colored Blades with MVB (Maelstrom Vortex Booster) |
| Speed | 500-1600± 250 RPM |
| Max Airflow | 68.1 CFM |
| Max Air Pressure | 1.60 mmH20 |
| Acoustical Noise | 25.3 dBA |
| Input Power | 2.4 W |
| Current (Ampere) | 0.2 A |
| Rate Voltage | 12 V |