A Closer Look at the be quiet! Dark Base 900 Pro »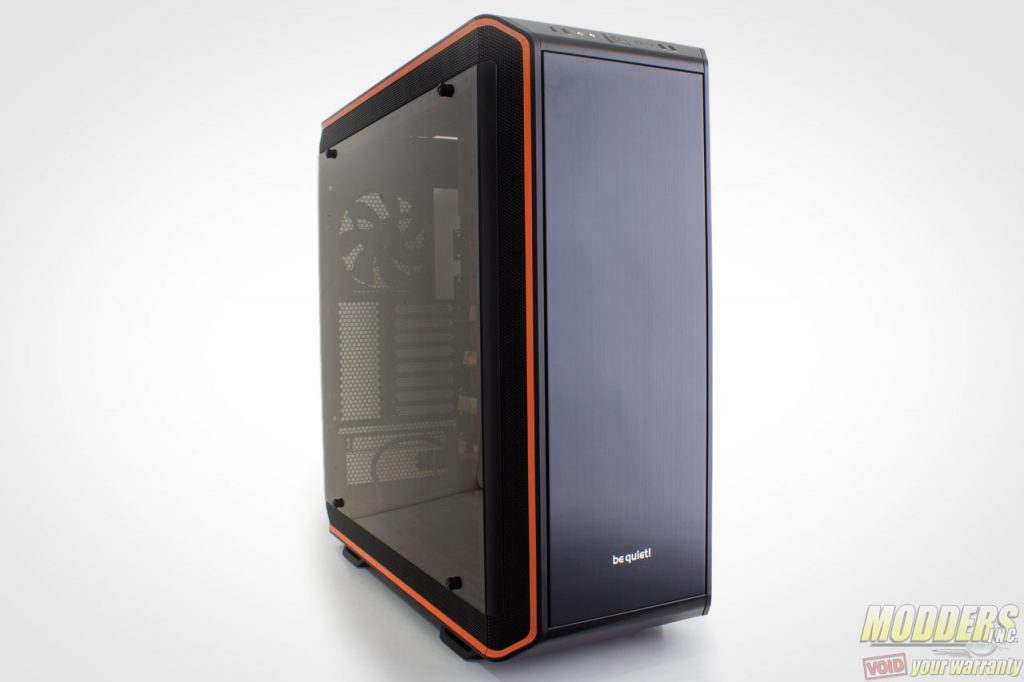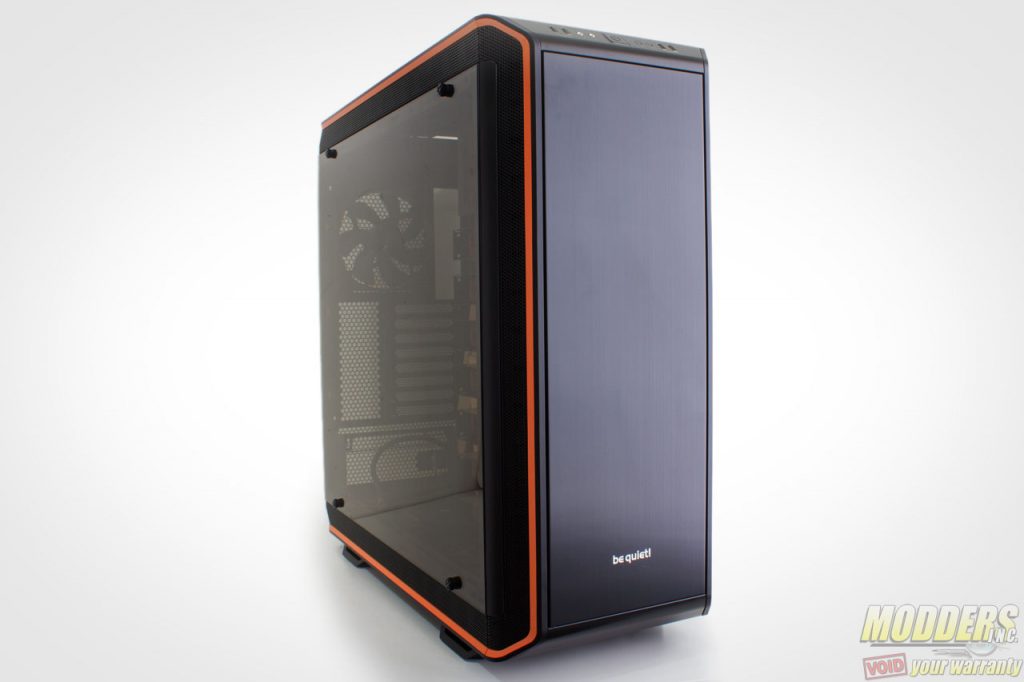 When it comes to system building, size equals convenience with large full-tower cases offering plenty of room to work with. Since the case market is extremely crowded and competitive however, simply creating a large case for the sake of creating a large case is not enough. If it does not have the right set of features and is not designed intelligently enough to appeal to advanced users, it will not be successful. That is why be quiet! has taken a different, highly modular approach when it came to designing their latest full-tower Dark Base Pro 900 case.
The be quiet! Dark Base Pro 900 is the German company's current flagship case; standing tall and wide, demanding attention with nary a sound. It is available in black with orange, black or silver accents similar to the previous flagship Silent Base 800 full-tower case but with a 4mm thick tempered glass side-panel and a Qi wireless charging area. A non-pro version is also available with a steel side panel instead and without some of the extra features. It is a highly modular case internally, having the ability to move or remove most components including the motherboard tray, drive bays and PSU mounting area to give users true customizability and support for high-end liquid-cooling radiators.
The be quiet! Dark Base 900 Pro is a large case and thus, it comes in a large box. I almost feel sorry for the courier as imagine he had to carry it up, even though my porch was only a few flights of steps up. The packed weight is ~16.5 kilograms so some users might want to have an assist ready if carrying it up to the second floor. The packaging itself is similar to other be quiet! products with a mostly black layout and white text and minimal graphics on the front. Inside, the case is flanked by a pair of foam padding and wrapped in a black cloth covering. The documentation is inside a zipped bag and taped to the case.
Other than the documentation, the accessories are stored inside the case and held in place by ties. It is not usually the most preferred way to store the accessories as they can get loose and then it will scratch the interior. It would be more ideal if it was stored outside with the documentation instead.
The accessories are stored in one box and the LED strips are stored in a separate box. This is two RGB LED strips with adhesive backing that can be placed anywhere the user prefers inside the case for interior lighting.
Contents of the accessory box (except the LED lights):
LCS bracket for water pumps
Upper fan bracket for extending front fan mounting capability
28x HDD 6#32 Screws
8x M3 Screws
14x 6#32 Screws
3x E-ATX stand-off Mounting screws
8x M3 Thumb screws for ODD
6x flat velcro cable ties
1x HDD panel rubber grommet
Other accessories pre-installed inside the case:
2x 140mm Silent Wings 3 fan for front intake
8x #6-32 x30 flat head screws for front 140mm fan intake
1x 140mm Silent Wings 3 fan for rear exhaust
4x flat-head self-tapping screws for rear 120mm fan exhaust
Specifications
| | |
| --- | --- |
| Motherboard compatibility | E-ATX, XL-ATX, ATX, M-ATX, Mini-ITX |
| Case size incl. stands (L x W x H), (mm) | 577 x 243 x 585 |
| Color option | Orange, Silver, Black |
| Weight (kg) | 16.52 (package) |
| Front Radiator Options | 120 / 140 / 240 / 280 / 360 / 420 |
| Top Radiator Options | 120 / 140 / 180 / 240 / 280 / 360 / 420 |
| Bottom | 120 / 140 / 280 |
| Rear | 120 / 140 |
| Pre-installed Front Fans | 2x be quiet! SilentWings® 3 |140mm PWM / 1,000rpm |
| Pre-installed Rear Fans | 1x be quiet! SilentWings® 3 |140mm PWM / 1,000rpm |
| 3.5″ | 7 |
| 2.5″ | 15 |
| 5.25″ | 2 |
| Side-panel | Steel/4mm Tempered Glass (Pro version) |
| Wireless Charging | Yes |
| Warranty | 3 Years |