« Hardware Installation and Clearance Compatibility
Final Thoughts
German engineering is widely recognized as synonymous with over-engineering, which has its share of positives and negatives; thankfully more often the former than the latter. The be quiet! Silent Base 600 certainly exhibits some of that, with plenty of attention to detail and precise cues that make it markedly different from most other mid-tower cases. Since be quiet! is a philosophy as much as it is the company's name, the Silent Base 600 gets a "ninja-neering" treatment, approaching design from the functional aspect of silence above all else and as a primary step towards performance. Even externally, the softer angles hint of the elegant function inside. Installation is extremely convenient on all approach with flexibility on top of useability, displayed on the offset adjustable radiator mounting at the top and the HDD cage. Like a ninja, it is unassumingly simple and stealthily silent, but functionally potent, especially since it mixes German precision.
As for whether the Silent Base 600 truly is a quiet case, that requires two different answers. The bundled 120mm and 140mm Silent Wings 2 fans are certainly the quietest available bundled on any case, clocking in together at only 39.5dBA in the open air. The true test came when these fans were replaced with a monstrous Enermax Twister Storm fans that operate at 3500 RPM and register at 67dBA in the open air. Inside the Silent Base 600 and mounted in place of the bundled Silent Wings 2 intake and exhaust fans, these Enermax Twister Storm fans registered at 59.1dBA. SPL meter* readings are logarithmic and not linear so that is several magnitudes lower. Obviously, 59.1dBA is still fairly loud but considering these Enermax fans started at 67dBA, that drop is quite substantial. With the stock Silent Wings 2 fans inside the Silent Base 600, the SPL meter registered only 37.2dBA at full speed. The sound pressure meter in this case was placed 51cm (20 inches) away and the ambient room noise is 34.8dBA.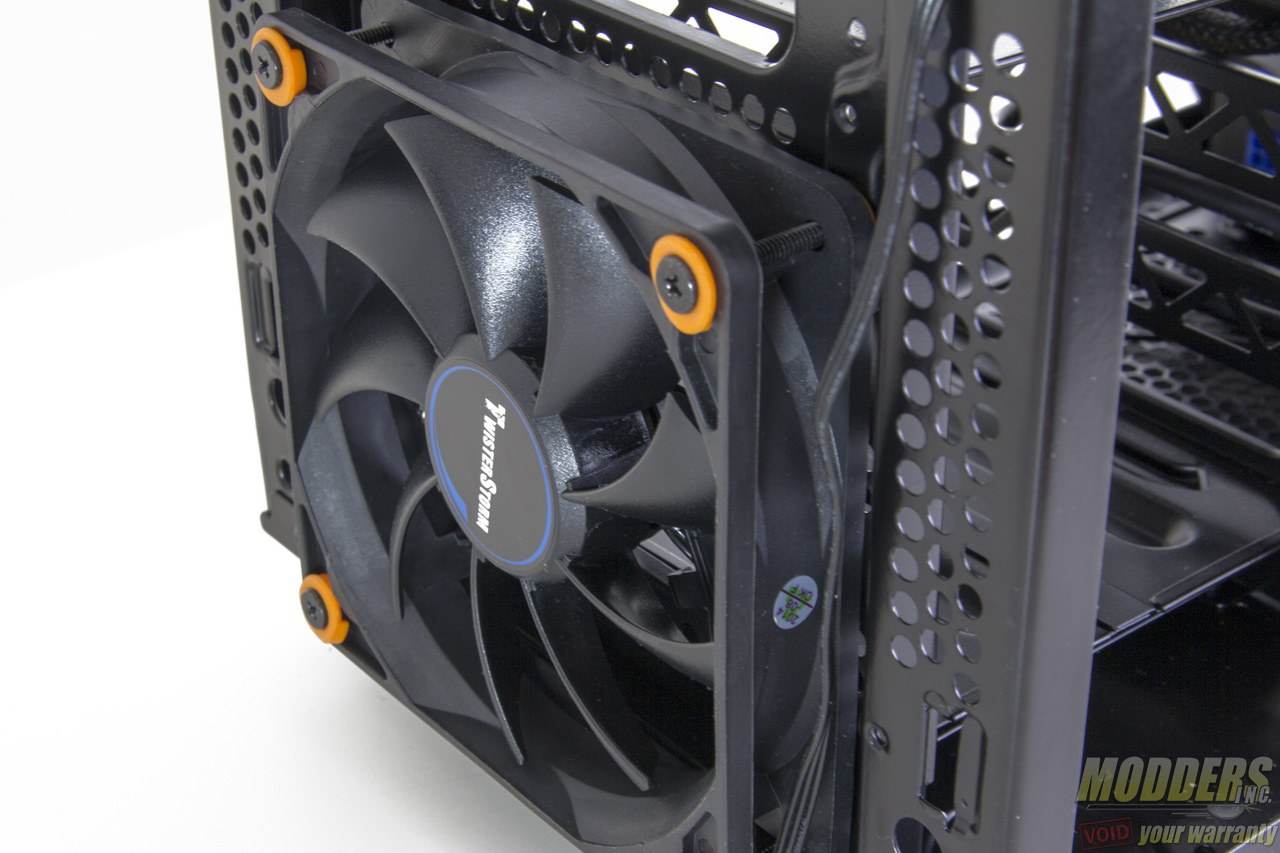 *SPL meter used is an SPL-8810 using the same methodologies used in my CPU cooler reviews

In terms of moddability, the Silent Base 600 rates highly with many of its parts easily customizable and offering great potential for a casemod project. The base frame of the chassis design itself is shared with that of Corsair's Carbide 300/330 and Bitfenix' Ghost and requires very little in the way of cutting things out to add component support. Only the outer panels themselves need modding and a few rivets need removing  for greater compatibility with high-end liquid cooling. The orange accent on the bezel is also easily removed should users want to paint it a different color, although the orange matching gaskets and grommets might be harder to pair up with and paint. Maybe be quiet! can offer alternate colored kits for sale as extras in the future beyond the orange, silver, and black defaults.
Overall, the be quiet! Silent Base 600 is a strong mid-tower case in its price segment. Most silent oriented cases tend to be at the $109 to $119 USD price range, but unlike most silent oriented cases, the Silent Base 600 is built to be a silent case from the ground-up and not just the same model being offered by the company with foam glued on the panel surfaces. Even the Silent Base 600's windowed side-panel is double paned with a rubber gasket seal to maximize noise dampening.