« Page 3
|
Page 5 »
THE BUILD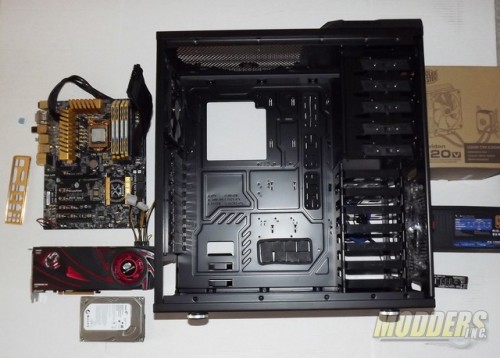 MOBO: ECS Golden Z77H2-A2X
CPU: INTEL I5-3550 LGA1155
GPU: Sapphire R9 290
RAM: 16gb Corsair Dominator® with DHX Pro Connector Dual/Quad Channel DDR3
PSU: Raidmax Thunder Pro Series RX-1000AE 80 Plus Gold
CPU Cooler: CM Seidon 120V AIO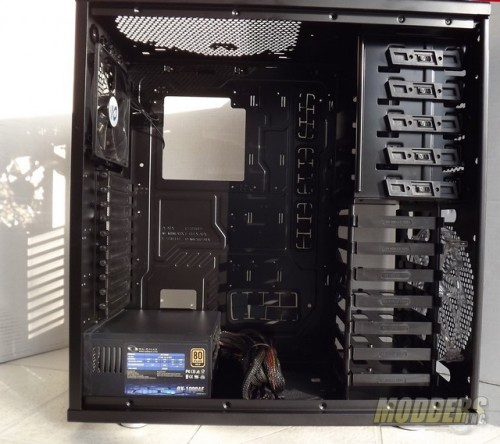 The Raidmax Thunder Pro RX-1000AE power supply is small for a 1000W and fits nicely. The next size up PSU will fit but anything over 7 inches or 180mm will encroach upon the lower fan placement.
A 200mm PSU will not leave room for the lower fan but will fit. Case specifications do not claim any floor fan space so this is an added bonus if your PSU is sized right like the Thunder Pro RX-1000AE.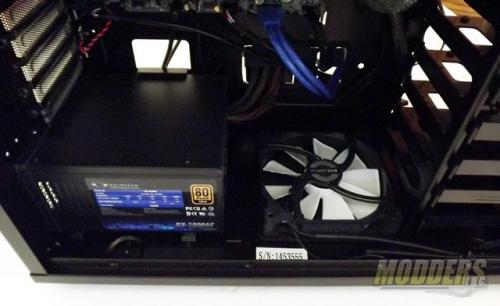 With a standard size power supply unit you can add in a 140mm fan, but you will have to watch for cable clearance towards the bottom of the PSU.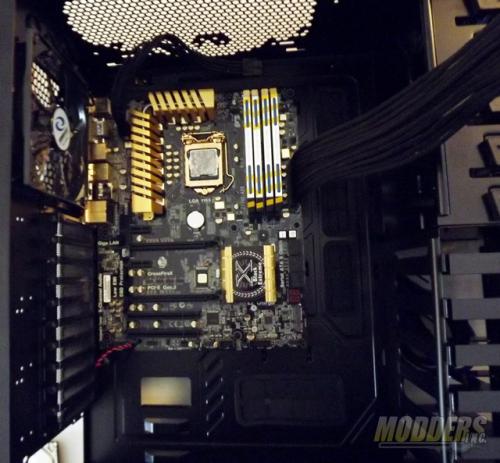 With 9 Card slots and a large mounting panel this case will support a XL-ATX  sized motherboard.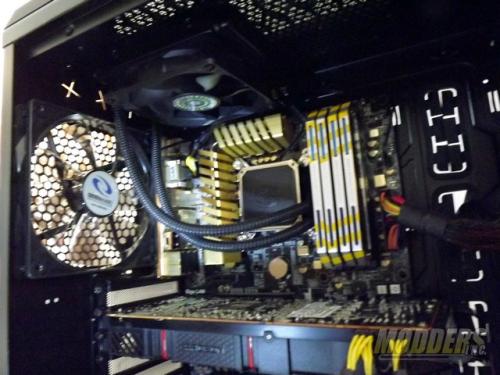 The case length is spacious enough to support a GPU cards of 330mm in length.  My 120mm AIO cooler up top looks miniature compared to the 200mm space it could support. 120, 140, 240, 200. I can't be sure that a 280 set-up would work, from what I measure the clearance for some motherboards would be tight or not work.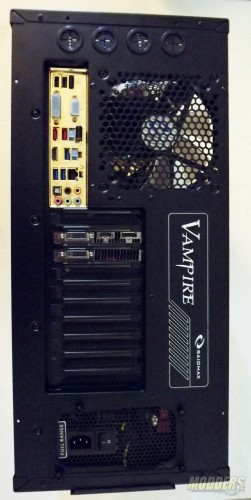 Backend is looking good showing off the Vampire by Raidmax name plate.

A completed install in the RAIDMAX Vampire look pretty good. There is plenty of room around the motherboard and for long graphic cards. I can see it doing a water cooling setup rather well.