« Intro
|
Page 3 »
CLOSER LOOK ~ Exterior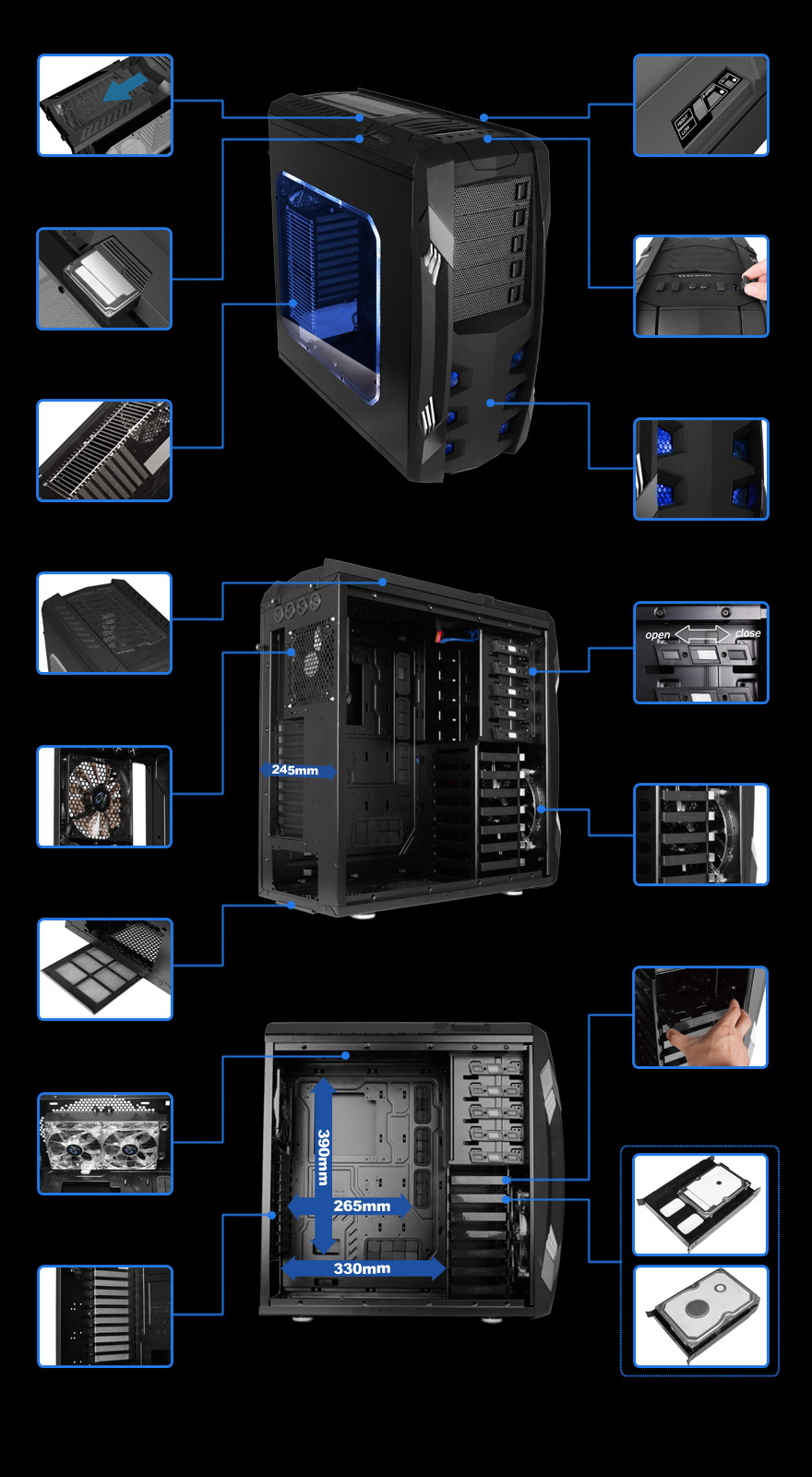 Removable metal mesh top panel for easy install and anti dust.
Fan Speed Control (High / Low / X-speed and On / Off Switch), max. for 3 x fan
Hot swap function for 2.5″ H.D.
2 x USB 3.0 + 2 x USB 2.0 + Mic. & Speaker with Anti-dust rubber covers
Off black rubberized paint
Tool-free installation design
Patented wide body design ( roomy space for cable management and extra high CPU heatsinks )
Removable fan filter on the PSU bottom
Water cooling support
Easy to install H.D.
SIDE:  2 x 120mm fan (optional)
TOP: 2 x 120mm or 1 x 140mm or 1 x 200mm fan (optional)
REAR: 1 X 140mm fan
FRONT: 1 X 200mm LED fan
BOTTOM: 1 x 140mm or 1 x 120mm If PSU length is less than 7 inches or 180mm
10pc PCI Slots.  (metal mesh, re-attachable by handy screws)
3.5″ H.D. Racks also available for 2.5″ H.D. or SSD installation.
Space for XL ATX size M/B.
Support for 330mm length VGA card.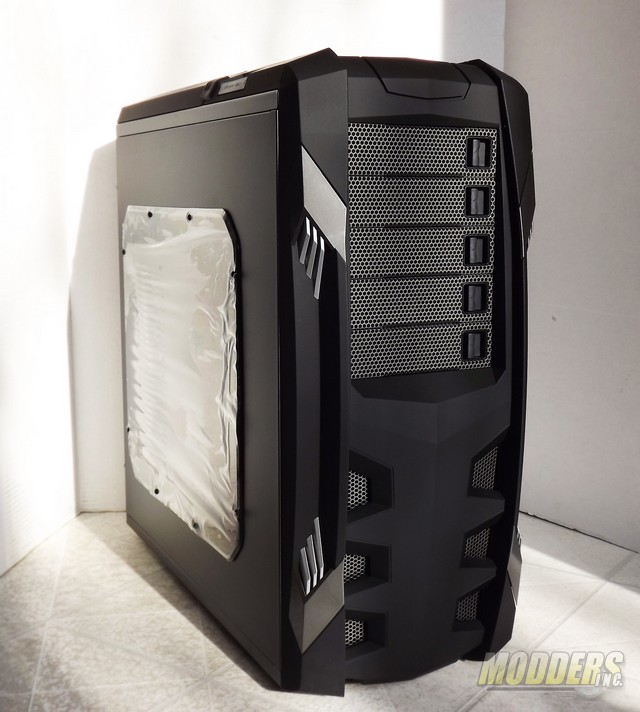 The front bezel cover is distinctively styled with details made of quality materials solidly attached. The mesh bay covers and lower back vents are well made. Each of the bay covers have a sponge filter material behind the mesh. The top and front are coated with a matte rubberized coating.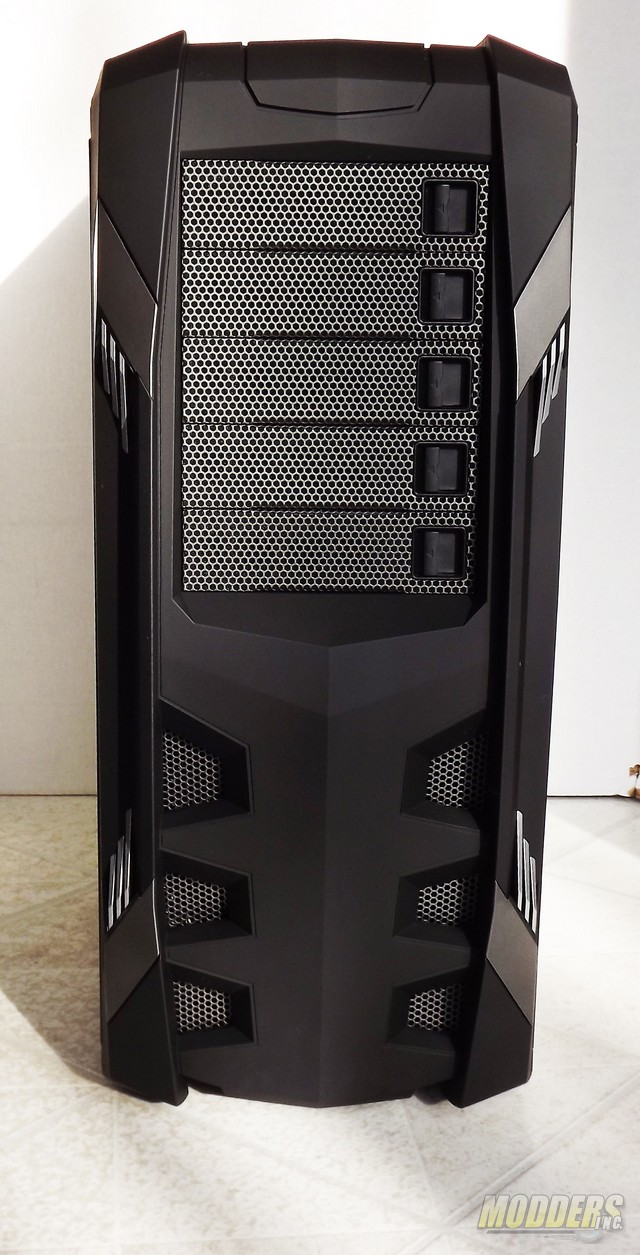 These design elements are not cheaply done. The gun metal banded elements come off via clip locks the three silver elements are hot melted to the bezel. Five 5 1/4 bays are easy to unlock and remove as well as mount and lock back in.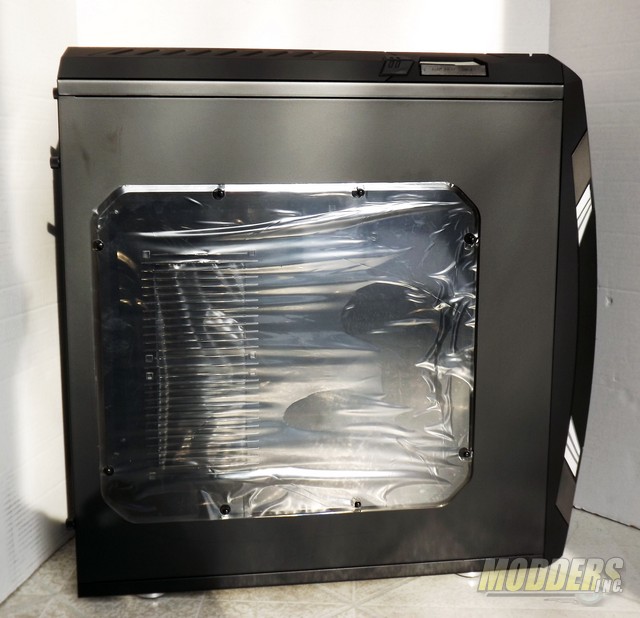 The large side window panel is a smoke grey, mounted by screws on the inside with rubber grommets on the outside. The widow is beveled to give a different look and is about 1/8th inch thick. For protection the side panel window comes with a scratch protection film and you can also see that there are two 120mm fan grilled cuts.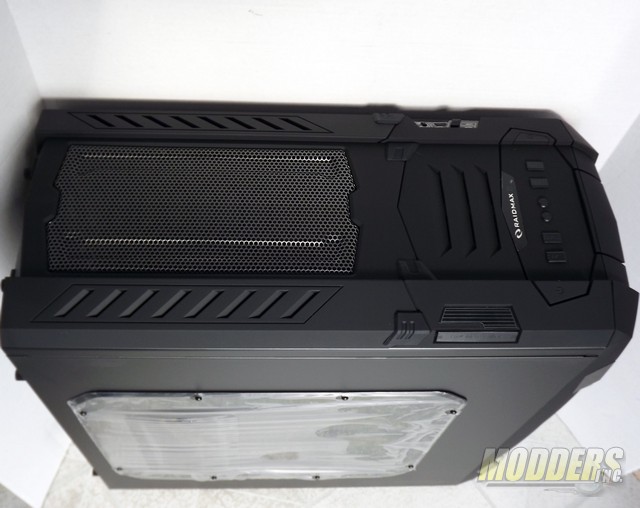 Up top the rubber coated style is broken up into two sections. The front half house the controls buttons and the rear part has a center mesh grill where fans can be installed. I'll break this down later in the review.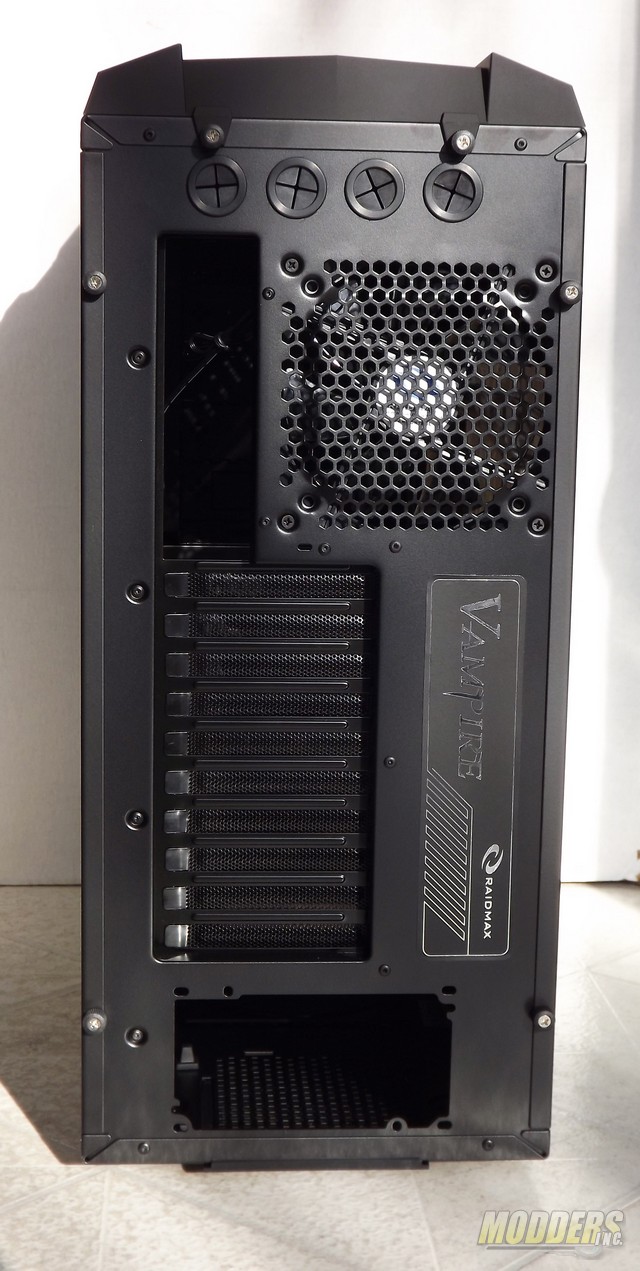 Nice rubber coated thumb screws are used to mount the side panels and upper rear sections to the case. From this point of view I can see a possible problem. Towards the top of the case you can see the rear of the fan grill, that protrusion would prevent a All-In-One Cooler radiator to be mounted on the rear or even the fan and radiator inside the case to allow push/pull, that protrusion will be a problem mounting another fan outside. I've done it using spacers but with special custom screws, perfectly matched spacers. All  involved with a fan/radiator/fan mounting outside like with that protrusion could lead to some unnecessary noise. I guess my biggest question is why did they design that  protrusion? What fans extend outside greater than the fan housings?  For me that's a prime 120/140 radiator mount spot and I would be dremeling out that whole protruded area allowing a push/pull setup mounted using the supplied screws and mountings with no worries about custom screws around a radiator.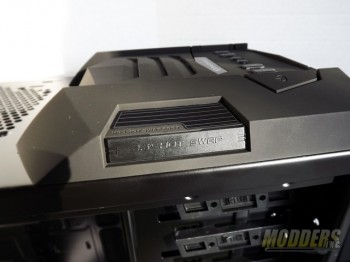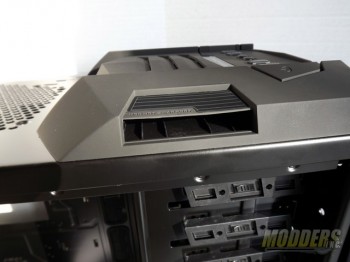 A hot swap port on the left side of the top part of the is made so a  2.5″ H.D can be installed. A soft rubber cover guards is there when not in use and keeps the overall design of things looking good.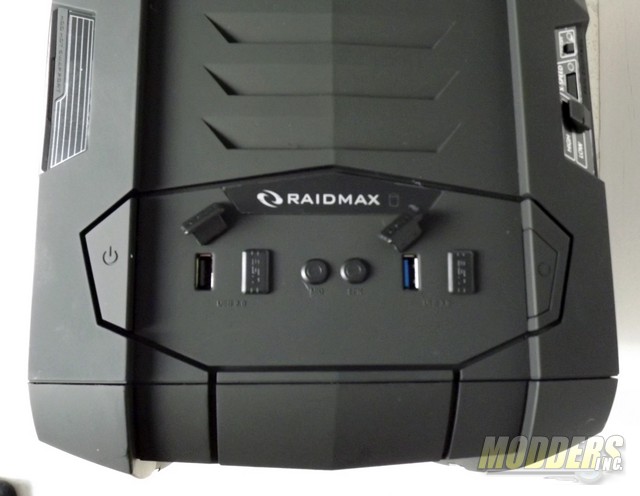 Top front of the RAIDMAX Vampire is the control buttons. Starting from the left and going to the right is the power switch, two USB 2.0 ports, MIC, SPKR (headphones), two USB 3.0 ports and a Reset switch and all the open USB ports are supplied with protective dust covers..
Over on the right hand side at the top of the case is a built in fan controller. The fan controller functions are High/Low, X-Speed and on/off. It's actually a 3 speed controller. All off or all on then Low, High or X-treme full speed for game ready action or quiet mode operation. LED's give you feedback about which mode you have the controller placed in.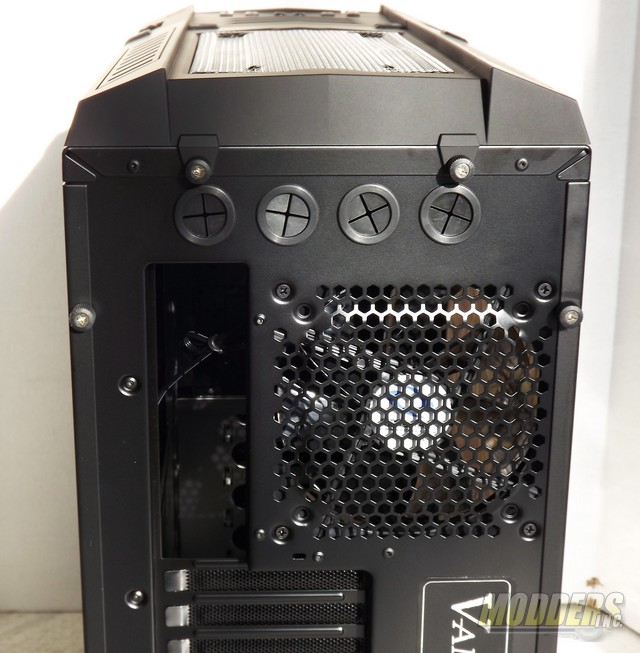 Four grommet ports for mounting external water cooling or external cable routing.