Closer Look at the Raijintek Triton »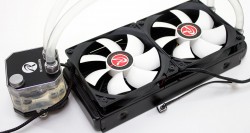 Raijintek might sound like a new player in the cooling game but from what they have shown so far, they are far from amateurs. With German design and Taiwanese production behind them, Raijintek offers a new balance of affordability and performance that rivals much larger and established companies. Seeing an opportunity in the enthusiast cooling segment, Raijintek aims to leave their mark in the liquid cooling arena with their new Triton cooler.
The Triton is Raijintek's first project in their foray into self-contained liquid cooling units. Unlike most AiO's however, the Triton allows users to readily expand and customize their cooling right out of the box with most of its components replaceable and moddable. Even the standard Raijintek Triton bundle comes with three color dye options (red, green and blue) for the transparent coolant. The 240mm radiator comes bundled with a pair of 120mm fans but users can also expand cooling further with the addition of two fans on the other side.
[sc:sponsor sponsor="Raijintek" product_link="http://www.raijintek.com/en/products_detail.php?ProductID=18″ product_name="Raijintek Triton" product_price_link="http://www.ncix.com/detail/raijintek-triton-all-in-one-cpu-liquid-94-100817-1360.htm" product_price="$99.99″ ]
The packaging is rather long but it is also shorter than most AiO packages. Both front and back show a 3/4 view of the Triton with its features listed and a convenient carrying handle at the top.
Packaging protection is also on the minimal side with the contents held by a cardboard partition and additional protection for the side of the pump unit exposed to the top covered by a small thick square piece of foam. The radiator and the pump units are covered in plastic to avoid scratches (bubble wrap in the case of the pump block). All the accessories are packed in a bag in the bottom compartment.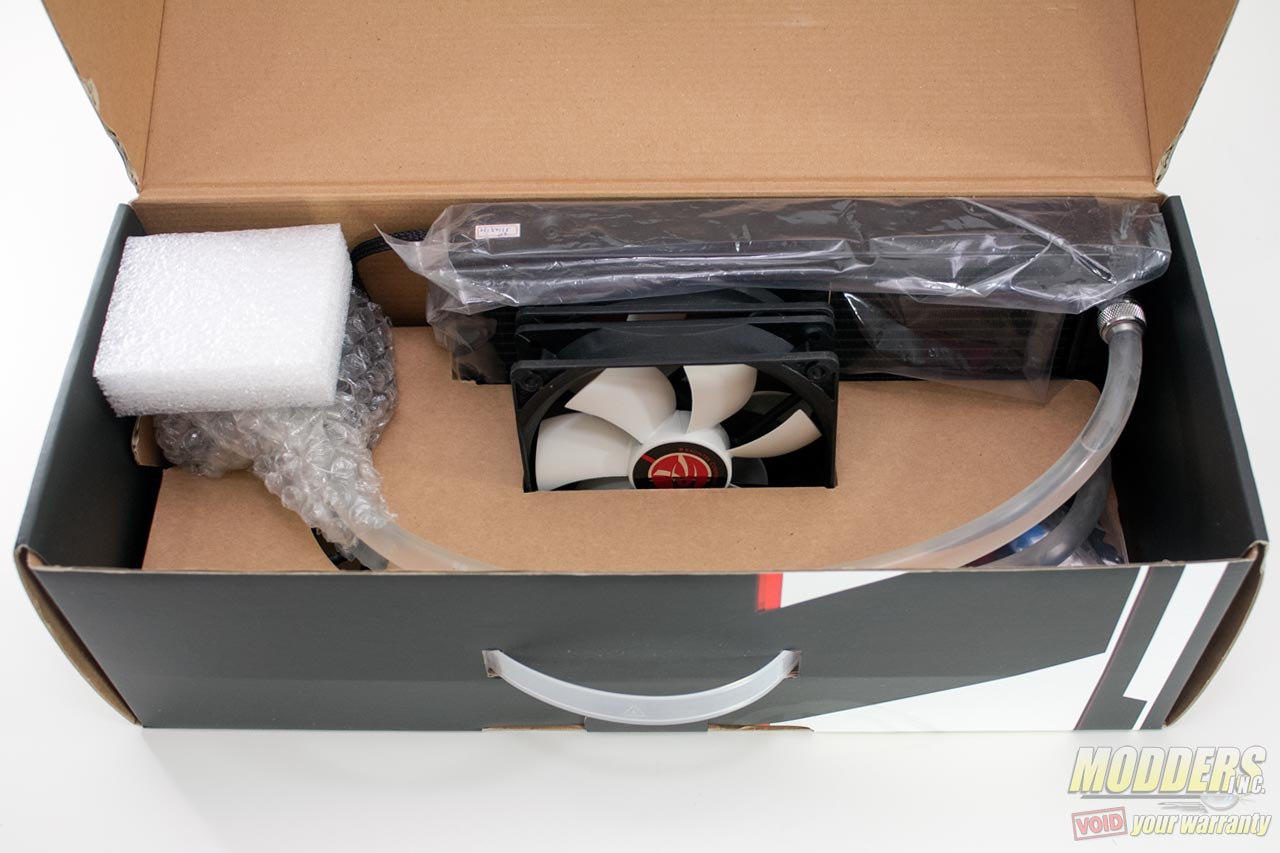 The Raijintek Triton supports AMD AM2(+), AM3(+), FM1, and FM2 as well as Intel LGA 775, 1155, 1156, 1155, 1366 and 2011 sockets. There is a small packet of thermal compound as well as a spreader tool for applying the compound. Mounting components include the universal bracket and universal backplate as well as four M4x13mm screws and four M4x6mm screws for mounting them together with the four metal nuts and four mylar washers. Eight M3x6mm screws are provided for mounting the radiator directly to the case as well as eight M3x30mm screws for installing the fans to the radiator. A fold-out multi-lingual installation guide is also included.
Specifications:
| | |
| --- | --- |
| Product Name | TRITON / TRITON CORE |
| Product Number | 0R100018 / 0R100023 |
| Radiator Dimension [W×D×H] | 275×120×32 mm |
| Tubing Dimension | ID – 9.5 mm – / OD – 12.5mm |
| Thermal Resistance | 0.1 °C/W |
| Weight | 1500 g |
| Liquid capacity | 350ml ±5% |
| Material | Alu. Radiator / Copper Water Block |
| Intel® | All Socket LGA 775/115x/1366/201x CPU (Core™ i3 / i5 / i7 CPU) |
| AMD® | All FM2+/FM2/FM1/AM3+/AM3/AM2+/AM2 CPU |
Fan Specification
| | |
| --- | --- |
| Dimension [W×H×D] | 120×120×25 mm |
| Speed | 1000±200~2600±10% R.P.M. |
| Bearing Type | Sleeve Bearing |
| Air Flow | 38.889 ~ 100.455 CFM |
| Air Pressure | 0.744 ~ 4.819 mm H2O |
| Rated Current | 0.08 ~ 0.48 A |
| Power Consumption | 0.96 ~ 5.76 W |
| Noise Level | 21.6 ~ 36.6 dBA |
| Connector | 3 pin |
| Q'ty | 2 pcs |
Pump Specification
| | |
| --- | --- |
| Dimension [W×H×D] | 38×56×39 mm |
| Bearing Type | Graphite Pipe and Ceramic Axis |
| Q-max | 120 L/Hour |
| Noise Level | 20 dBA |
| Life Expectancy | 50,000 hrs |
| Speed | 3000 R.P.M. at 12VDC |
| Voltage Rating | 12 V |
| Power Consumption | 4 W |