« Page 4
  So how do I feel about the Razer Barracuda HP-1 Headphones?  Let us start with my dislikes as it is a very short list. Personally I think they could have made the ear pieces a bit more oblong, and the ear pieces could be a little bit deeper, but this is just me. They were still very comfortable to use for long periods of time. The audio control unit is awesome, but it is backwards. I think that the volume control should be inline towards the headphones not away.
My everyday headset up to this point was a pair of Sennheiser HD 280 pro (about $200). I thought these combined with the Creative X-Fi sound cards was the best thing ever! I will have to say that I do prefer them for straight music listening as that is what they are designed to do. For gaming I know you can't find or buy anything better that the Razer Barracuda HP-1 Headphones. I am big time COD2 player and when I can clearly hear the other team walking around a wall and hear them closing in on a hole.With the Barracuda HP-1 Gaming Headphones I was able to eliminate them just as they step into. Some gamers may think you are cheating but you are not. You just have a noticeable advantage by hearing  every move they make. Great players always use what is available to gain the advantage and I think theses headphones are a definite in game advantage.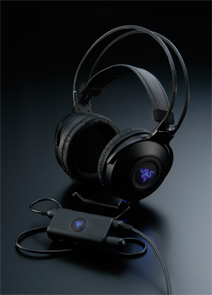 Razer did one heck of a job bringing the 5.1 sound to the world of headphones and I thank them for that. I use nothing but headphones and the best that you could get from a regular set was simulated surround sound. But with the Razer Barracuda you get as close as possible to the real sound of 5.1, actually I think it MUCH better that a 5.1 speakers setup. You do not get any outside noise mixing with your sounds, plus you do not have to run wires all over the place for speakers. This effort in making 5.1 headphones for gaming Razer has jumped in with both feet and hit the ground running with a huge lead. As time goes on and as Razer tweak and improve the Barracuda HP's there will be no competition, well to tell you the truth there isn't any now. I can hardly wait to test them out with the Razer AC-1 Gaming Audio Card when it comes out.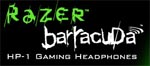 I would have gave it a 10, but there is room for improvement like there is with any new product. So this time a 9 in my eyes is more like a 10. I highly recommend you check out the Razer Barracuda HP-1 Gaming Headphones, you know your opponents will be.
Pros

---

Cons

---

5.1 sound in Headphones!

5.1 sound on your head!

5.1 sound…oops already said that.

Ear piece depth was a bit to shallow for me.

The control module is in the wrong direction. Turing it around would allow you to clip it to your pants and have the volume control up.