CPU Cooler
Reeven Brontes CPU Cooler Review: Reaching New Heights in Low-Profile Design
« Installation Procedure and Clearance Issues
|
Final Thoughts »
Test System and Benchmark Results of the Reeven Brontes

Ambient temperature monitored at case intake and temperature Delta was used.
All case and heat sink fans were benchmarked with fan control settings disabled and running at 100% unless otherwise specified.
Intel integrated video is utilized to eliminate additional ambient heat source from discrete graphics cards.
Temperatures are averaged (last minute) from individual core temperature results monitored by AIDA64 after 15 minutes.
Stock settings have all power saving features enabled in the motherboard with Vcore set static to 1.1V and set to "Balanced" in the OS.
All tests were taken at least three times to get the final result.
Note that performance results on this setup are not directly comparable with any benchmarks from previous reviews as the UEFI BIOS on the motherboard has been updated and now has a much tighter control on the Vcore voltage.
Since it is an ASUS motherboard, it engages all cores when it turbos so temperature will be higher compared to other Z87 motherboards that do not by default.
An American Recording Technologies SPL-8810 was used for noise level measurement in dBA, 20CM away from the center fan intake.
Comparison Heatsinks: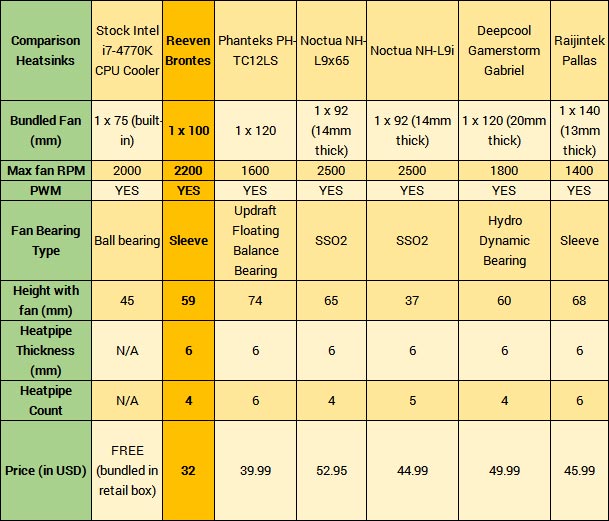 Benchmarks: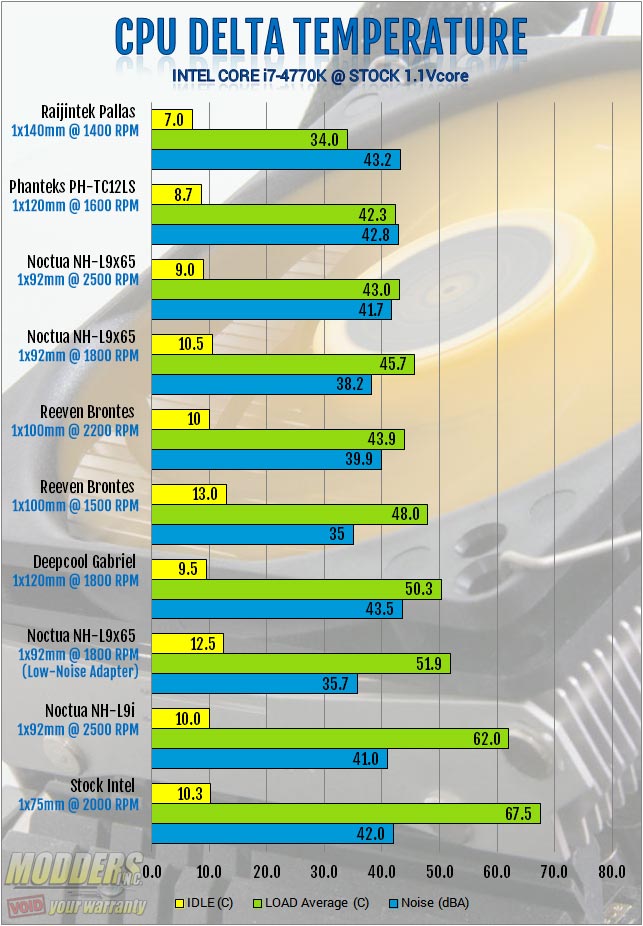 Sound Profile (Fan RPM vs Noise Level) – Room ambient noise is 34.8dBA:
| | |
| --- | --- |
| Fan Speed | 1x 100mm Slim Brontes fan |
| RPM | dBA |
| 2200 | 39.9 |
| 2100 | 39.5 |
| 2000 | 38.8 |
| 1900 | 38 |
| 1800 | 37.5 |
| 1700 | 37.2 |
| 1600 | 36.8 |
| 1500 | 35 |