CPU Cooler
Reeven Hans CPU Cooler Review: High-End Quality, Mainstream Price
« Introduction and Specifications
|
Installation Procedure and Clearance Issues »
A Closer Look at the Reeven Hans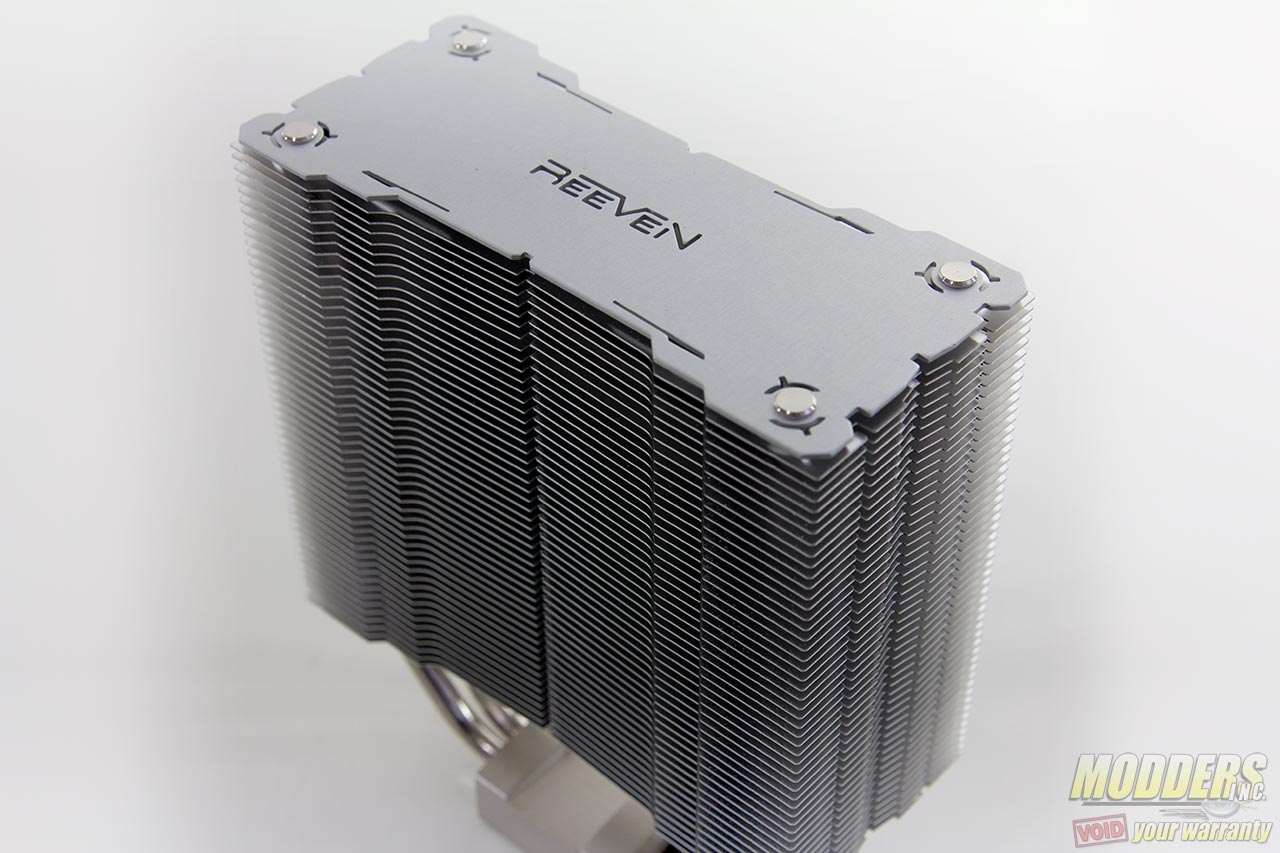 The Reeven Hans stands 155mm tall and is 133mm wide. With the 25mm thick fan installed, total depth is only 85mm. Like other Reeven CPU coolers, there is an thick laser cut metal plate cap on the top which makes the Reeven Hans look much more appealing than most standard air coolers with exposed copper tops. There are 50 aluminum fins in total where four 6mm thick nickel coated copper heatpipes transfer heat away to from the base. Two of the inner heatpipes are bent sharply at a 90 angle while the two outer set of heatpipes fan out slightly before going upward. Heatpipe distribution on the aluminum fins are not spread out but concentrated closer to the sides in a linear fashion to the direction of the airflow. All sides are open-air with wide surface staggered to three levels culminating in a deeper, narrow center lane.
Much like the heatpipes, the copper base is also nickel finished for wear resistance. A non-nickel finished variant of the Hans is also available for a lower price. The primary stage heatsink has basically just a block of aluminum with no fins extend upward. The contact surface is rounded machine finished with an obvious convex center point. Total surface contact area is 38x43mm.
Reeven bundles a 120mm sleeve bearing PWM fan with their trademark yellow color. The fans have 11 blades and start with a steep angle coming from the center hub but relax as it reaches the edges. There are four struts which are similarly curved as the fan blades but going the opposite direction.
The fan cable is nicely sleeved and has a black 4-pin connector, Readings from ASUS Fan Xpert II reveal the real-world controllable PWM range: